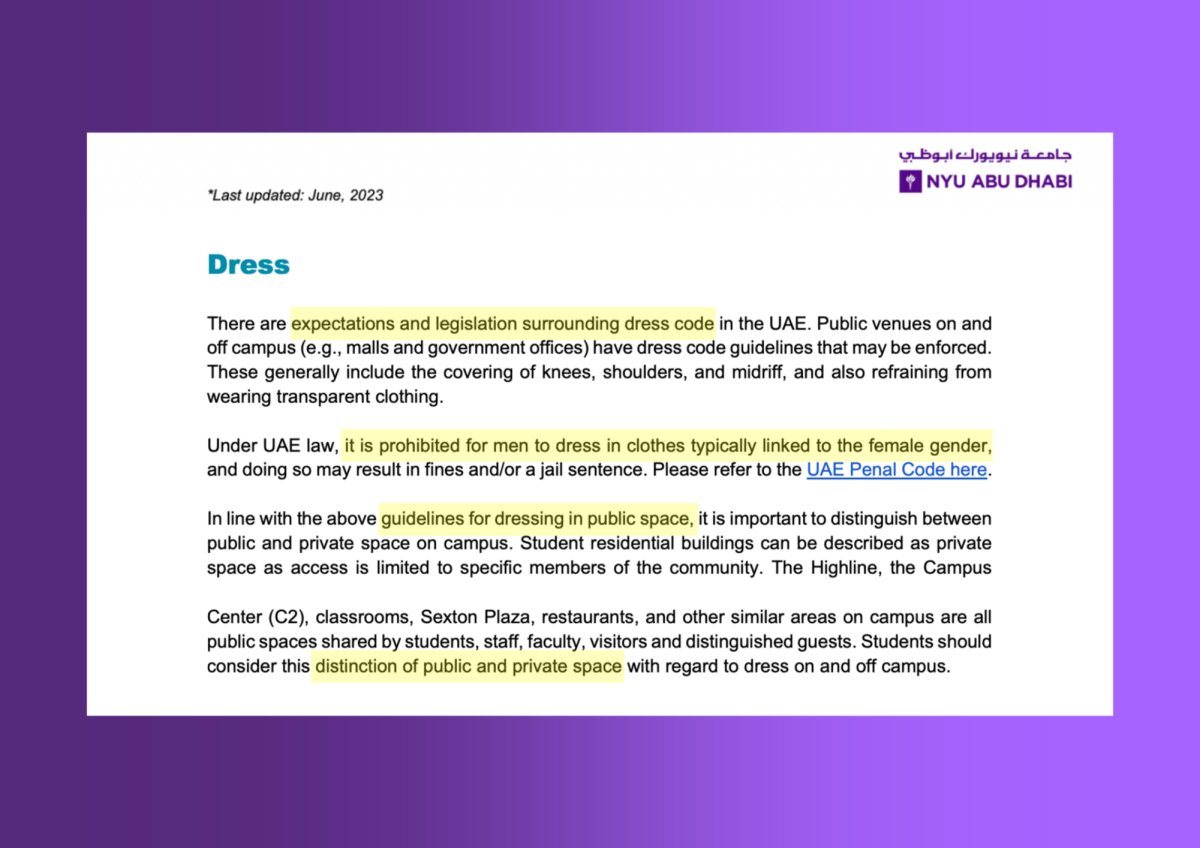 An alleged dress code at NYU's Abu Dhabi campus has confused and frustrated students, who feel they were not properly informed of conduct expectations at the site. The university denied claims of a dress code being enforced on campus, but noted the existence of an Emirati law that restricts cross-dressing.
An NYU Abu Dhabi student handbook obtained by WSN informed students that they are expected to abide by the country's laws on clothing in public spaces, which it defines as all parts of campus except for residence halls and other private spaces. The law in question prohibits male students from cross-dressing in what the handbook refers to as "clothes typically linked to the female gender."
The handbook also cites the United Arab Emirates Penal Code, which includes an article penalizing "any male who enters under disguise to any place allocated for women only." Violators of the law — which has been used against members of the LGBTQ+ community — can face fines of around $2,700 or a one-year prison sentence.
One student, who asked to remain anonymous due to safety concerns, said the campus did not properly communicate UAE law on clothing to students, leaving some underprepared for the shift in cultural norms. 
"We don't learn any of this information about the dress code or policies about being queer until you have invested actual money to apply," the student said. "The first time they tell you anything when you arrive on campus is in a PowerPoint presentation. I received no instruction on local culture, and I had to research everything on my own."
Martin Mbugua, a spokesperson for NYU Abu Dhabi, denied claims of the campus having a dress code, and said students are informed of the country's legal and cultural expectations surrounding dress, although he did not say when students are provided with this information. 
The anonymous student claimed that administration at NYU Abu Dhabi held a Q&A session addressing concerns over the alleged dress code and the limitations state policies impose at the site on Oct. 5. In an audio recording of the meeting obtained by WSN, an administrator reiterated that the campus does not have a university-imposed dress code, but must comply with UAE laws regarding cross-dressing. Mbugua did not address questions regarding the meeting.
In the past, UAE police have arrested transgender, gay and gender non-conforming individuals due to the country's cross-dressing law. People who are detained due to their gender or sexuality have reportedly faced physical and verbal abuse from law enforcement while in custody, according to Human Rights Watch.  
On its website, the university says that "NYU Abu Dhabi enjoys full academic freedom as it exists at NYU New York." However, the student said that despite the campus offering courses on gender and sexuality, queer students feel discouraged from openly discussing their identities as the site abides by Emirati law, which holds that "male" and "female" are the only two genders.
"Freedom of expression is not allowed on this campus — we can be detained and deported," the student told WSN. "[The Emirati government] do not treat dissidents or homosexuals very well, and there have been many reports of torture, so this is not something we want to fuck around and find out."
Contact Krish Dev and Stephanie Sun at [email protected].