A planned giveaway of gaming gear broke out into chaos Friday afternoon, when fans of Twitch streamer and YouTube creator Kai Cenat began to riot at Union Square.
New York City Police Department officers used barricades, line formations and mounted units to disperse the crowd of thousands, many of whom appeared to be teenagers. No serious injuries were initially reported, although at least one person was seen being taken away in an ambulance. Sixty-five total arrests were made.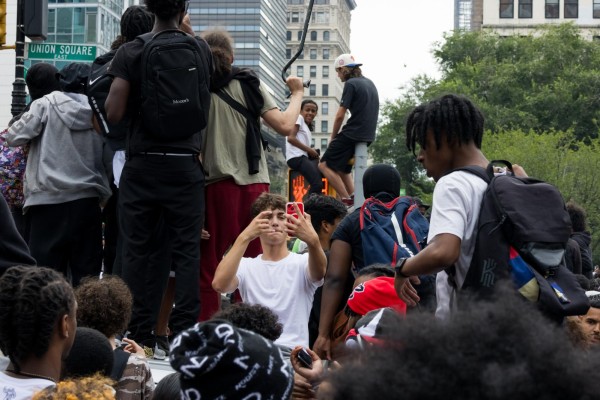 NYU Campus Safety head Fountain Walker cautioned the university community to avoid the Union Square area in an email sent Friday afternoon. He wrote that no NYU residence halls or community members were known to have been involved in any incidents. 
A young woman named Nylah said she had been headed to the subway when her friend told her to come see what was going on in Union Square. Most attendees remained peaceful, but Nylah said she was perturbed at the behavior of some of Cenat's fans.
"I had to yell at people," Nylah said. "I'm like, 'Stop, why are you jumping on people's cars, doing all that — you're bugging.'"
One group summited a food cart and began tossing bottled beverages into the crowd. Some climbed lampposts and cars, while others broke into dance circles as water and soda soared overhead.
A woman who had climbed a lamppost at the southeast corner of 14th Street and Broadway twerked above the crowd to cheers. A shirtless man brandished a flag emblazoned with images of Ice Spice, who has appeared on Cenat's stream, on a nearby traffic signal.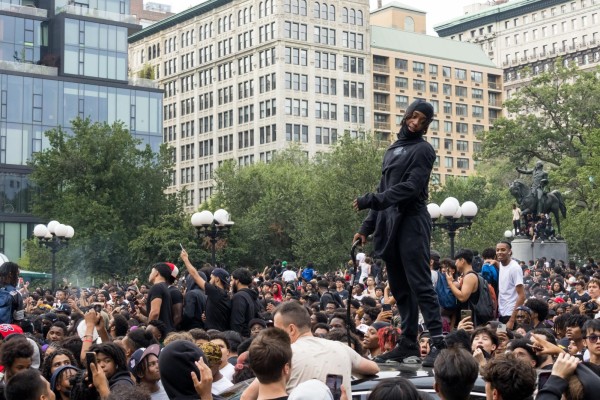 Not long after, a young man who had climbed on the hood of a white Kia to jump on its roof stomped on the car's windshield on his way down, cracking the glass with the driver in the driver's seat.
Dinesh Sharma, the driver of the car, told WSN that he had attempted to drive slowly out of the crowd, but soon left his car at the urging of nearby New York City Police Department officers. Sharma said he had been in Los Angeles during the 1992 Rodney King riots and in New York City during the Sept. 11, 2001 terrorist attacks — and that he had never seen anything like the events that unfolded on Friday.
"'If you don't get out, they'll kill someone,'" Sharma recalled police telling him. "I never imagined something like this happening in this country."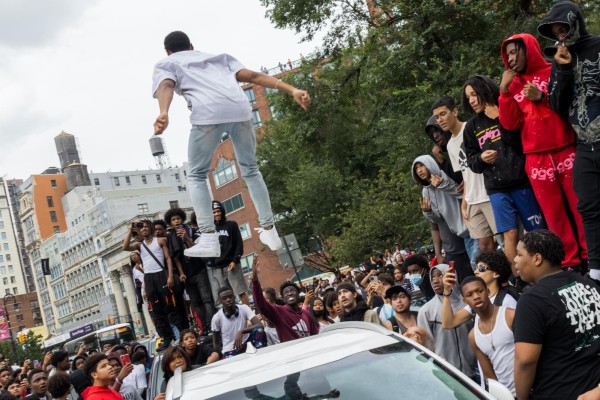 Another car, a black Toyota, sustained dents and a shattered rear windshield. Soon after Sharma left his vehicle, the driver of the Toyota maneuvered the vehicle away from the scene as a large orange traffic barrel flew through the air and landed on the roof.
Police then began moving in with riot shields and issuing a verbal order to disperse from a sound cannon. At least six helicopters and one NYPD drone hovered above the park as officers shouted at the crowd to clear the streets.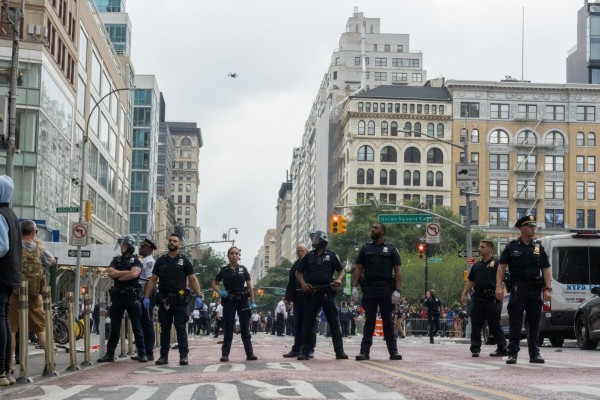 The New York Times reported that the NYPD had initiated its highest-level mobilization in response to the incident. The park remained closed into the evening.
Cenat was taken out of the square for his own safety, and has been charged with inciting to riot, unlawful assembly and riot, NBC News reported. 
Kylier, a young spectator, said he arrived at Union Square early hoping to spot Cenat, whom he said he knew from streams on Twitch and videos on TikTok and YouTube. 
"[The crowd was] throwing stuff back and forth — well, not me, but other people," Kylier said. "I'm a good boy."
Contact Alex Tey at [email protected].