Historic East Village theater faces foreclosure
Lorcan and Genie Otway pursue a final battle to save 80 St. Marks Place before an auction on May 9.
Actor Malcolm Callender gazed upon the entrance of Theatre 80, where handprints of actors lay etched into the sidewalk to create New York City's very own walk of fame. He stepped into the space, once inhabited by former gangsters, movie stars and musicians. He was prepared to take part in a weekly meeting with his theater company, but, little did he know, the theater was at risk of permanently shutting down.
"You would never think that it's gonna close based on the energy people bring to the space. It was always something I was pushing to the side of my head because I didn't want it to be true," Callender said. "When I walk into the theater, I feel like I am home — home in the sense of being around people on the same wavelength as me. We choose to come to that home, and that's what makes it so special."
Unless owners Lorcan Otway and Genie Otway can raise $12.5 million, 80 St. Marks Place — home to Theatre 80, a tavern and a crime museum — is in danger of being sold at a May 9 auction. COVID-19 restrictions that prevented the theater from operating for a time caused financial hardships.
Lorcan Otway had to take out a $6.1 million mortgage from Hirshmark Capital, a real estate firm, refinance the space and cover the expenses caused by his brother's misappropriation of $500,000 from the theater. State COVID-19 policies then forced him to temporarily close the theater. Maverick Real Estate Partners, another firm, purchased the debt during the pandemic, buying the right to collect the money the Otway family originally owed Hirshmark Capital. According to Otway, the debt has since risen to $12.5 million — the firm immediately began to charge penalty interest.
The firm has also closed $300 million worth of debt transactions with more than 130 individual investments. It also lost a three-year long battle to foreclose on an apartment in November 2021 — a building owned by a Holocaust survivor. Multiple individuals from the firm declined or did not respond to requests for comment.
Otway said that two anonymous philanthropists pledged $3 million and $2 million, conditioned on the theater becoming a nonprofit. The theater recently obtained tax-exempt status, and is now considered a public charity. However, Lorcan Otway said that not having that status while they were trying to find donations put them at a disadvantage. He also mentioned going through multiple lenders, one of whom pulled out of the deal last minute. 
"One of the lenders called our lawyer and said they had been threatened by Maverick. The lawyer informed the court, and the judge's response was, 'I don't intend to get down into those weeds,'" Lorcan Otway said. "'Those weeds' are taking everything I had built — two generations of my family's history — leaving us homeless and broke after what very possibly is criminal behavior by a company practically profiteering off a recognized emergency."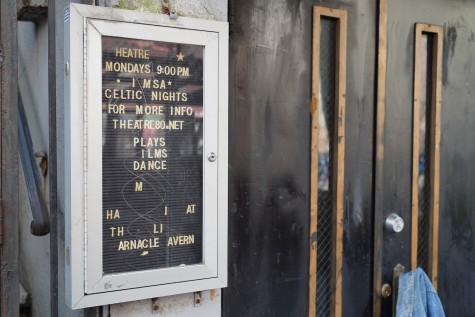 East Village activist Kenneth Toglia created a petition that garnered over 7,600 signatures, urging individuals to help preserve the theater and to support a GoFundMe raising money to pay off the debt. Toglia also organized a rally on March 30 outside of City Hall, encouraging attendees to show their support by dressing up as characters from the theater. 
"You can feel the theater and the vibes of everyone who has passed through there. It's almost like a school or a temple of theater itself," Toglia said. "It's always been a shining jewel for the community that so many people have had to cut their teeth in the theater. The whole culture of live theater is important now, too, with everything being on the internet. For people to see live actors on a stage — there's something magical about that."
Before Lorcan Otway's father bought the theater in 1964, it began as two tenements that came together to create a speakeasy during the Prohibition Era. Later, the space premiered "You're a Good Man, Charlie Brown" before it moved to Broadway, and has served as a space for rising actors like Billy Crystal, who worked as an usher there. During the 1970s and '80s, the theater was a film revival house, where individuals could watch classic movies.
Amy Berkov, an assistant professor at the City University of New York, contributed to the GoFundMe. She recalled having one of her favorite New Year's Eve outings at Theatre 80, where she watched a double feature of classic movies. 
"At midnight, the movies stopped, and they served champagne in plastic champagne glasses, and brought around trays with pigs in a blanket hors d'oeuvres. Or that's how I remember it," Berkov said. "I was completely charmed, and always appreciated it that they provided a low-key venue for those of us who wouldn't be caught dead in Times Square."
Andrew Berman, the executive director of the nonprofit advocacy group Village Preservation, believes that New York could have done more to support Theatre 80 during the pandemic. He noted that the theater's struggles reflect a trend of independent theaters and cultural institutions in the area being forced to close down, and he emphasized the need for small cultural institutions to thrive beyond city-owned sites.
In 2018, the Sunshine Cinema met its demise after succumbing to financial struggles resulting from rising rent prices. Other historic movie theaters throughout the city have followed suit, including Manhattan's last single-screen theater, the Paris Theatre, which permanently closed in 2019.
"Theatre 80 embodies everything that we value and seek to honor and preserve in our neighborhoods," Berman said. "It's not only a wonderfully well-preserved historic building, but it's a multifaceted cultural institution that contributes so much to the vitality, character and dynamism of our neighborhoods."
Berman said if the Otway family loses the building, the new owners could demolish it and erase what many view as a vital part of New York City's history and landscape. Since Theatre 80 draws people from all over the world, people may feel less inclined to visit St. Marks Place or the East Village without its presence, according to Berman.
"I've often described the Otways as having at least nine lives, if not more," Berman said. "It certainly feels as though this is their last chance, because the situation has never been more serious than it is now, and the odds are stacked against them, so they need a miracle."
Contact Adrianna Nehme at [email protected].