NYU YDSA protest demands NYU expand abortion coverage
Protesters gathered on the steps of the Kimmel Center for University Life on April 15 to call on the university to expand abortion coverage to those without NYU insurance.
A month after NYU announced that it would provide elective abortions at no cost to students enrolled in its university-sponsored health care plan, a group of students and faculty say that NYU must do more to ensure equitable access to the procedure for its entire student body. Dozens of advocates gathered at the Grand Staircase of the Kimmel Center for University Life to demand that NYU expand coverage to all students, regardless of their insurance provider.
The protest was led by members of NYU's chapter of the Young Democratic Socialists of America who were previously part of the campaign that led to the university's policy change on elective abortions for students with an NYU-sponsored insurance plan. After months of petitioning, rallying and an open letter to Linda Mills, NYU's incoming president, WSN reported on March 31 that university officials would eliminate co-payments on elective abortions received through its insurance plan starting this fall.
"NYU calls itself this progressive institution, especially to visiting students or prospective students," said Lauren Muñoz, a CAS junior who is a member of NYU YDSA and helped organize the protest. "But getting here, you realize that they don't always live up to that standard. They're better than a lot of schools, of course, but there's still a lot of work to be done."
In response to the protest, NYU spokesperson John Beckman said that NYU has no "authority or influence over non-NYU health insurance plans," but that students struggling to pay for an abortion can  go through the Office of Financial Aid to receive emergency funding for medical procedures, including abortion.
Muñoz said that the fund was inadequate, as it is not specific to reproductive care, and criticized the financial aid office as "not very accessible," especially for time-sensitive issues.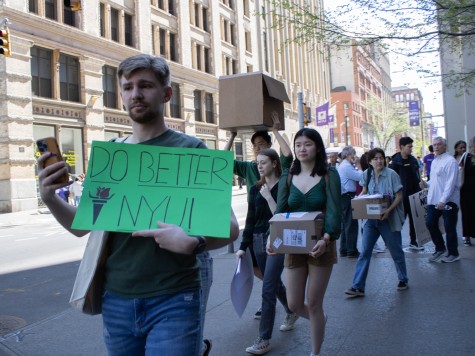 Following the university's announcement on March 31, NYU YDSA created a petition — which garnered more than 700 signatures — calling for abortion access "without cost, question or delay" and demanded that NYU provide a fund specifically for students seeking abortions. The petition also urges NYU to provide free pregnancy tests at reproductive care vending machines. The university had previously announced plans to stock Plan B, an emergency contraceptive, in vending machines along with its abortion coverage change, though it did not say that it intended to make the medication free of cost.
Clearblue, a major manufacturer of pregnancy tests, donated over 1,000 tests for NYU YDSA members to hand out at the protest. 
While the majority of protesters were students, members of NYU Contract Faculty United also came to show their support. Faculty also aimed to spread awareness about the union, which has been demanding university recognition, to newly admitted students and their parents. 
First-year Samantha Del Rio, a NYU YDSA member who participated in the demonstration, urged the university to provide free abortion access to all students to remove the financial burden from individuals who may not have other options.
"We have such a diverse group of people here at NYU, we have people from red states, we have people from countries where just getting an abortion is illegal," Del Rio said. "NYU should be that safe space for all those people who, when they go back home, don't have access to an abortion."
Contact Michaela Seah at [email protected].