Trans Day of Visibility march sees hundreds gather for trans rights
Transgender rights organizers, activists and allies marched from Union Square to Washington Square Park to demand change to anti-trans legislation.
The chanting of hundreds of transgender rights marchers could be heard from all around Washington Square Park for hours on Friday, March 31, the International Transgender Day of Visibility. The march began at Union Square, where trans rights activists gave speeches condemning anti-trans legislation. Eventually, the crowd made its way to Washington Square Park, chanting "protect trans youth" and "stand up, fight back."
Well-known figures in the trans community, including "13 Reasons Why" star Tommy Dorfman, condemned recent laws banning transgender youth's access to gender-affirming care, which have passed in West Virginia and 10 other states.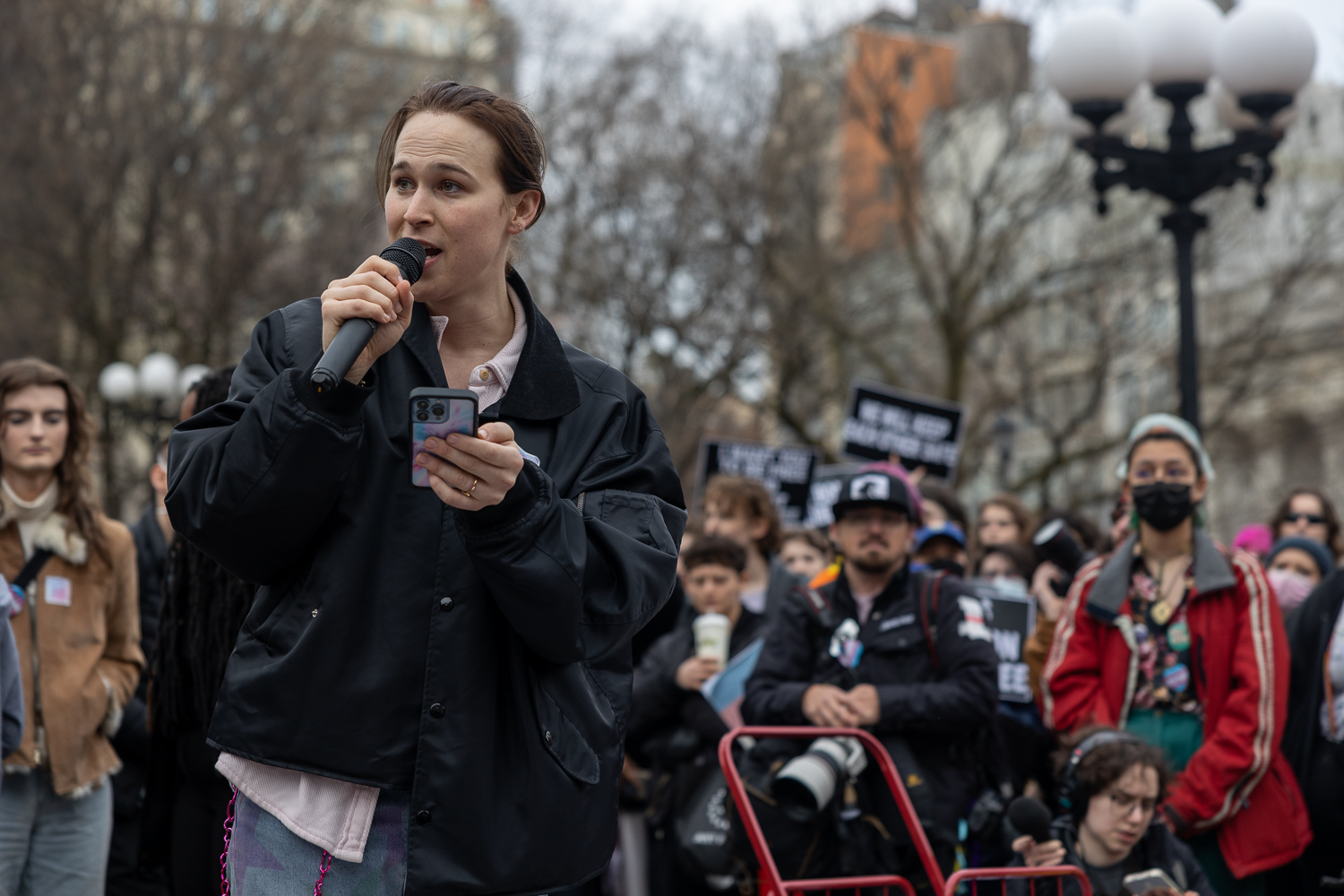 "To be trans is to embody all the beauty in the world — to be trans is to be alive," Dorfman said in her speech. "Because you know who the fucking sick ones are? The transphobic, backward, racist bigots who are introducing and instigating irrational fearful laws. To every liar in the GOP who is trying to pass and currently passing legislation based on fake science and fear, I have one thing to say: Your time is up."
The march was organized by NYC Youth 4 Trans Rights, an organization led by high school students which has previously hosted other protests at Washington Square Park. Raven, a high school student who helped organize the protest, denounced anti-trans legislation across the country in the first speech of the march.
"We won't back down, we won't be erased, we won't hide ourselves because y'all are so narrow-minded and incapable of opening your fucking eyes," Raven said. "I want them to know that the more they try to get rid of us, the more we're going to rise up and fight back."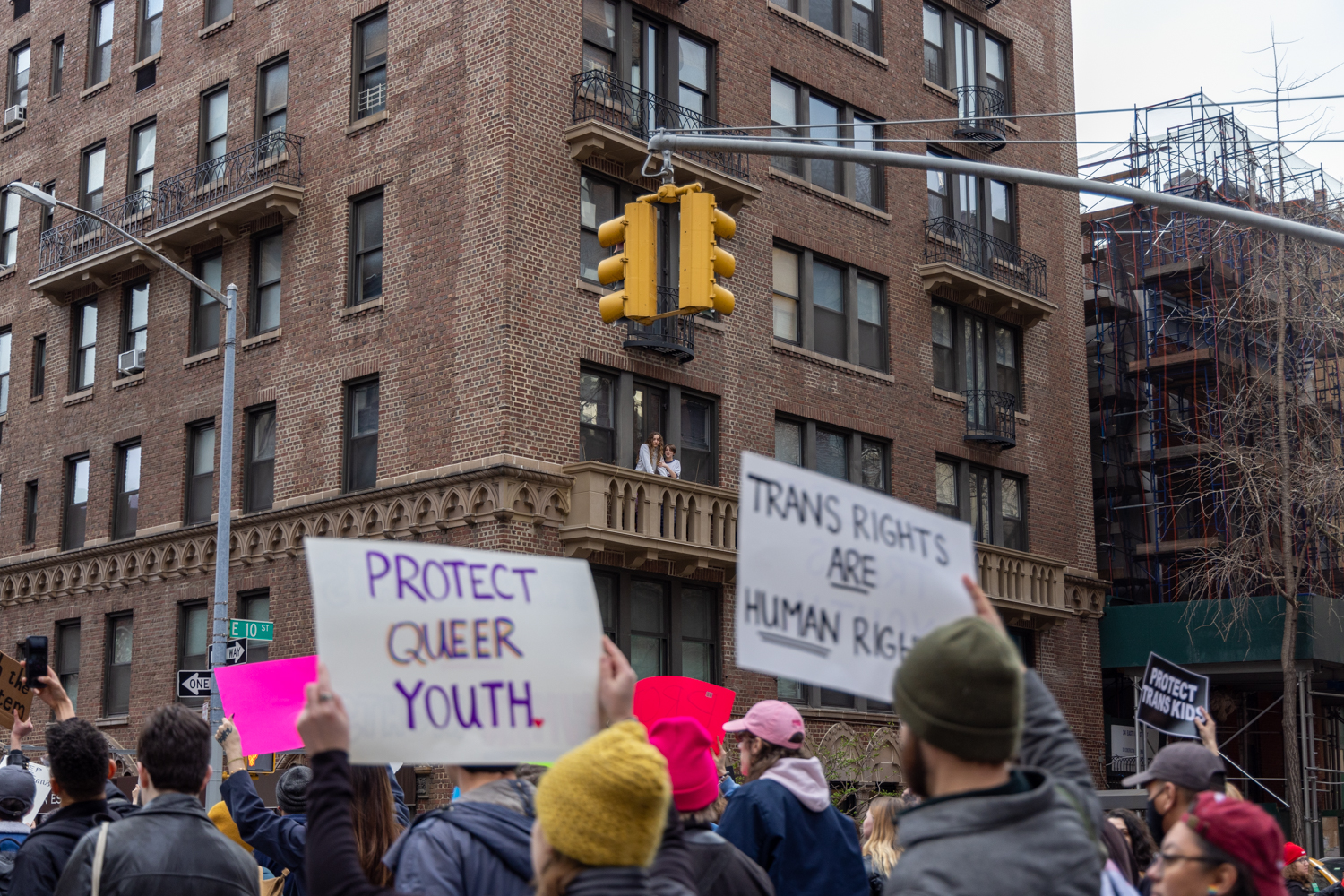 The march was briefly disrupted by Alex Stein, a right-wing internet personality who is notorious for invading public local government meetings. Stein barged through the crowd, shouting "children cannot consent," and transphobic slurs at the protesters. Stein was quickly pushed off the stage, with some marchers spitting and throwing water at him. His livestream of the event on Twitter received over one million views.
Security for the march was provided by members of Butch Monthly, a New York City-based organization of butch-identifying people. The group joined hands to block traffic as the crowd made its way down University Place. Pat Nealon, the founder of Butch Monthly, said that it's important for students like those who organized the march to have queer role models.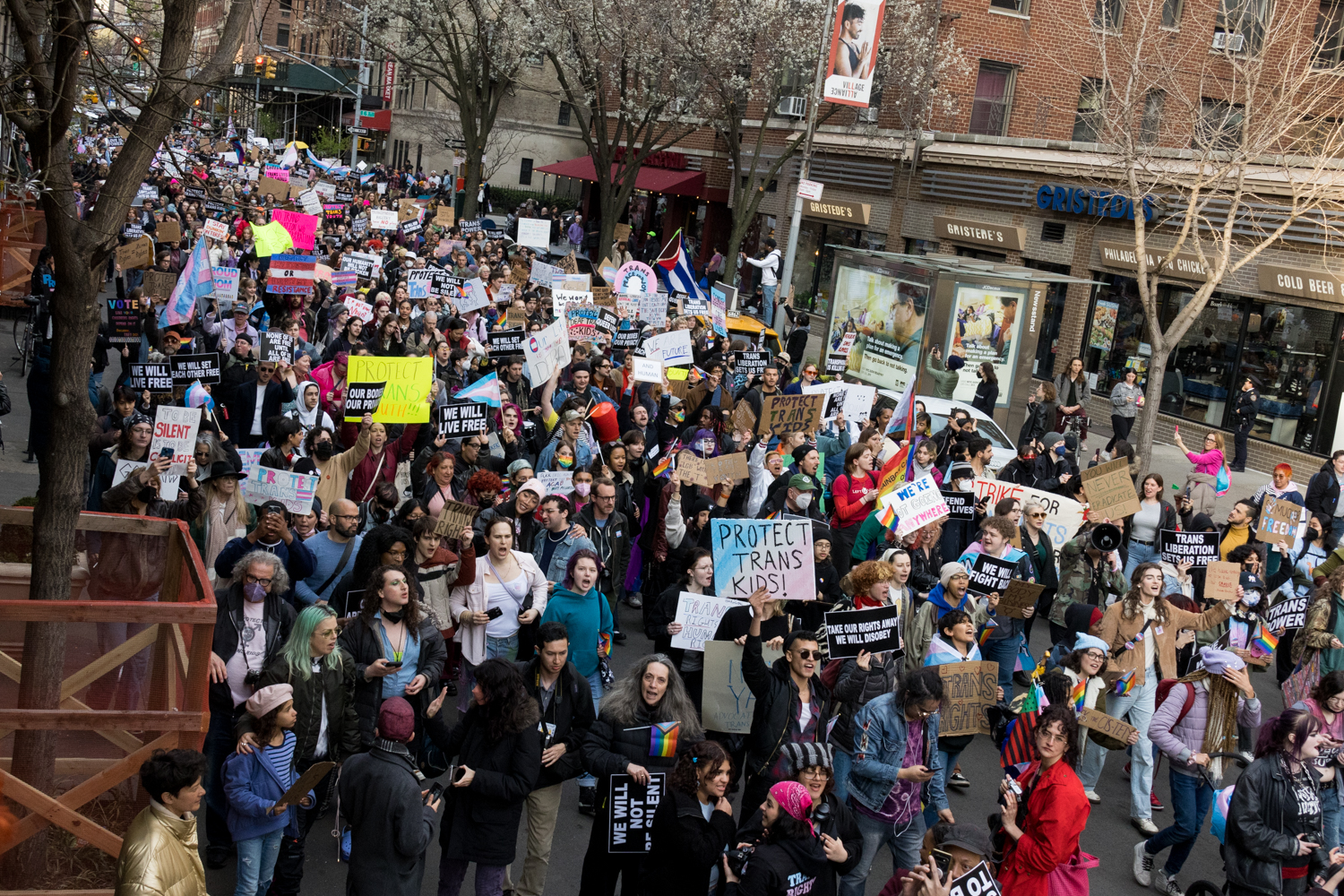 "It's so important that we show up in society at schools, at churches, at the public park — anywhere — and let folks see us to know that we exist, to see what we look like and to see how empathetic we are, how caring we are, how wonderful we are, how a part of the community we are," Nealon said. "Because we're all trying to make society better."
Jay Walker, a queer rights activist who has organized in New York City for the past seven years, said that he thinks it's important for young people to be vocal about trans rights in the face of political controversy.
"Right now, our democracy is at stake," Walker said. "Students at NYU and students at universities across the country need to get more involved in the activity that's happening out in the streets, we cannot do it without your generation. You need to take a stand. You need to take a public stand, and you need to hold your institutions accountable."
Contact Alina Hollister at [email protected].