Paulson Center opens first batch of athletic facilities
A fencing room, wrestling studio, squash courts and locker rooms have all opened, but students will have to wait for access to the pool, jogging track and basketball courts.
Long-awaited sports facilities at NYU's Paulson Center are now available for use, two months after the building's academic and residential spaces first opened their doors. As of March 27, students now have access to new cardio facilities, a fencing room, squash courts, locker rooms and a wrestling studio. Other athletic facilities, including the pool, jogging track and equipment room, will open at a yet-unspecified date.
The newly opened spaces will be open to all students, faculty, staff and anyone else with an NYU Athletics membership, according to James Devitt, a university spokesperson. The building's basketball courts, which were damaged due to a water leak after pipes in the building froze, are slated to open this summer.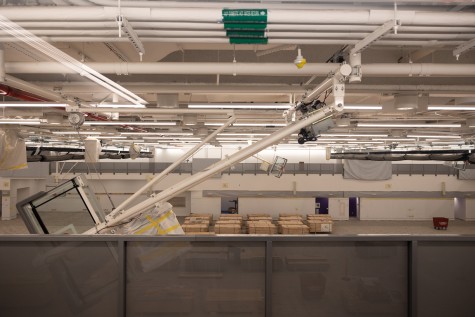 "The university welcomes the opening of athletics venues within the Paulson Center — state-of-the-art facilities that will be transformative for the NYU community," Devitt said.
Devitt added that the building's arts spaces will also host tours and debut performances this coming Saturday, though they have been open since the start of the semester. The Paulson Center is equipped with three theaters — including one with professional-grade capabilities — and an ensemble practice room, in addition to its common spaces, classrooms, dining facilities and residential spaces for students and faculty.
"We encourage people to come out, take a tour, and see for themselves the beautiful space it is and the positive addition it is to our campus as a whole," said Stuart Robinson, the NYU vice-president who directs the university's athletics programs. 
NYU first-year Steven Gulkowitz, a lifeguard at the Palladium Athletic Facility who will work at the Paulson Center pool once it opens, said that the ventilation system at the Palladium pool is loud, which can impact his ability to safely do his job. He hopes the ventilation system at the Paulson Center pool facility will be less noisy.
"If you want to be able to hear people in the pool — in case someone is calling out for help — it could definitely hinder that," Gulkowitz said. "If someone's not shouting very loud, I might not be able to hear them."
Jerry Tian, a sophomore who frequents the Palladium basketball courts, said there are long wait times to play and the courts are usually crowded. He said that while he is excited that more of the sports facilities in the building are open, he is disappointed that the basketball courts will not be open until the summer.
"After hearing that [the Paulson Center] was opening I was like, 'Finally I get to have some courts to play on,'" Tian said. "I was a bit disappointed when I heard the news at first — but I'll wait a couple more months."
Contact Adrianna Nehme and Carmo Moniz at [email protected].