Police car crashes into civilian vehicle on University Place
New York City Police Department officers collided with a civilian vehicle on University Place while heading to the location of a reported theft on Monday, Feb. 20.
While responding to a report of theft on 14th Street, just south of Union Square, a New York City Police Department vehicle crashed into a civilian's car at around 5 p.m. on Feb. 20. Two officers from the Sixth Precinct were taken to Bellevue Hospital after the collision, both in stable condition. 
The crash, which occurred on University Place between 13th and 14th Streets, left the civilian's white Ford crumpled on the left side, and bent the police car's bumper. The civilian victim, Michael Krawiec, was not seriously injured, but was sent to a nearby hospital after the accident. 
Priya Krawiec, his daughter and a student at NYU, said her father heard police sirens while he was driving, but said he didn't see any lights or vehicles. The police vehicle hit the side of his car shortly afterward.
"Fun fact: If you're cops, you can't just run through shit," Krawiec said. "You still gotta actually look and stuff, crazy enough."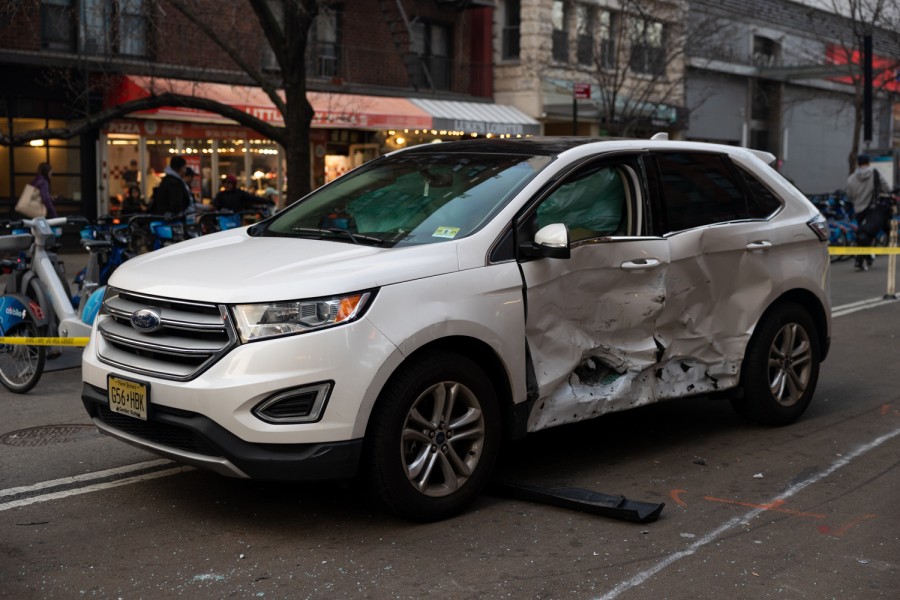 Three other people were taken into custody related to the theft incident, according to NYPD lieutenant John Grimpel.
Eve Gimbel, a nearby resident who came across the scene of the collision after the fact, said he felt disgusted that the accident happened.
"I assume that the cop was speeding either for leisure and ego, or to chase someone, and that's what happens when they do that," Gimbel said. 
Contact Bruna Horvath at [email protected] and Carmo Moniz at [email protected].