Farbin Towhid, Tisch first-year beloved for kindness, passion and talent, dies at 19
Friends, acquaintances and fellow students gathered in Washington Square Park to mourn her passing and share their memories of her.
Content warning: this article mentions suicide.
Dozens of NYU students gathered around the Washington Square Arch on April 6 to remember Tisch first-year Farbin Towhid, who was found dead in her home in Allen, Texas the previous day. Officers from the Allen Police Department found her as well as her two brothers Tanvir and Farhan, her parents Iren Islam and Towhidul Islam, and her grandmother Altafun Nessa dead while performing a wellness check Monday morning.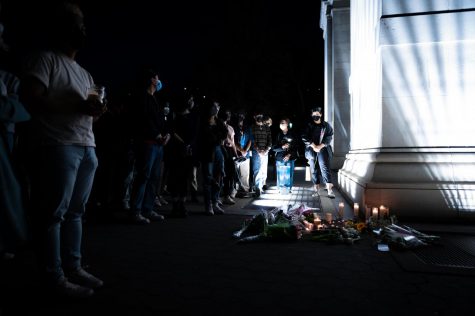 It is suspected that the two brothers shot their family as part of a murder-suicide pact. Farbin's twin brother Farhan posted a suicide note on Instagram, outlining their decision to commit suicide and kill their family, which triggered the police wellness check. 
Farbin was a dedicated Tisch Film and Television student with a passion for animation. Her parents originally wanted her to be an engineer, according to a friend, but Farbin was persistent. She convinced her parents to let her study Film and TV at NYU. Though her time at the university was tragically cut short, friends say she made a profound and lasting impact on all who met her. 
When a few of Farbin's NYU friends heard the news of her passing, they held a Zoom call to remember the impact of her presence and energy. Andre, a Steinhardt first-year who preferred to keep his last name private, recalled a particular day when Farbin showed her true selflessness.
On that day, Farbin didn't say good morning to her roommate — they had formed a close relationship. Her roommate assumed Farbin was just having a bad day and left her alone. 
"Later on, Farbin baked her a cake and wrote a letter about how she was going through depression and just apologized to her roommate," Andre said. "That's who Farbin was. She never thought about herself. She always thought about other people before herself."
According to her friends, Farbin was quirky and unafraid to be herself. She lit up every room she entered, and her positive energy, humor and passion were admired by many.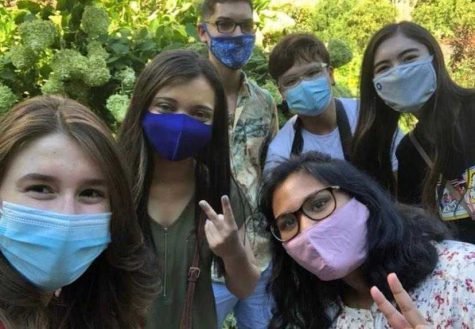 "That was an inspiration to the rest of us," Andre said. "We want to have the same passion that Farbin had in life."
Tisch first-year Zhanel Ibragimova met Farbin during virtual Welcome Week events on Zoom. The two quickly bonded over their shared interests and multicultural identities. 
"She became one of my very first friends from NYU who gave me a feeling of community," Ibragimova wrote in a text to WSN. "I remember all our trips and simple dinners in Lipton where we would laugh until the very last breath. We talked about our career plans and how we would collaborate on so many projects together."
Ibragimova was looking forward to a long-lasting friendship and regrets not telling Farbin how much she meant to her. 
"It feels abrupt, just unfair, to see her not being with us anymore," she wrote. "She had an amazing future ahead. We were only at the beginning of our friendship and hoped for so many adventures in the next semester."
CAS first-year Simru Sonmez-Erbil remarked upon Farbin's generosity and bright soul — qualities she said will impact her forever.
"I always noticed that the get-togethers she was at were so much better than the ones she couldn't make it to," Sonmez-Erbil wrote in a text to WSN. "Her positivity spread like wildfire, and even in times of hardship, her priority was spreading joy to the people around her. She always made me laugh so hard, and I was blown away by her talent and skill. Hers is a light that will never stop shining."
Tisch alum Josh Khrister Magpantay grew up in the same town and went to the same schools as Farbin. Since he too studied Film and TV at NYU, Magpantay planned on mentoring her this semester. 
Jennifer Gurss taught both Magpantay and Farbin in their middle school's gifted program. Gurss told WSN that Farbin was an incredibly bright student with a positive attitude who had compassion for all those around her. The last she heard from Farbin was in an email. Farbin had just graduated high school and wrote a note to Gurss, thanking her for her positive influence and telling her she would be attending NYU.
"She was always going to do big things," Gurss told WSN. "My hope is that through this really tragic event something good comes out of this to really honor the person that she was."
Everyone who met Farbin knew she was a talented student with a bright future ahead of her.
"She honestly had so much potential … that I was looking forward to working with," Tisch junior Sam Reddick wrote in a text to WSN. "But unfortunately [I will] never get the chance now."
Tisch freshman Brian Zhao was in a sound image class with Farbin. Although he knew her for only a short period of time, he considers her to be one of his greatest friends. 
"From our few conversations, I can recall her being truly one of the kindest and most genuinely good-hearted people I've ever met, with an amazing talent for drawing, writing, and animation as well," Zhao wrote in a text to WSN. "During class, when we'd share our sound projects or scripts, she would always have something so kind and affirming to say about everyone's work. It's rare to meet someone who truly has such enormous compassion and care for others."
Tisch first-year Rono Bijoy Pal was unable to meet Farbin in person due to COVID-19, yet still felt a strong connection to her.
"It was fascinating how she could resonate the positivity that she embodied," he wrote in a text to WSN. "Hearing her in class, one could tell her passion and dedication towards film and her craft. Farbin was a person who touched and illuminated countless lives with her broad adorable smile."
Many more friends and acquaintances with whom WSN spoke highlighted how kind and genuine Farbin was to everyone she met. Nearly everyone remarked upon her smile. Her impact on those who knew her will always be remembered.
"Her creativity and passion when it came to filmmaking was so inspiring," Mya Yetso, a Tisch first-year, wrote in a text to WSN. "A few other students and I are hoping to honor her work and are currently developing a project to do so. We all are going to miss seeing her beautiful smile in class every day."
Magpantay noted the grief the family's death has caused.
"[Farbin's brothers] didn't realize that when they pulled on those strings and tucked them away, they were held on to other seemingly meaningless spindles," Magpantay said. "You pull on Farbin, and you pull on some woman who used to teach her as a sixth-grader, you pull on me, who didn't even get around to helping her, but was meant to this year. You pull on the people that she made friends with on her own. When you take your family with you, you don't realize how many people you're pulling a piece of their heart out."
The Islamic Center at NYU will hold a virtual prayer service for Farbin and her family on Wednesday at 6:30 p.m. EDT.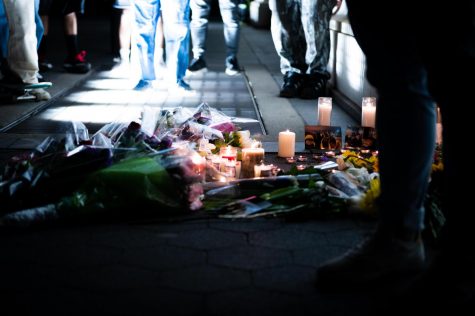 Email Rachel Fadem at [email protected]