"The first thing I want to do is make people give a sh-t again," Gallatin junior Courtney Curd said as members of NYU For Cory Booker and NYU For Bernie were tying up a goldfish pinata for their Unified Debate Watch Party in the Kimmel commuter lounge.
After grabbing their Domino's Pizza slices and figuring out how to set up the audio for the TV 10 minutes in, around 20 students, some affiliated with the groups, some not, sat down to watch the fifth democratic debate. Without a clear front runner and with less than 100 days until the Iowa Democratic Caucus, the 10 candidates presented a unified party line in some respects and heavily differentiated themselves in others.
For student campaign leaders Curd and Natalie Carranza, the event had a similar theme: while they champion different candidates, both want to get more students involved in campus activism.
"NYU's general political leanings are very focused on issues of social identity, which is of course very important and much needed, but I think NYU has a little bit of a lack of diversity of economic experiences," CAS senior Carranza said. "And sometimes I think those types of issues get lost in the fold in the political landscape."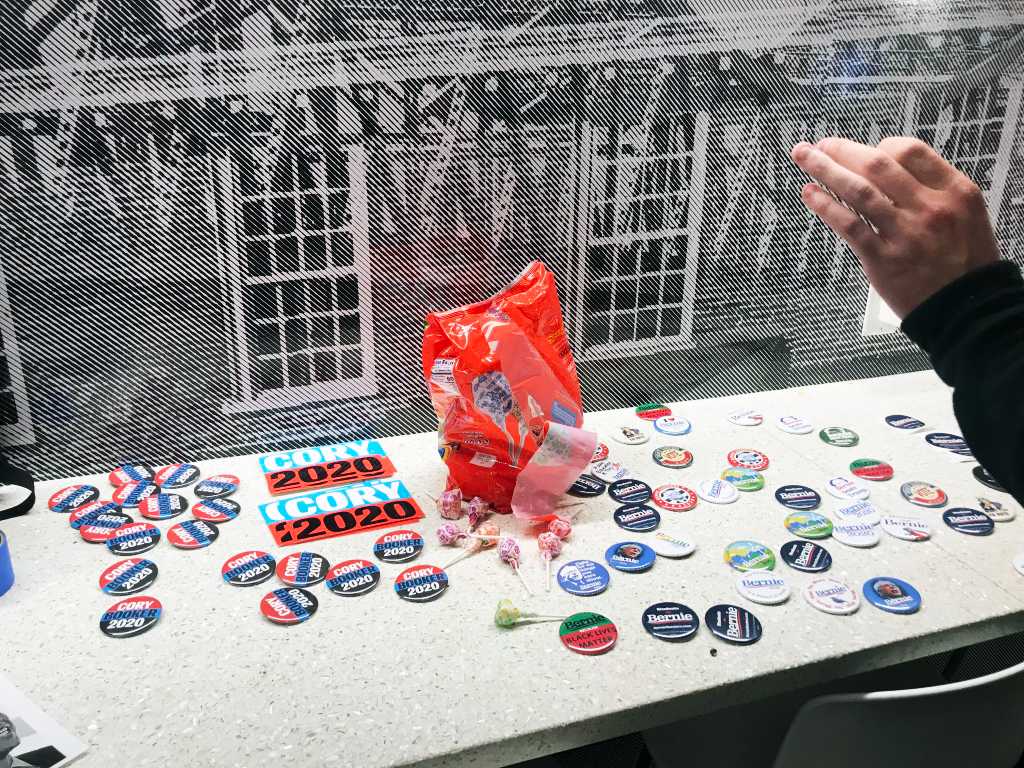 Curd and Carranza are undeniably passionate about their candidates — Curd focusing on Sen. Cory Booker's (D-New Jersey) criminal justice policies while Carranza admires Sen. Bernie Sanders' (I-Vermont) activist background and authenticity.
But at the end of the day, Curd — who also serves as National Campus Organizer for the Booker campaign — said the two candidates are "fighting for the same thing and eventually we'll have to fight together," once the general election comes around.
Despite a slew of endorsements and strong debate performances, Booker hasn't been able to crack 3% in the polls. Sanders, who lost the Iowa Caucus by a razor-thin 0.3% margin in 2016, has stagnated at third; he trails closely behind Sen. Elizabeth Warren (D-Massachusetts) and six points behind a surging Pete Buttigieg, Mayor of South Bend, Indiana.
CAS senior Matias Luehring said while he likes Sanders' policies of student debt cancelation and universal healthcare, the debate left him impressed by Andrew Yang's Universal Basic Income policy and Booker's general performance.
"I only knew a little bit about Bernie before," Luehring said. "This has let me see a little more about the other Democratic candidates."
While the panel of journalists at the debate focused on issues ranging from housing policies to abortion rights to combating white supremacy, the democratic candidates launched personal attacks against each other.
Booker traded jabs with former Vice President Joe Biden over marijuana legalization, joking that he believed Biden was high when he said cannabis was a gateway drug earlier this week. Sen. Kamala Harris (D-California) quarreled with Rep. Tulsi Gabbard (D-Hawaii), accusing her of being an apologist for Syria's Bashar Al- Assad. Gabbard went on the offensive against Buttigieg, claiming he supports invading Mexico, in reference to a statement he made in an interview that, if Mexico agreed, the U.S. may send troops in to help deal with drug cartels.
GLS junior and self-described "undecided independent organizer" Raj Kittusamy had been disappointed in the lack of party unity in the previous debates, but was pleasantly surprised with this one — despite the jabs they threw at each other.
"I think tonight there were moments of a really strong united front," Kittusamy said. "Regardless of whether the plans are different or not, I think there is a core set of beliefs that audience members can follow along with while also enjoying the 'candidates' punchlines.'"
Email Matthew Fischetti at [email protected].