Panelists and Students Debate Extent of Academic Freedom at NYU Abu Dhabi and NYU Shanghai
At an event at Bobst Library, academics said NYU's campuses in countries that place strict limitations on speech may face restrictions to their academic freedom.
NYU Libraries hosted a forum on academic freedom and free speech on Thursday evening in Bobst Library. The panel featured speakers from NYU, Portland State University and PEN America, an organization dedicated to education about and protection of free speech.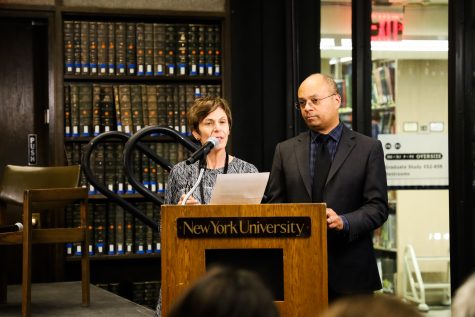 Although the discussion touched on a wide variety of free speech issues, attention turned more specifically to academic freedom at NYU's global sites — particularly NYU Shanghai and NYU Abu Dhabi — during the Q&A session at the end. Both China and the United Arab Emirates have limits on academic freedom that have led to disappearances, imprisonment, censorship and security denials. In fact, the denial of visas for three different NYU professors — who claimed they were rejected due to their religious beliefs or academic fields of study — led the Arthur L. Carter Journalism Institute to sever ties with NYUAD. One professor who taught at NYUAD, Lauren Minsky, said her books were censored by the government and has since stopped teaching there.
Challenges to academic freedom are especially hard to root out given the unique role of the university in facilitating discussions said Jonathan Friedman, panelist and director of the Campus Free Speech Project at PEN America.
"The university holds enormous sway over what we deem legitimate ideas, of what we consider truth," Friedman said. 
Gallatin and Media, Culture and Communications professor Paula Chakravartty highlighted the importance of looking at academic freedom through a global lens.
"Our discussions here at NYU, I would argue, have to be attentive to this global context," Chakravartty said. "Given that we are an institution that has one of the most international student bodies in the country, and we are an institution that calls itself — and is — a global network university with sites spread all across the world."
Professor of film studies at Portland State University Jennifer Ruth stressed the role of visa access in academic freedom at NYU Shanghai. Like with NYUAD, NYU does not have control over which faculty members are allowed visas and which are not.
"If you can't choose who your faculty are at a university, then your academic freedom is not complete," Ruth said.
NYU students at the event were less concerned with issues of faculty and global campuses and focused on their experiences in their own classrooms. 
CAS senior Charlotte Standefer noted that students with opinions that are not consistent with NYU's dominant liberal ideology can feel uncomfortable sharing their viewpoints.
"There's a climate that we live in, especially in university, that kind of leans towards censorship," Standefer said. "But I don't think it understands that it does that. I think that we're quick to censor ideas that we find offensive or think things shouldn't be taught, based on offensiveness."
CAS junior Devanshi Khetarpal also thought that there are topics that are stifled in NYU classrooms.
"I certainly think there are areas where people are hesitant to bring up discussion," Khetarpal said. "I think in classrooms particularly sometimes, I've just seen that race is a tricky topic for some people to take in or deal with in a full manner."
Like Standefer and Khetarpal, GLS junior Regina de Heer said she feels that some viewpoints are more valued in classrooms than others.
"In classrooms, I feel like there's a set curriculum, and people who have opposing views — let's say, for example, someone is a Trump supporter," de Heer said, "From my experience, in a classroom setting, that person will be attacked. So they feel the need to suppress themselves, where even if it is an opposing view, something I don't agree with, I think that there should be the space to do that."
Email Tessa Kicline at [email protected]