From Little Mermaid to Horseman of the Apocalypse, New Yorkers Go All Out at Annual Halloween Parade
A look at the attendees who came out for the parade, which featured floats, puppets, bands and artists all decked out in their best spookiest costumes.
The sidewalk along Sixth Avenue was packed with superheroes, witches, angels and more on Thursday evening for the 46th annual New York Village Halloween Parade.
Floats, music and light shows are staples at the annual parade, which followed a smaller, children's parade co-hosted by NYU in Washington Square Park earlier in the evening. Kate Backhouse, who was dressed as Harley Quinn, and her friends from England went to both.
"The kids wanted to dress up as Batman and Poison Ivy, and we kind of themed it around the Batman movies," Backhouse said. "We've got Robin, Batman, Poison Ivy, Catwoman and Harley Quinn. We've got the whole group."
Harley Quinn and Batman were popular costumes at the parade. Other pop culture icons, including a variety of Star Wars characters like Darth Vader, Ewoks and Rey, were everywhere. Some people, however, had more obscure costumes.
Aaron Jefferson was there with two of his friends. He sported a pointy mask and skull-topped cane. 
"This is my version of death," he said of his costume. "I was doing a personal story about the four horsemen of the apocalypse, and I decided to go as death."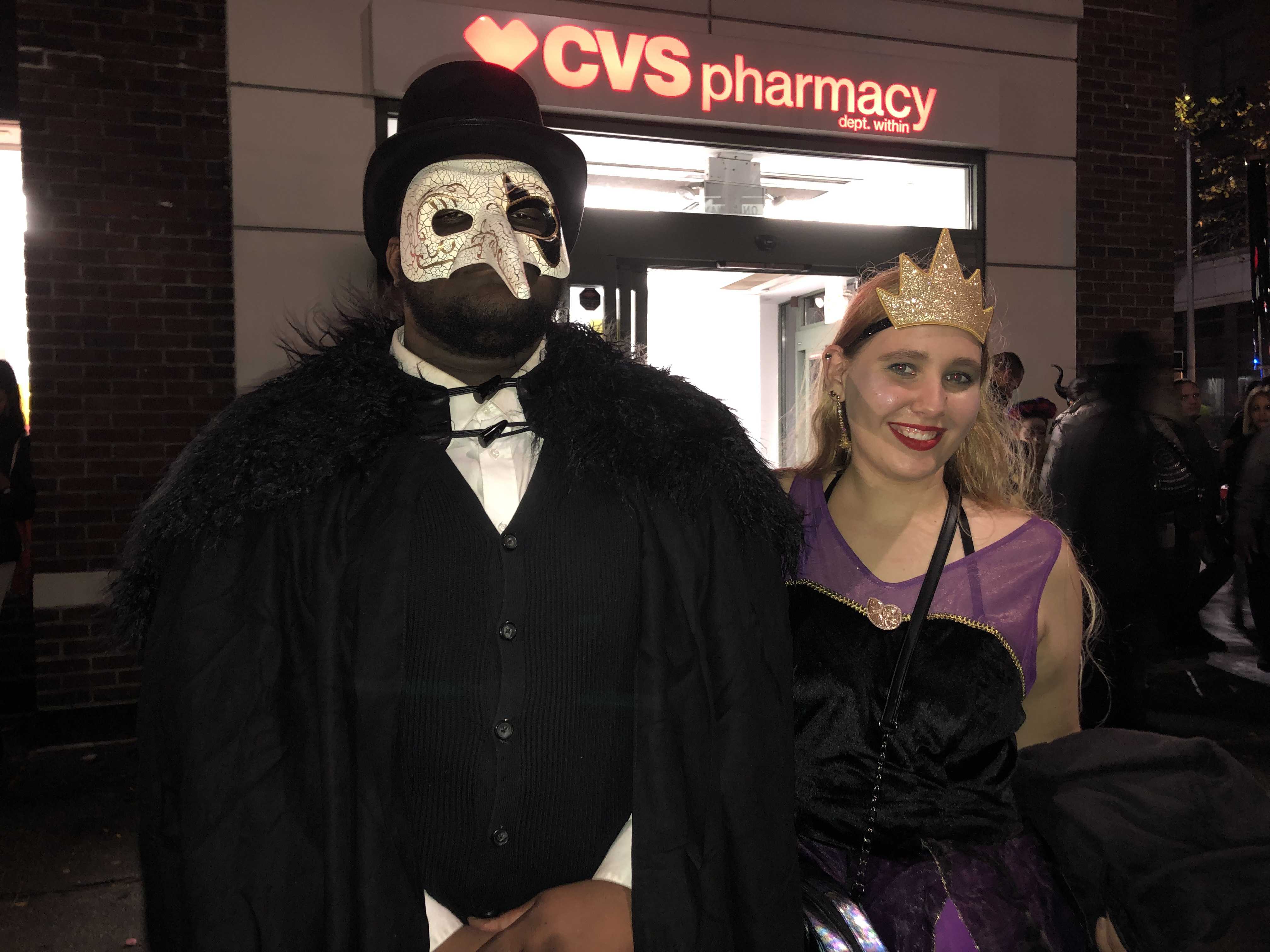 Jefferson found out about the parade from his friend Justine Salas, who came dressed as Ursula from The Little Mermaid.
"I came across [my costume] in this magazine I got in the mail from the Disney Store," Salas said. "I was like, 'Yeah, I need this.'"
Others sported homemade costumes. Rachael Balcanoff and Marc Bovino designed their own outfits. Bovino, a Supermarket Sweep fan, made his own contestant sweater and screen-printed the logo onto it himself. Balcanoff, dressed in vibrant, holographic blue, held a cardboard angler fish head.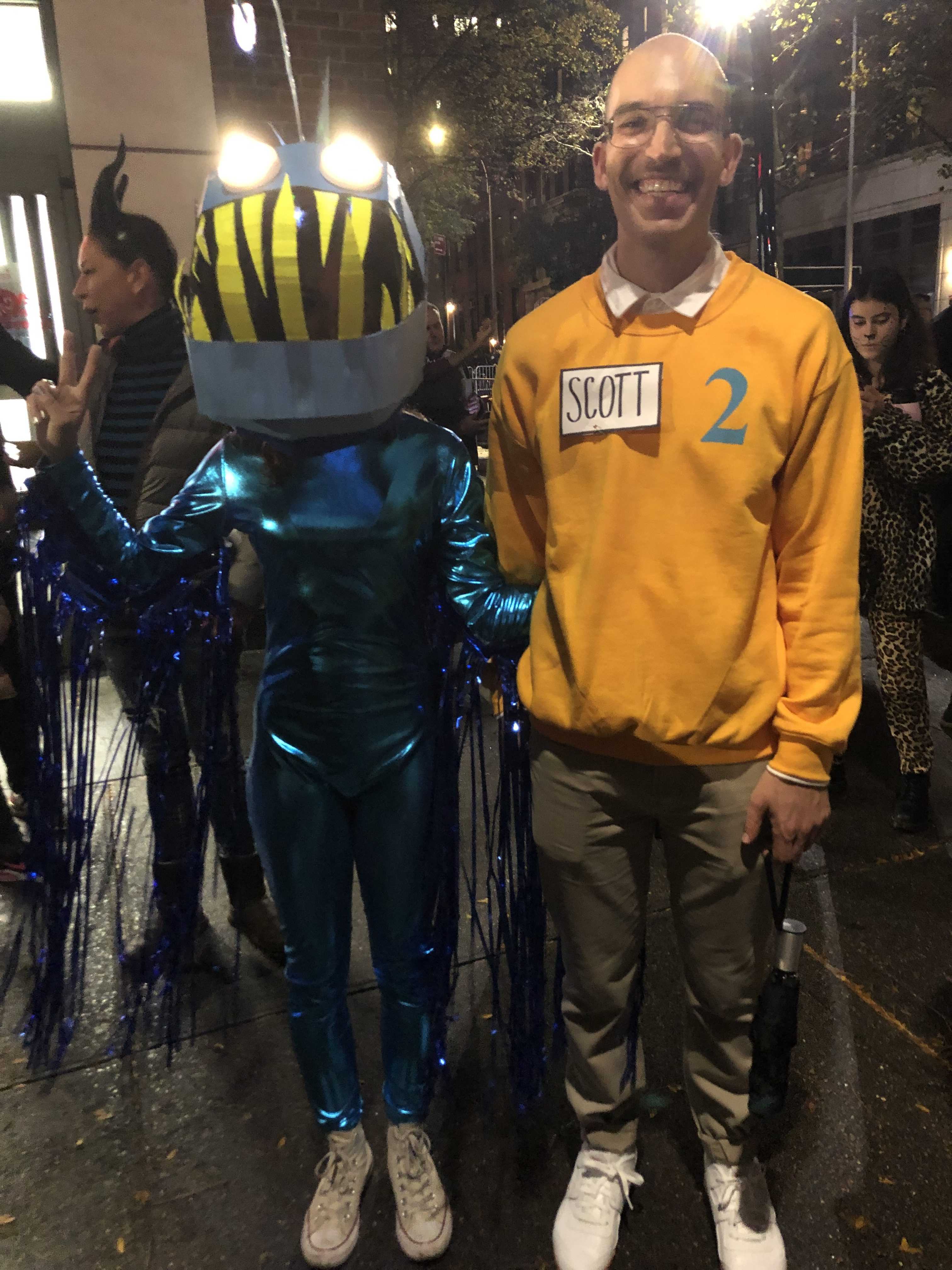 Balcanoff made the fish head herself, out of cardboard and paint. She even included lights for the eyes and the light at the end of the angler fish's hook. She said it only took her a few hours to make.
Bovino and Balcanoff were not Halloween parade first-timers. 
"The last time we went as Sam and Susie from Moonrise Kingdom," Bovino recalled. "And we ended up meeting the actor who played Sam. He went to NYU for film, and his friends were in Washington Square Park, and they were like, 'Can you wait here? Because he's coming.' And we met him." 
The Halloween parade brought together New Yorkers of all ages and walks of life to hang out on one street and be someone other than themselves for the night. Despite the wet weather, they showed up in hordes to enjoy a night of spooky fun. 
Email Tessa Kilcline at [email protected]