New York's proposed ban on flavored e-cigarettes is meant to protect the large population of young people who vape, but it may be hurting small business owners in its attempt to do so, multiple vape shop employees and managers told WSN.
"It's absolutely going to cut down the business. We cannot pay our costs: rent, employee insurance, taxes. We cannot do that anymore. Maybe we're going to close," said Aminan Sam, manager of the 165 Ninth Ave. smoke shop Smoking N Vaping.
Sam joins other concerned vape and smoke store owners and employees in waiting for the New York State Appellate court's ruling as the future of flavored e-cigarettes hangs in the balance. Governor Andrew Cuomo's emergency 90-day ban of flavored e-cigarettes was supposed to go into effect earlier this month, but is currently being fought by the trade group Vapor Technology Association that represents manufacturers, wholesalers, small business owners and entrepreneurs in the vaping industry.
Sam says that up to 40% of Smoking N Vaping's inventory, and up to 80% at other stores, could be illegal under the new law. Currently, Sam said the store is selling all sizes of e-liquid bottles at $10 to recoup his costs and try to break even.
Malik Asad quit smoking cigarettes by switching to the electronic alternative. The co-owner of a CBD and smoke store that opened on Macdougal Street in early September, Asad said Cuomo's targeting of flavored e-cigarettes is misplaced.
"[The real problem] is young teenagers, middle schoolers, people under 21 — they're all vaping cannabis oil," Asad said. "Vaping cannabis oil has become a huge trend. And most of them aren't getting it from a legit dispensary."
While New York and other states have tried to move forward with e-cigarette bans, the CDC has not given conclusive evidence that they are the culprit behind the 33 deaths and 1,479 documented lung injuries recently linked to vaping.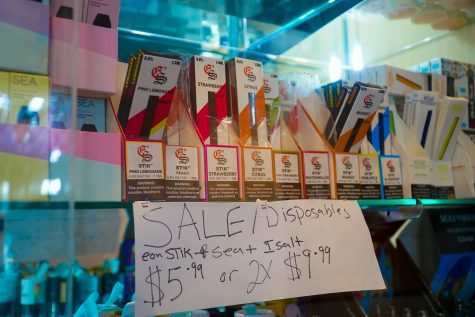 "Given the diversity of products reported and frequency of patients using both THC- and nicotine-containing e-cigarette products, additional methods such as product testing and traceback could help identify the specific cause of this outbreak," an Oct. 4 report from the CDC reads.
The report found that 87% of the 86 patients interviewed reported illicit THC use. Still, it recommends people stay away from vaping products in general as the epidemic is being investigated. THC carts were the subject of a September New York State Department of Health investigation, which found black-market cartridges being cut with Vitamin E acetate.
"If they make it illegal nationwide, and people aren't able to get flavored stuff, I'm sure they'll be on the black-market," Asad said. "There will still be retail stores that sell it illegally to the loyal customers and on the down-low. People are still going to get that urge to Juul and vape and are going to pay the price no matter what." 
Asad said nicotine's addictive quality and former smoker's motivation to not go back to smoking will create a high demand for the banned products. Asad said if states want to cut down on underage use that they should provide retail stores with some kind of machinery to verify if someone is under 21, like an ID card scanner.
Sam says Smoking N Vaping already has measures against underage use, and that a city inspector comes every two months, maybe every month, to ensure that is the case.
"Either they're going to regulate it, sell it at a certain price like cigarettes, or if I have to just take everything out," Asad said, as he pointed to his showcases of vape liquid that will become worthless if the courts rule in favor of the ban.
Email Matthew Fischetti at [email protected].