'Change Is Coming': Thousands March for Climate Action
Activists protested across the world on Friday to draw attention to the harmful effects of climate change.
Millions of people — many of them high school and college students — marched for a livable future during the Global Climate Strike on Friday.
With the goal of raising awareness about climate change, the strike took place one day after 2020 Democratic presidential candidates participated in a climate forum and three days before the U.N. would hold an emergency climate summit. More and more, global conversations are being had on what the U.N. has said is "the defining issue of our time." A global increase in temperatures — the preemptive symptom of climate change — can lead to catastrophic flooding, a depleted food supply, decreased air quality and other harmful effects that have left scientists, activists and some politicians around the globe increasingly concerned.
The global issue was present in the marches, chants and speeches of thousands who crowded the narrow New York City streets on Friday. Activists walked from Foley Square to Battery Park chanting "What do we want? Climate justice. When do we want it? Now!" and "Hey hey, ho ho, fossil fuels have got to go." Once they got to Battery Park, Swedish environmental activist Greta Thunberg, singer Willow Smith and rapper Jaden Smith, among others, gave speeches.
Brooklyn Technical High School sophomore Serenity Lai was one of many New York City students who left class on Friday to participate in the strike.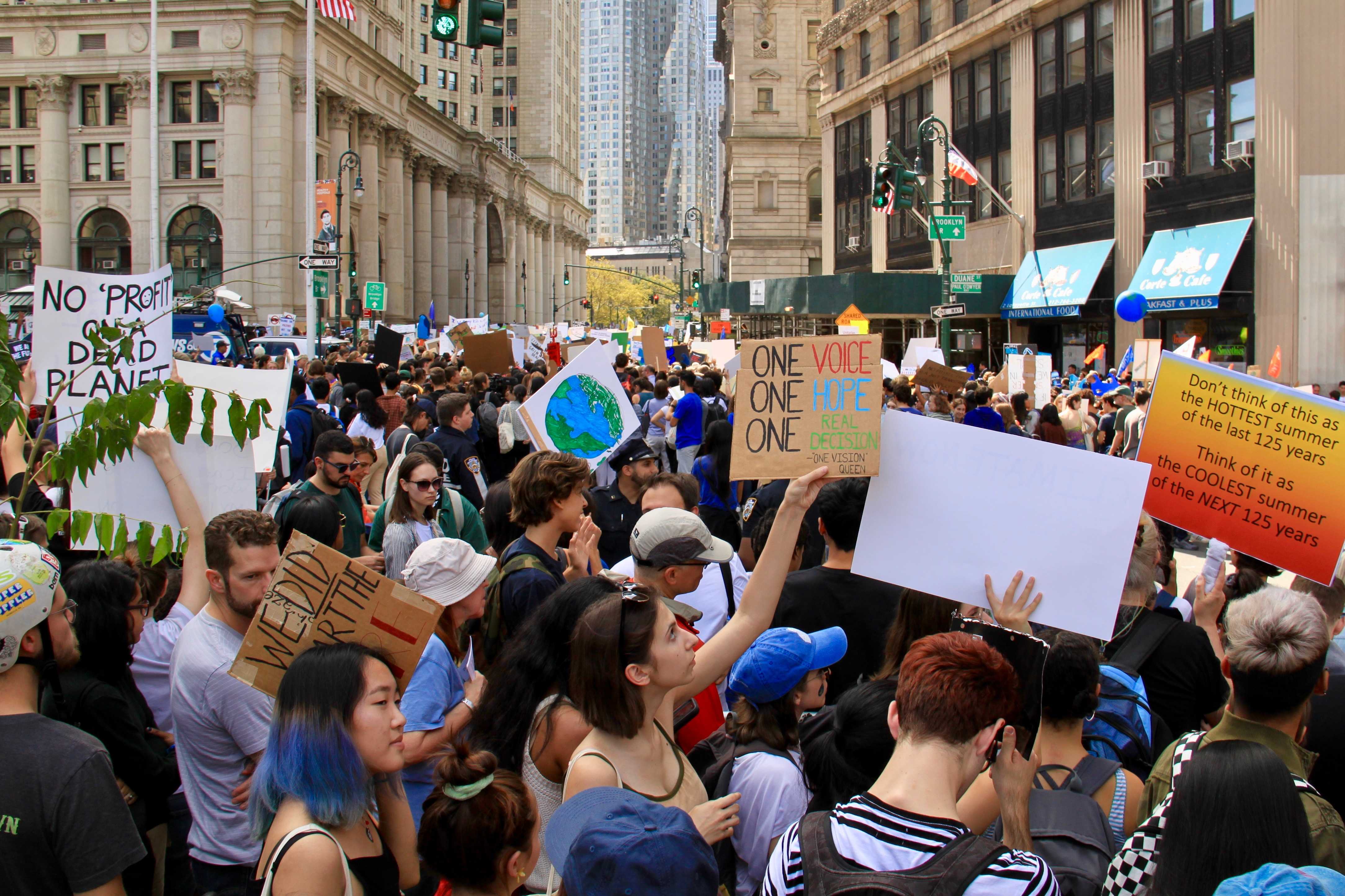 "It's a basic human right to have clean air and a safe environment," Lai said. "It's important for today's youth to use our voices to advocate for what is right."
Lai will not receive any repercussions for skipping class though, as Mayor Bill de Blasio — who recently dropped out of the 2020 presidential race — excused all public schools for the strike, which he attended.
Like Lai, Heschel High School sophomore Judah Klingsberg from left school to attend the strike.
"[Climate change] is an emergency and we have to panic, or else our world is going to die," Klingsberg said.
Thunberg, who began protesting at age 15 outside the Swedish parliament, traveled for two weeks on an emission-free yacht to New York City to draw attention to the impacts of air travel on climate.
"We should not be the ones fighting for the future, yet here we are," Thunberg said. "We are not just some young people skipping school or just some adults who are not going to work. Together and united, we are unstoppable."
Thunberg thanked the crowd while recalling statistics from the climate strikes already concluded across Europe, Africa, Asia and Australia. Over three million people across the world participated in the strike — 100,000 in London, and 1.5 million in Germnay alone.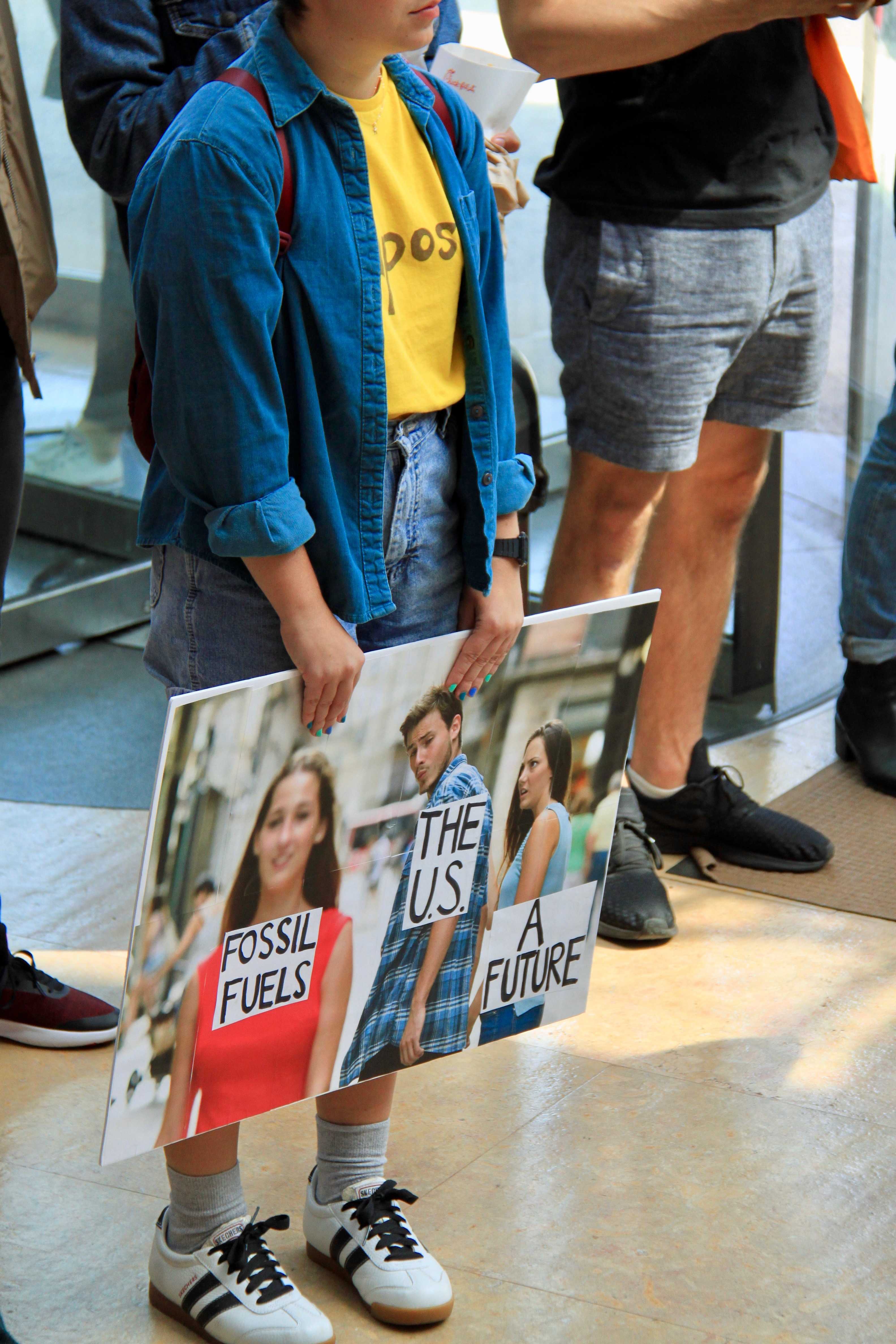 "This is the largest climate strike ever in history," Thunberg said. "And we all should be so proud of all of ourselves because we have done this together."
CAS sophomore Eni Owoeye believes the sheer amount of people at the strike shows the world is concerned about climate change. Owoeye, who majors in Environmental Studies and International Relations, spoke about how climate change detrimentally impacts access to education for those in the outer regions of the Sahara.
"If the environment is destroyed in such a way you cannot live anymore, education cannot happen," Owoeye said. "That is why people leave their education to strike, because right now, education across the world is at risk due to climate change." 
Rebeca Sabnam, a 16-year-old Bangladeshi activist and New Yorker, spoke of how climate change has already affected her.
"[As a child], my uncle would carry me on his shoulders because the floods were too high [in Bangladesh]" Sabnam said to the crowd. "If I were to walk on my own, I would drown."
At NYU, sustainability has been the focus of discourse between students and administrators. Last semester, NYU's Sustainability Advisory & Working Group, made up of both the advisory and working groups, created 35 initiatives that would step up the university's efforts in addressing climate change. 
One point of contention has been the extent of limitations on carbon emissions — while NYU hopes to go carbon neutral by 2040, student activists from NYU Divest have called for complete decarbonization — and sole reliance on renewable energy — within the same timeframe.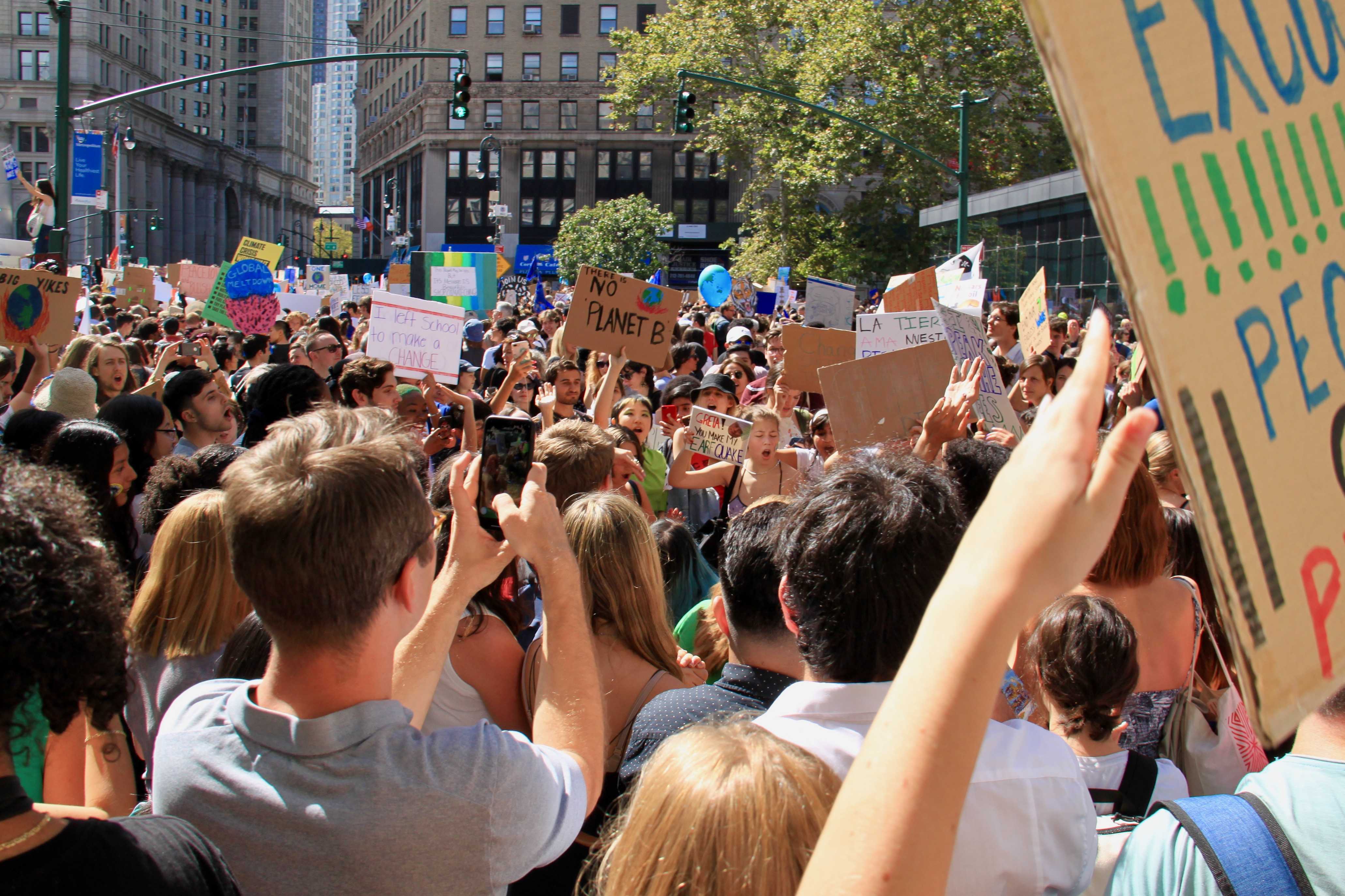 Nationally, completely renewable energy has been discussed in the form of the Green New Deal. Led by Rep. Alexandria Ocasio-Cortez (D-New York) and Sen. Ed Markey (D-Massachusetts), the Green New Deal calls for net-zero greenhouse gas emissions, millions of high-wage jobs and a higher investment in the U.S.'s crumbling infrastructure in addition to clean air and water.
Another action environmental activists have championed is a more individual choice: going vegan. The dietary change could decrease someone's carbon footprint by more than 70% due to the energy, water and pollution involved in maintaining livestock, the University of Oxford concluded in a study last year.
"I [went] vegan because of moral reasons, and I've been involved with choosing more sustainable actions," Brooklyn Friends High School sophomore Ava Sklar said. "The best way for people to reduce their carbon footprint is by reducing meat and dairy."
Thunberg voiced support for any and all efforts toward combating climate change and encouraged politicians to act at the U.N. Climate Action Summit on Sept. 23 to a cheering crowd, issuing a warning to those who oppose change.
"For the people who don't agree with us, I have bad news for them," Thunberg said. "Change is coming, whether they like it or not."
Correction, Sep. 23: A previous version of this article attributed a quote by Judah Klingsberg to Bill de Blasio. The article has been updated to reflect the correction and WSN regrets the error.
A version of this article appeared in the Monday, September 23, 2019 print edition. Email Roshni Raj at [email protected]