U.S. Sen. (D-Massachusetts) and 2020 presidential candidate Elizabeth Warren spoke of bringing down corruption in Washington and giving power back to thousands of people at Washington Square Park on Monday.
"[We must] put economic and political power in the hands of the people, and we start by rooting out corruption in our government," Warren said.
The progressive is one of 10 presidential hopefuls that participated in the third Democratic debate last Thursday. Polls from Monday have her 9.2 points behind the frontrunner, former Vice President Joe Biden. Warren is running on a progressive agenda that prioritizes anti-corruption by breaking up large corporations like Facebook and Google, instituting campaign finance and voting reforms and increasing workers' rights. Her platform also includes policies such as universal healthcare, the Green New Deal and canceling student debt, among others.
At the rally, Warren drew attention to NYU's Silver Center, which is the site of the historic 1911 Triangle Shirtwaist Factory fire. Many female workers died in the fire due to unsafe conditions — namely, exit doors that were locked with the owners' approval to keep them from leaving. Over 100 workers died, spurring reform in factories across America.
"We are here because of some hard working women, fighting for shorter hours and higher pay […] but the fat profits were making New York factories rich," Warren said.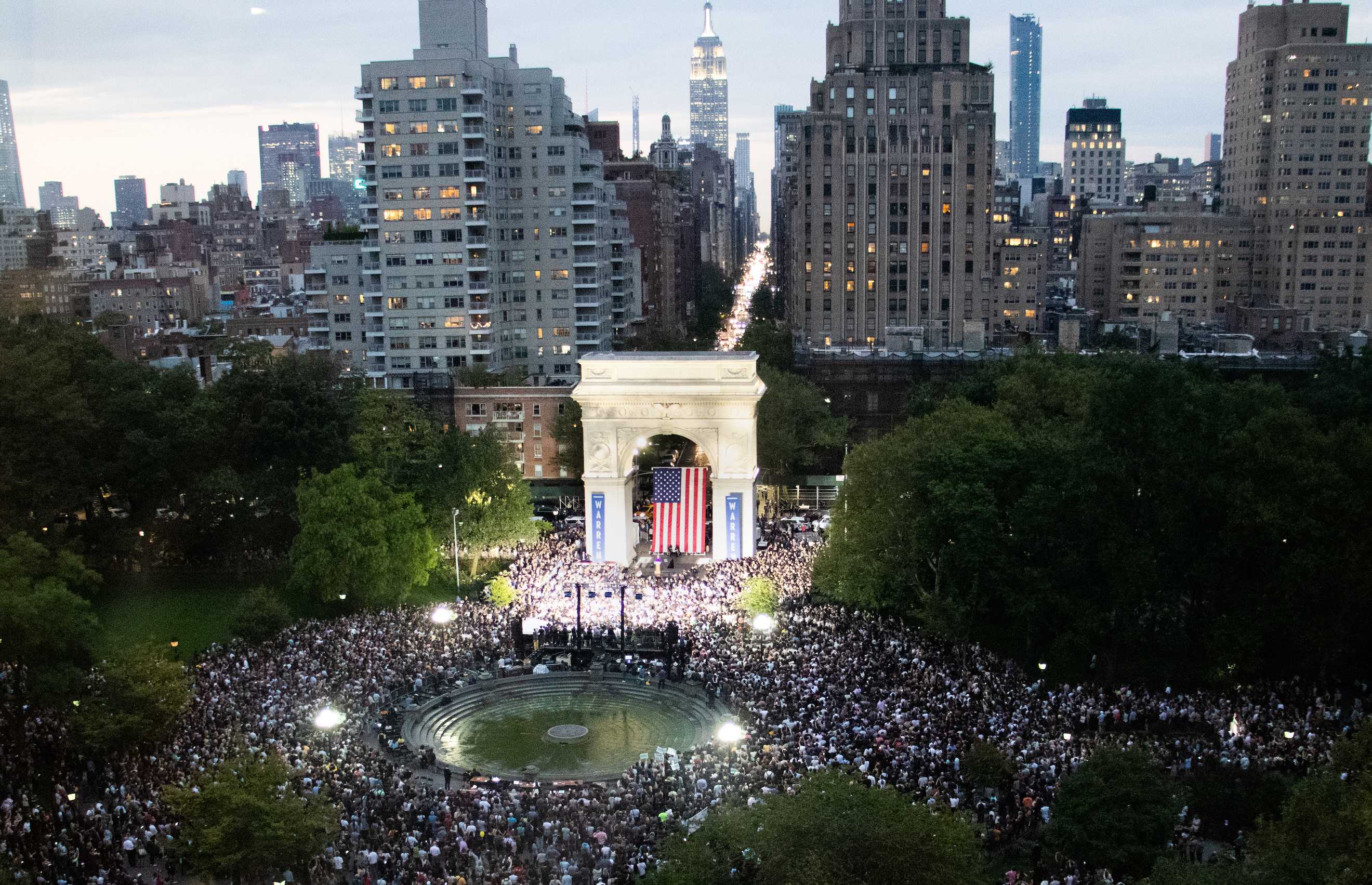 Warren also drew attention to her plans for establishing publicly funded campaigns as part of her anti-corruption agenda. She said presidents owning their own businesses — such as is the case with President Donald Trump — creates a conflict of interest that inherently leads to corruption.
"Take care of your own business or take care of your people's business," Warren said. "You can't do both at the same time."
Warren also spoke about income inequality. She said she grew up on the "ragged edge" of the middle class and was only able to move up through a college education.
"We must recognize the systemic discrimination that affects our economy," Warren said. "The time for holding back is over; we need big structural change."
Rory Meyers junior Gavin Arneson attended the rally as an organizer of the student group Warren For President.
"I was really drawn to Elizabeth Warren because of her story," Arneson said. "I am the son of middle-class workers [who] never went to college and I had the same sort of experience [as her]. She wants everyone to have that shot."
New York State Assembly Member of the 74th precinct Harvey Epstein, who has endorsed Warren, was also at the rally among a sea of college students.
"She wants to engage youth politics and the future," Epstein told WSN. "I think she's really committed to generational change and sees the role of millennials by recognizing their movements."
Warren connected with her young WSP audience as she stood for hours to take photos with every attendee in her infamous "selfie line" with the #selfie4warren. 
Steinhardt sophomore Zoe Tezak volunteered at the selfie line and event for over seven hours. 
"I think the selfie line humanizes Warren because she's obviously very tired but is still standing here until the line is done, regardless of its length," Tezak said. "It can be a bit chaotic because it's a grassroots movement, but it's a cool way to engage with Warren and fellow supporters."
Warren's final message was met with cheers.
"This is our moment," she said. "This is our moment in history to dream big, fight hard and win."
Email Roshni Raj at [email protected].