Excerpts From Andrew Hamilton's Interview With Washington Square News
President Andrew Hamilton spoke with Editor-at-Large Sayer Devlin, Editor-in-Chief Sakshi Venkatraman and News Editor Victor Porcelli last week in his office on the 12th floor of Bobst. With him was university spokesperson John Beckman.
[Read WSN's coverage of the interview]
The following are excerpts from the conversation, transcribed by WSN and lightly edited for clarity and length.
___________________________
Sayer Devlin, Editor-at-Large: The first topic we'd like to broach today is the UAE and NYU Abu Dhabi. Do you have plans to release the memorandum of understandingNYU and the United Arab Emirates signed a memorandum of understanding in which both parties agreed to the terms of the relationship between NYUAD and the government. The document has never been made public. Publishing the agreement would make explicit the terms both parties agreed to. Restrictions or requirements made by the UAE government or NYU concerning how the university is funded, how NYU's administration would interact with the UAE government or protocols surrounding academic freedom or some of the topics that may be detailed in the memorandum. between NYU and the United Arab Emirates?
Andrew Hamilton: No. There was a negotiation that took place long before I got to NYU and we're now celebrating the 10th anniversary of NYUAD and we've just gone through a very significant moment in the history of NYUAD, which is the transition in leadership. The relationship with the government is a partnership. The partnership and the generosityThe UAE government completely funds the expenses of NYUAD. NYUAD's campus was built by a UAE government-owned holding company, Mubadala, and NYU received a $50 million donation from the Abu Dhabi government upon the announcement of the campus. of the UAE government helped build the campus, it helps run the campus on a day-to-day basis, but all academic matters, all appointments, all research emphasis, classroom materialsNYU Abu Dhabi Assistant History Professor Lauren Minsky has alleged that during the 2017 to 2018 academic year, books she had planned to use in class were seized at customs and censored. The books were returned, but not in time for them to be used as planned., topics, curriculum all are determined by NYU and that is a very clear part of the understanding in the interaction that NYU has with the UAE.
Sayer: You personally have been quite critical of the Trump administration and NYU itself has written amicus briefs and the like, and I'm curious why there's really public criticism of the Trump administration and not of the UAE — where there is no freedom of expression, which is involved in a brutal war in Yemen — I want to suss out why there is a difference in talking about these two governments.
Hamilton: We are an American university, we are based in America. Obviously, when the Trump administration delivers an executive order that has a direct impact on the academic policies of NYU, like the travel ban, like some of the very troubling budgets that have come out of the Trump [administration] with massive cuts to research funding, I, together with my peers in the [Association of American Universities], the leading American universities will criticize the administration. In Abu Dhabi, the relationship is a different one. Relationships around visasThree NYU professors have not been allowed into the UAE. The professors cited research on labor conditions and religious beliefs as reasons they believe they were denied entry. — which I suspect is one of the areas you're headed towards — are decisions taken by governments. The decision of an individual to apply for a visa to another country is a very personal interaction between that individual and the government of the country you are seeking to enter. At NYU, we can do everything we can do to help and support and provide guidance, but we cannot get ourselves in between the American government, or the UAE government. You talk about criticism — in the case of Abu Dhabi, certainly with the building of the campus — the reforms and the progress that has been made in labor relations, in changes to labor practices10,000 of the workers who built NYUAD's campus on Saadiyat Island were subject to wage theft and some had their passports confiscated while subject to harsh work and living conditions, which violated NYU's own 'statement of labor values.' NYU has paid recompense to 6,600 out of 10,000 workers affected, but have been unable to track down the remaining workers who were victims of wage theft., have all been a positive consequence of NYU's presence.
Sakshi Venkatraman, Editor-in-Chief: I wanted to ask a little bit about academic freedom at NYUAD. You're aware of Matthew HedgesBritish doctoral student at Durham University Matthew Hedges was in the UAE to study the country's security strategy, when he was detained by the government and sentenced to life in prison for spying after a months-long interrogation period, during which he says he was tortured. After months of international pressure, he was pardoned by the UAE., and I wanted to ask if NYU students can talk about the UAE government [while] in the UAE. If something like what happened to Hedges happened to an NYU student, do we have procedures in place to deal with that?
Hamilton: The answer to your question is we provide strong support to our students and indeed to our faculty at NYUAD and we provide the kind of access to guidance, to advice — whatever they need when they are working in Abu Dhabi, when they are carrying out research. I will reiterate again: Mr. Hedges was not an NYU student, so one of the points I made at the time, was that I had no knowledge at all of the facts surrounding Mr. Hedges. He wasn't an NYU student, he was a student of the University of Durham. NYU has been in Abu Dhabi with literally thousands of students, hundreds of faculty, for a decade and we have not had a single incident that even comes close to the situation Mr. Hedges found himself in. I can't comment on that situation because I know nothing about it but in terms of what is taught in the classroom, in terms of the research that faculty and students, now graduate and postdoctoral students, do in NYUAD, there is no constraint on academic freedom. That was a fundamental principle in the building of NYUAD and I have not been made aware of any case that has breached that.
Sakshi: If I studied abroad there and I was on the NYUAD campus, would I be able to openly talk about the government?
Hamilton: I think the research that you would want to carry out in the proper oversight with all research. You know —
Sayer: But research and talking are different things.
Sakshi: Right.
Hamilton: But-but again I'm talking about the nature of the Abu Dhabi campus and I think for us, discussions — I'm not aware of any constraint on discussions that take place on the Abu Dhabi campus or discussions that take place in the classroom at Abu Dhabi.
___________________________
Sayer: I notice you have a Manchester City jersey [hanging on the wall].
Hamilton: [laughs]
Sayer: It's signed by the team as well.
Hamilton: That was signed by the team, indeed.
Sayer: I presume you got that from Khaldoon Al Mubarak.
Hamilton: The chairman of NYU Abu Dhabi, yes.
Sayer: I wanted to talk a little bit about Mubarak specifically because he's such a powerful player in UAE politics. Actually, a professor at the University of Durham has called him the de facto prime minister of Abu Dhabi. He's a supremely powerful and connected person in that world, but he also has a fairly troubling business history. I mean, he was the CEO of the company that was responsible for building the campus that broke the labor guidelines NYU itself set out. His soccer club, Manchester City, is being investigated for financial fair play violations. So I have two questions about him specifically. One is, you know, when the stuff about Hedges came out you said you lobbied UAE officials there —
Hamilton: I didn't say — I said I had conversations —
Sayer: Conversations, sorry —
Hamilton: With — and I believe — you know I'm not going to talk in any specifics about any individuals, so let me preface what I'm about to say by saying that. And at the time of the situation that Mr. Hedges found himself in, I had conversations with — I'm not going to provide details about those conversations. One I was happy to reveal [is that] I did speak to the vice chancellor of the University of Durham, which is someone I know from my previous life at Oxford. And it was an opportunity for quiet behind-the-scenes conversations. And obviously, the situation that Mr. Hedges found himself in resolved itself quite quickly, in fact.
Sayer: If you're not going to talk about individuals —
Hamilton: I'm not —
Sayer: Then I'm just going to move on.
Hamilton: Please do.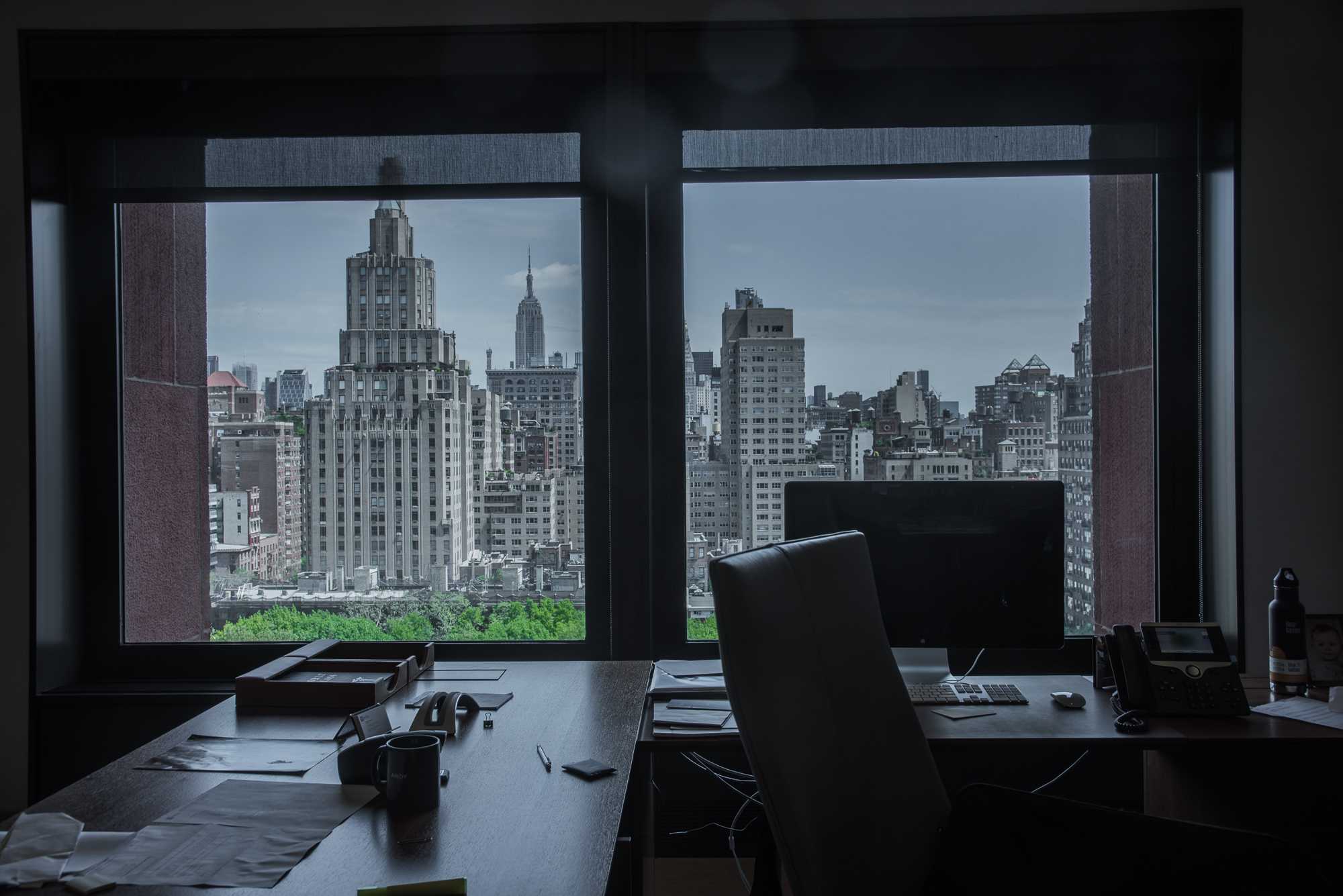 ___________________________
Sayer: So I think we want to move a little more broadly to the board now. And my first question is pretty broad, but do you think NYU should fundamentally be a democraticThe Student Senators Council is the only student body given power by the university's bylaws. The SSC is made up of school senators elected by the student body and senators at-large elected by other student government members. The University Senate is a body that includes the SSC, as well as representation of faculty and administrators. Resolutions it passes can make changes to university policy and procedures, although the Board of Trustees has the ability to veto said resolutions. institution?
Hamilton: No. I think NYU is an institution that has a number of different ways in which the views of the communityIn a two year period, the Board of Trustees vetoed four resolutions passed by the University Senate. One resolution called on NYU to divest from fossil fuels, while three separate resolutions called for increased transparency, representation and engagement on the Board of Trustees. are expressed and taken into account. We are an educational charity and like many non-profit charities we have a board that has responsibility for setting the overall, large strategic direction of the university, and we have an administration who is responsible for the day-to-day running of the university. The Board, as is true of all private universities, certainly [those] with a structure similar to NYU, will view one of its most important roles being the appointment of the president, and then holding the president accountable for the day-to-day running and the achievement of the strategic goals of the university. So to answer your question, no. In a large, complex university like NYU, it's incredibly important that we have that kind of wide engagement and consultation. And I've been pleased this last year that we have had some progress. And I think if you talk to those who have been involved, the elected representatives of the different councils that have been involved with now more formalized and more extensive discussions with the Board of Trustees, they have found them very useful and very comprehensive and effective.
Sakshi: Just speaking of the board, I wanted to talk about the controversy with Michael SteinhardtIn March, the New York Times published an article detailing sexual assault allegations against billionaire and NYU Trustee Michael Steinhardt. Seven women he worked with at various Jewish organizations accused him of repeatedly asking them to have sex with him. Steinhardt has donated $20 million to NYU and is the namesake of the Steinhardt School of Culture, Education, and Human Development., and then also tie in the controversy that surrounds Elmer Holmes BobstElmer Holmes Bobst, who donated $6 million dollars to NYU, was a known anti-Semite. In a letter penned to his close friend President Richard Nixon, Bobst wrote that Jews have 'troubled the world from the very beginning.' Bobst was also accused of pedophilia.. I know these processes are probably complicated, but if you could push a button and unilaterally rename the Steinhardt school or name Bobst Library, would you do it?
Hamilton: The way I would answer that is there is no button. And in fact, in a large organization like NYU, it's very important we follow proper process, and that's exactly what's happening in the case of Mr. Steinhardt. We have accusations, troubling accusations, in the New York Times article. The Board of Trustees — this is an issue that sits with the Board of Trustees — has formed a subcommittee of four members of the Board of Trustees. They've hired an external lawyer to now conduct an investigation. And it's entirely appropriate that when allegations are made, that proper due process be followed and an investigation takes place and that details of the interactions of Mr. Steinhardt with NYU students, faculty and staff be investigated. And that's exactly where we are right now and it would be grossly premature of me to preempt what that investigation will find.
Hamilton: And I love your concept of the President having a whole group of buttons he can press —
Sakshi: I just meant, personally, if you thought that they should be changed.
Victor: You were talking before about how we have a system where there are all these different voices represented. You're actively involved in the University Senate so, how much do you interact with student government representatives and how much do you take into consideration the things that they are pushing for?
Hamilton: That's a great question. And I think you should ask [CAS senior and SSC Chairperson for the 2018 to 2019 academic year Hüsniye Çöğür] and her team and [CAS alumni and SSC Chairperson for the previous academic year Juan Calero] and his team last year for more specifics of their view. I have a formalized routine meeting with the Student Senators Council, I have a [formal, routine] meeting every X number of weeks with the Executive Committee of the Senate, which of course includes the President of the student senators. And, of course, the reason those meetings take place is so that I can hear the views of the student-elected representatives and indeed the faculty and indeed the staff. But in the case of the student-elected representatives, and, of course, I also make myself available once a semester for a town hall meeting — you're always a regular attendee, I'm pleased to say — where students can ask me any questions they want.
Victor: But the SSC makes up one of the largest portions of the University Senate, which is the second body to the Board in these matters, so do you feel like the voice of students and the University Senate have a major impact on policy?
Hamilton: Forgive me, you've heard me say this before but I will say it again. Since I've been here, the students' voice has been incredibly important. Why do you think one of our six key priorities is affordability? It's because in my first two months here, I connected with students, interacted with them and heard their real concerns about the cost of NYU education. Very early on I received strong representation about minimum wage for student workers and I listened very hard and we responded — we responded exactly in the way that the students were requesting. The following year we had a really strong representation of Student Senators Council for menstrual products in bathrooms to be made freely available and we listened and responded. So, there have been a number of areas where we have listened hard. You know, we don't say yes to everything. And, obviously, perhaps not the time to get into fossil fuel divestment, but obviously that was a case that the Board, in its fiduciary responsibility for the university, made the decision that that was not a wise step to take. And so, now we've had three resolutionsBesides the decarbonization resolution, a resolution which called for an ad-hoc committee to review and assess resources for students who experience sexual misconduct was passed. A resolution which would create a socially responsible investment policy at NYU did not pass.. One of them was defeated, the other two were passed coming from the Student Senators Council. One of them around student sexual misconduct we will listen very hard to. The goal was to strengthen and build into our governance a continuous focus on sexual misconduct at the university and that will happen, the other was the — you know, what was it called — 'aspirational decarbonizationAfter it passed in student government, the University Senate's Sustainability Advisory and Working Group worked with student activists from NYU Divest to edit the resolution. It passed the University Senate in April. Despite Hamilton's assertion that it would have financial implications during the University Senate meeting, the resolution has since been called 'aspirational' by both Assistant Vice President of Sustainability Cecil Scheib and Hamilton himself.' and that will, I think, be a valuable set of aspirations for the sustainability task force as it interacts with the critical issues, like the construction of buildings. Like how we heat our buildings in February when the temperatures hits -10. So, you know, the debate itself in the Senate raised the complications that that resolution presented in terms of, you know, geothermal feasibility in Manhattan. So, you know, the answer to your question is: the student voice is heard, the student voice is listened to. In many cases, the student voice is acted upon — but not all.
___________________________
Sayer: So I'd like to talk about Diversity, Equity and Inclusion. And I don't really want to ask about anything going on right now but I want you to kind of think bigger and long-term a little bit here and I want to ask what your final affirmative vision for what that looks like at NYU in 10 or 15 years or at the end of your time here.
Hamilton: Obviously, part of it is a journey and another part is a destination and in a sense both are inextricable, one is connected to the other.
Sayer: What does the university look like?
Hamilton: Well let me answer that it's actually far too simplistic to answer "what does the university look like?" because the College of Nursing has diversity issues that are very different from the College of Arts and Science or the medical school. This is a large complex organization. To me, the focus that we have had on diversity, equity and inclusion and belonging has now led to a set of major recommendations, many of which have been acted upon. The recruitment of a Chief Diversity Officer, the expansion of the CMEP programs and also a very comprehensive assessment of the climate of the university. Again, you know, it's hard to — NYU is a big place, we are 80,000 souls. You know, that is not a small city; it is a medium-sized city that we have called NYU. And so it is very important that we have this conversation about diversity, inclusion, equity and belonging. That we have it across the university, in its many different parts, in New York City but including in the global network. And that is happening. I've been very pleased by the momentum. The [email protected] assessment will actually assist in that conversation. I was thrilled to see this past year Tisch's faculty appointments were something, I think 58% were underrepresented minorities. Steinhardt is [about] 30%. Even CAS, which has a great deal of improvement to make, [is] at 16%Between 2013 and 2016, 55% of tenured or tenure-track and 65% of continuing track new hires were white, according to a report by the Equity, Diversion and Inclusion taskforce published in 2017. Hamilton said that NYU is actively making efforts to increase diversity among faculty, with 58% of the Steinhardt School of Culture, Education and Human Development's new faculty recruitment this year coming from underrepresented minorities. Additionally, 33% of Tisch School of the Arts' and 16% of Faculty of Arts and Sciences' faculty recruitment this year came from underrepresented minorities. He said although FAS's number is low, it is up from 6% a few years ago.of the appointments being underrepresented minorities, up significantly from a few years ago. There is no magic destination. To me, diversity, inclusion, equity and belonging is about the conversation and the journey and the recognition that we must constantly strive to improve and that improvement needs to take place in the experience of our students, particularly our underrepresented students, in their day-to-day life at NYU. That improvement has to show itself in the makeup of the faculty and increasingly diverse faculty. And that improvement has to show itself, as it is showing itself, in the diversity of the student body as well.
Sakshi: Can I ask one more question?
Sayer: We'll make it brief.
Hamilton: Very brief, and it'll be a brief answer.
John Beckman, University Spokesperson: It better be like 'what's your favorite color?' but go on.
Sakshi: How many students would you say you know and are close with personally?
Hamilton: Oh, you know — that's, that's uh that's, that's — I think I have many connections, many interactions with students. I attend student events constantly, I will be going to a couple over this weekend. I have students within the chemistry department who work in my research team. That's been a key part of the way in which I connect to students on a very immediate and I was pleased last week to attend a poster — there was a huge poster session in Hemmerdinger — for science and research carried out by undergraduates and one of those posters came from the undergraduates in the research group that I lead in the chemistry department. So I connect to students in many different ways. Attending performances, attending athletic events but also having a very —
Victor: Sure, but in terms of a personal connection —
Hamilton: Direct connection with those in my group. And I'm not going to give numbers. I'm giving you examples of the many students I connect to through events, through performances. And I'm delighted through a very close — there are few closer interactions than between a research supervisor and the students who work with them in their research labs.
___________________________
Victor: Yeah so, in one of the things that was mentioned in the science update were a few of the rankings where, that NYU has increased, and like, how much stock do you put in those rankings when you're measuring like, how much —
Hamilton: You know, rankings are a blessing, and they're a curse. They're important and they're not important. […] Let me, let me point to one that, to me, is a really important one, which is our recent rise in the last, nine years, from the fifties to number 18, in research expenditure — that's raw dollars — and of course it's a measure of the success of our faculty, in, in securing research — competitive research funding — to support their research activities. Of course, that's critically important for graduate students who will be in labs and in you know, research projects of a variety of different kinds. To me, that's a very important ranking.
Hamilton: Another ranking I love — there are a number of different scholarly societies. There's only one distinction that crosses the entire academic landscape. It's the American Academy of Arts and Sciences and NYU has about 145 members in the Academy of Arts and Sciences. That ranks us ninth in the country, actually ahead of Columbia, ahead of Cornell, way ahead of USC, which is always a good thing. But in all seriousness, we look at rankings as not only a measure of our progress and our trajectory but as a measure of how effective we are in creating the environment for faculty and students to carry out world-class research.
Hamilton: So we are focused on ensuring there is strong collaboration and interaction among those three corners of the triangle. So you will see in that update a very real emphasis on intersectional research.
Email the News Desk at [email protected]