The Student Government Assembly published a letter on Friday condemning the return of German and Comparative Literature Professor Avital Ronell — who was found responsible for sexual harassment last year.
SGA's letter states that Ronell's return to NYU contradicts the university's commitment to protect survivors of sexual harassment.
"Moreover, the decision to allow Ronell to return to the classroom is fundamentally antithetical to the University's student-centered mission and stated commitment to survivors of sexual violence and abuse," the SGA letter reads. "Her reinstatement also reaffirms the status quo that survivors are not to be believed."
Last year, an 11-month Title IX investigation concluded that Ronell sexually harassed her doctoral advisee Nimrod Reitman for three years, both physically and verbally. Reitman alleged in the report that Ronell had nonconsensually touched and kissed him on many occasions. As a result of the investigation, Ronell was suspended without pay for the 2018-2019 academic year.
In a New York Times article, Reitman recounted an instance in which Ronell forced herself onto him.
"She put my hands onto her breasts, and was pressing herself — her buttocks — onto my crotch," Reitman said. "She was kissing me, kissing my hands, kissing my torso."
Ronell denied the allegations of sexual harassment and claimed her interactions with Reitman were consensual.
"Our communications — which Reitman now claims constituted sexual harassment — were between two adults, a gay man and a queer woman, who share an Israeli heritage, as well as a penchant for florid and campy communications arising from our common academic backgrounds and sensibilities," Ronell said in a statement to the New York Times.
Ronell did not respond to WSN's request for comment by time of publication.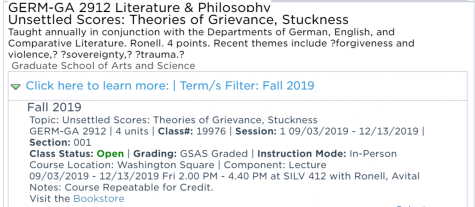 A number of prominent academics also penned a letter of support for Ronell after she was found responsible for sexual harassment. Academics like Judith Butler and NYU Professor Slavoj Žižek signed the letter, testifying to Ronell's character and intellect. The letter brought scrutiny to the #MeToo movement because prominent feminist scholars continued to support Ronell, despite the charges of sexual misconduct. Butler later issued an apology for supporting the letter.
"We wish to communicate first in the clearest terms our profound an [sic] enduring admiration for Professor Ronell whose mentorship of students has been no less than remarkable over many years," the letter of support for Ronell reads. "We deplore the damage that this legal proceeding causes her, and seek to register in clear terms our objection to any judgment against her."
Currently, Reitman is suing Ronell and NYU in the New York State Supreme Court over wrongful misconduct in the investigation.
For the fall 2019 semester, Ronell plans to teach a graduate course titled "Unsettled Scores" in partnership with the English, Comparative Literature and German departments. The course will focus on historical themes of violence, trauma, sovereignty and forgiveness, according to the course description on Albert.
When asked about Ronell's return in April, university spokesperson John Beckman declined to comment because of university policy against discussing individual issues with employees. Beckman also did not indicate that the university would inform students of Ronell's return.
Ultimately, SGA hopes the university will reconsider its decision to let Ronell return to campus in the fall.
"This is unacceptable," the SGA letter reads. "We demand more transparency from an institution charged with protecting and promoting student interests and hope that NYU will reconsider its decision to allow Ronell to teach this fall."  
Email Meghna Maharishi at [email protected].