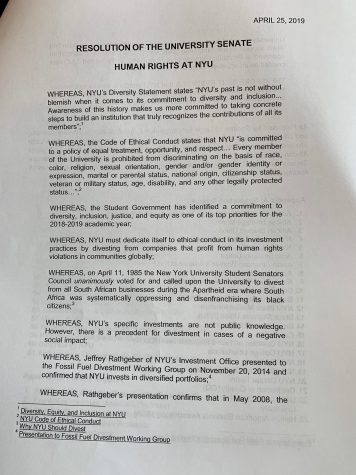 A resolution that would aim to implement a socially responsible investment policy at NYU narrowly failed to pass at a University Senate meeting on Thursday. When it came to a vote, 36 members voted in favor of the resolution and 39 members opposed it.
The resolution, titled "Human Rights at NYU," called for NYU to divest from companies that are complicit in human rights violations. The resolution cited a 1985 Student Senators Council resolution to divest from South African businesses during apartheid that passed. There was also another example of the university divesting from companies and firms that supported the Sudanese government in 2008 over conflicts in the region. The current resolution listed support from 60 student groups and 35 faculty members.
"Therefore be it resolved that NYU enacts a socially responsible investment policy for the university endowment that implements a screen on ethical investments that uphold human rights for all," the resolution read.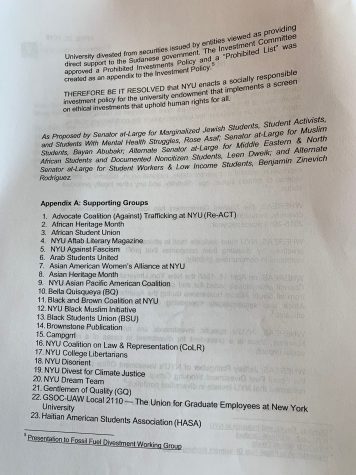 The resolution was first introduced in November 2018 as part of the global Boycott, Divestment and Sanctions movement, which seeks to end support for Israel due to its treatment of Palestinians. It was initially titled "The Resolution on the Human Rights of Palestinians," and it cited specific companies associated with Israel as examples of those NYU must divest from under an SRI policy.
Multiple Zionist student groups like Realize Israel and TorchPAC outspokenly denounced and protested the resolution, but it passed after a Dec. 6 Student Government Assembly meeting last semester that included 12 outside speakers and four extensions for time. Less than a week later, NYU President Andrew Hamilton — who is both a member of the University Senate and a non-voting member of the Board of Trustees, which oversees the university's investments — spoke out against the resolution in a statement. Although he has publicly opposed BDS before, it is uncommon for the President to speak on a resolution prior to its discussion on the University Senate floor. Proponents of the resolution later called Hamilton's action "unprecedented."
After the December meeting, the resolution underwent a revision process — as most do before appearing in the University Senate — in which the title was changed and mentions of BDS, Palestine and Israel were removed. SGA passed the revised resolution on March 1.
NYU Executive Vice President Martin Dorph said at the University Senate meeting that the university already has existing practices to deem which investments were socially responsible.
"There's a very extensive screening process that looks at everything from the kinds of strategies, portfolios, track records of success and many other factors," Dorph said. "As was noted, any manager that has made it through that process that has identified as a socially responsible investment manager has been presented and approved for investment."
When the resolution was presented to the University Senate, member of the Senate Committee on Organization and Governance and NYU Law student David Moosmann cited concerns over the resolution's ambiguity.
"Our general concern with this, given the fact that the university already has existing practices in respect to the socially responsible character investment, we thought that the resolution was on too high a level of generality," Moosmann said.
The one-and-a-half page resolution includes one paragraph on the SRI policy, and does not detail how the policy would be implemented or the criteria that would qualify an investment as socially responsible.
Moosmann went on to say that there should have been more specific cases of investments in companies complicit in human rights violations.
"Our own thinking was that if it was at a greater level of specificity by the student government's process, you can deal with particular items that were deemed problematic such as the Sudan example and the South Africa example, that would be a more effective mechanism in passing the resolution," Moosmann said. "As far as content is concerned, it's on a very broad level."
Alternate Senator-at-Large and CAS senior Benjamin Zinevich spoke in support of the resolution and said it would increase the university's transparency when it comes to investing with companies.
"This [resolution] offers more clarity and transparency," Zinevich said. "I would say that we are just offering greater criteria and it is a lot more specific."
Senator-at-Large and CAS senior Amanda Lawson spoke on behalf of Senator-at-Large and CAS senior Rose Asaf, who co-authored the resolution but was unable to attend the meeting.
"This resolution is about one thing and that's human rights," Lawson said. "If we as a university decided that it is too complicated and not be able to hold the principles enshrined in the [UN's Universal Declaration for Human Rights], then that is a very sad day for NYU."
Email Meghna Maharishi and Victor Porcelli at [email protected].