Vigil at Kimmel To Honor New Zealand Victims
The Islamic Center held a vigil on Friday to honor victims of the Christchurch shooting.
Over 100 students came together to fill the steps and balcony of the Kimmel Center for University Life on Friday to share prayers and thoughts for the victims and families of the Christchurch shooting in New Zealand that occurred earlier that day. Chelsea Clinton, daughter of former Secretary of State Hillary Clinton, attended the vigil hosted by the Islamic Center at NYU.
Mariam Abukwaik, a Silver sophomore, whose uncle was killed in the massacre, spoke about the need for justice in times like these.
"We call for justice, in their name, until we return to them," Abukwaik said to the crowd.
At two Christchurch mosques in New Zealand, a lone gunman opened fire during Friday prayers. Around 49 people were killed in what Prime Minister Jacinda Ardern called one of New Zealand's "darkest days."
Associate Chaplain for the Center for Global and Spiritual Life Faiyaz Jaffer also spoke about a need for everyone, regardless of race and creed, to unite against acts of violence like this.
"Within ourselves as individuals, and within every single one of us as a community, we have an opportunity." Jaffer said. "The potential to make a real difference in this world that so desperately needs us,' Jaffer said.
Khalid Latif, the first Muslim chaplain to be appointed to NYU, led a prayer and discussed the importance of keeping faith for the Muslim community in difficult times.
"The solution here is to not be somebody who leaves behind their prayer," Latif said. "That's exactly what these people want."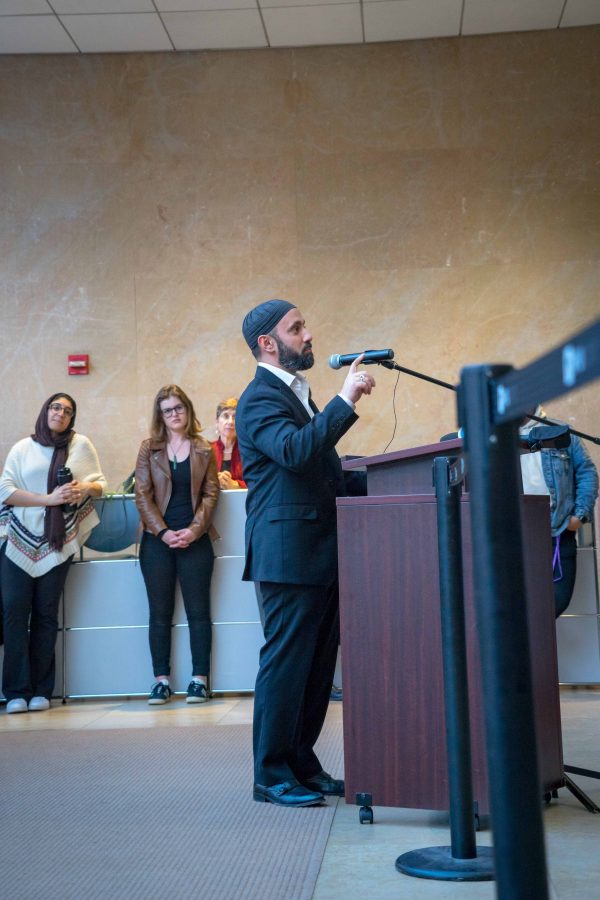 Latif said he believes deep-seated roots of white supremacy underlie these acts of terror, something he said should be acknowledged.
"If you want to know what happens when we call it anything less than [white supremacy], we just add to the future victimization of Muslims and minorities," Latif said.
The event also featured various speakers from other religious congregations, including Yehuda Sarna, the Executive Director of the Bronfman Center, who gave his blessings at the vigil.
"The blessing of the things that when we hold them in our hands, make us nearer to each other, and bring us closer together," Sarna said.
NYU released a statement saying that the Department of Public Safety will be in touch with the NYPD and Latif to see if there are additional steps they can take to safeguard Muslim students on campus.
"I have been to Christchurch; it's hard to imagine a place seemingly less likely for this kind of tragedy to occur," NYU President Andrew Hamilton wrote in the statement. "It is a painful reminder that hatred knows no borders."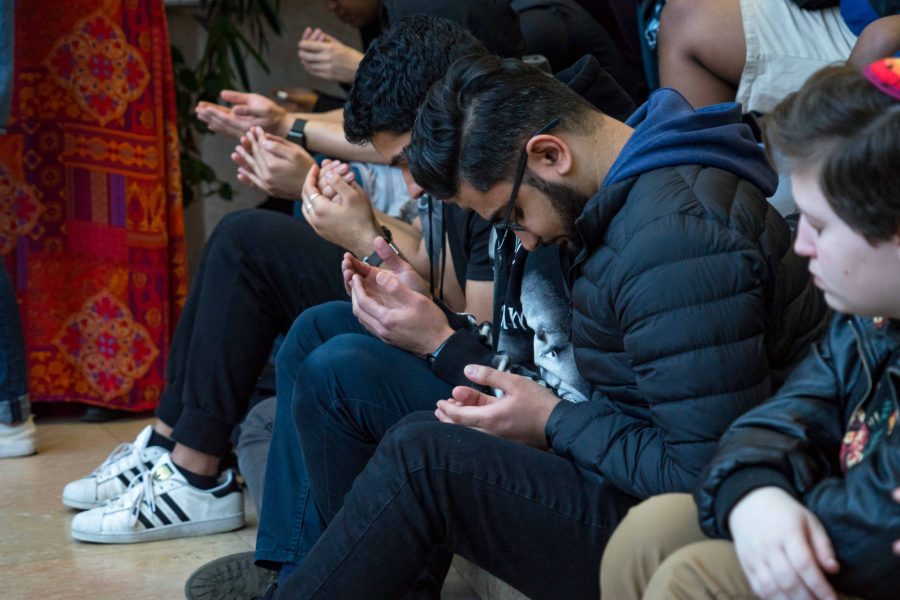 After the vigil, several members of the student activist community, including CAS senior Leen Dweik, circled Chelsea Clinton and confronted her about her recent tweets to Muslim Congresswomen Ilhan Omar. Omar sparked controversy after saying that many politicians defend Israel because of money from lobbying groups like the American Israel Public Affairs Committee. In her tweet, Clinton said that people should address anti-Semitism on all sides, regardless of political affiliation.
"This right here is the result of a massacre stoked by people like you and the words that you have put out into the world," Dweik said to Clinton. "I want you to know that and I want you to feel that."
Clinton was backed against a corner for some time before Latif and another person intervened. Before being escorted out of the building, Clinton apologized to the students and said that it was never her intention to hurt anyone. Students involved in the incident declined to comment to WSN.
Email Mansee Khurana at [email protected].