President Hamilton Starts Monthly Podcast
In "Conversations," Hamilton will speak with students, alumni and professors he sees as impactful.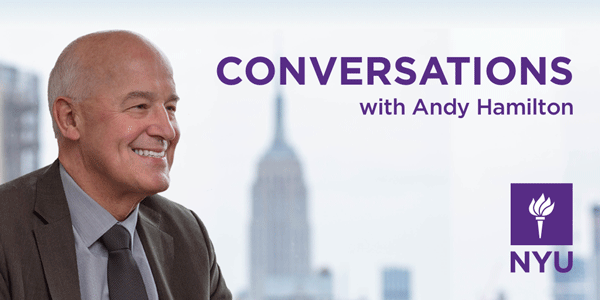 President Andrew Hamilton's British accent can grace your playlist each month as part of his new podcast "Conversations," he announced on Wednesday.
The podcast will air during the school year and will feature students, alumni and professors who are "using their intellectual gifts, determination and creativity to make a profound difference in our world," according to its webpage.
This isn't NYU's first foray into the world of podcasts — several schools within the university have hosted its own. "The Future Of," produced by students at the Tandon School of Engineering launched in September of last year. The College of Global Public Health produces two podcasts, one of about contemporary public health crises and another about the college itself. Tisch School of the Arts' podcast interviews Tisch students, faculty and alumni.
In the first episode of "Conversations," Hamilton interviewed Steinhardt School of Culture, Education and Human Development Scholar-in-Residence Rubén Blades. During the 32-minute podcast, Hamilton chatted with Blades about his musical and political careers, as well as his thoughts on the current U.S. political climate.
The 17-time Grammy Award-winning musician recounted his first time performing in New York City. During the concert, he forgot the second verse of a popular song in front of a 20,000-person crowd at Madison Square Garden.
"I went out and I was supposed to sing," Blades said during the podcast. "I just repeated that first verse and I don't think anyone [noticed]."
In an email to WSN, Hamilton explained that his motivation to produce this podcast was to share some of his own experiences and insights with the broader NYU community.
"I have never done a podcast before, so this is all very new to me," Hamilton wrote. "[It will allow me to] share with other members of the university community some of the wonderful and engaging conversations I have been privileged to have."
Tisch junior John Stanley said that he is looking forward to seeing what topics Hamilton will explore with students.
"I'm most interested in what episodes with the student population will be like," Stanley wrote in a Facebook message to WSN. "We often feel like administration doesn't hear our concerns, so whatever is discussed will be worth noting."
Email Akvia Thalheim at [email protected]