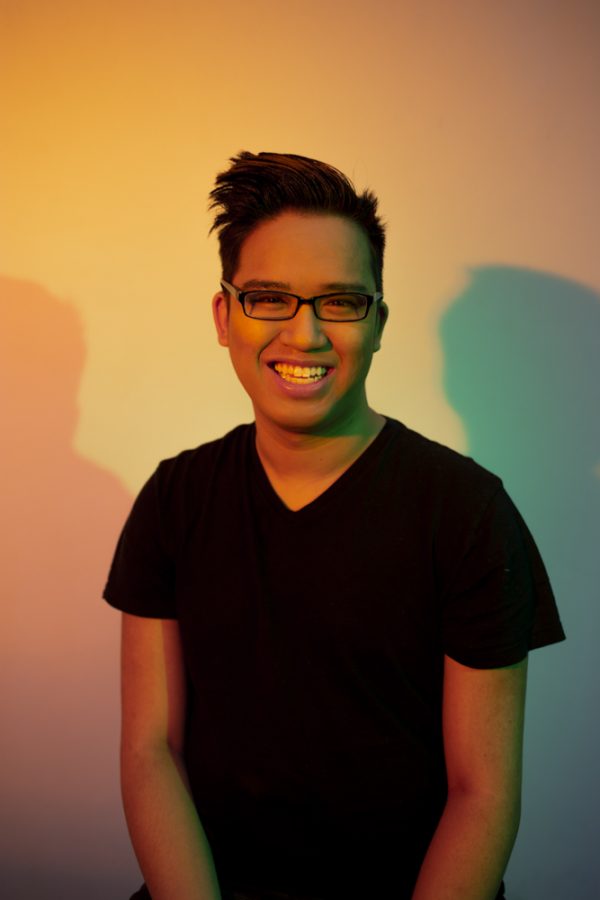 How do you become popular at NYU? High school is over and there's no homecoming to solidify your place in the social hierarchy. At a university with over 25,000 undergraduates, it's not an easy feat to have more than a few handfuls of people know your name.
But somehow, Eric Gelb has done it.
I don't have the numbers to prove it, but I would argue that if you're part of the Class of 2020 and you have a Facebook, you probably know Eric. He practically has B-list celebrity status — just below the most lionized social activists and Clive Davis starlets. Eric's starring role has been on the NYU Class of 2020 Facebook group.
Even prior to coming to NYU, Eric could be found in the comments or authoring posts. The posts varied from how grateful he was to go to NYU, the search for fellow class members and memes featuring himself. He even has a Twitter page dedicated to his meme-ability. He also promoted his self-published book, "Growing Up in the Wings," a memoir he wrote his senior year of high school as a reaction to his lack of recognition from faculty members. One member even joked Eric's book was the required summer reading for incoming CAS students.
"Last day of school, I handed it to my principal, never looking back," Eric proudly told me.
This was Eric before NYU, when he was still in his hometown of Huntington Woods, Michigan. Eric's parents, two white psychologists from New York, adopted him in Hanoi, Vietnam when he was an infant. Throughout his childhood, Eric's life revolved around theater. He acted (although he says he wasn't that good at it) in a local theater group, Project DayDream, and even co-directed his own show, "Project X the Musical," with his childhood best friend, Ryan Hurley, a junior at Juilliard. The idea came about in their seventh-grade gym class, Hurley wrote in an email, when they decided to write their own musical performed at their local library's basement. In addition to writing a majority of the script, Eric costumed the show, ran its Facebook page, contacted newspapers, found additional venues for their show to play in, made set pieces, funded most of it by himself, among other things.
"When you produce a musical at 13, you don't have a producer or a lighting designer to work with — you are all of those things. It's you, a couple of parents, and as many friends as you can rustle up," Hurley said.
The stage gave him the opportunity to represent himself and show that people of color can also be center stage.
"I'm not your typical Asian kid," Eric said. "I look Asian, but most of the connection I have to Vietnam is through my appearance. Coming to NYU, I definitely started to see more importance in honing in on my identity. I work on that through theater as well, trying to give people of color more opportunities. Our stories matter too."
In high school, Eric co-founded Magical Memories Entertainment, which "offers magical and authentic Prince and Princess Entertainment for the Metro Detroit area" according to its Facebook page, and performed as its resident prince charming. But he says the most enriching experience was with Project DayDream.
"Project DayDream is where I really learned about the ins and outs of theater," Eric said. "I got to do everything from acting to producing to directing."
Now, the Steinhardt junior has settled in — into Steinhardt's Educational Theatre program and his Second Street dorm room — but he never settles for long. He'll soon move out to become a spring semester resident assistant in Third North Residence Hall. Eric calls himself a "constant mover." All of his belongings fit into two large suitcases and a carry-on. This past summer, after countless applications, Eric found himself with no internship prospects after being a stage management intern for "Wicked" last spring.
"I had just finished up 'Wicked,'" he said, his "Wicked"- emblazoned sweatshirt slung over the seat beside him. "And there was nothing. Nothing. I really thought I was going to get something; I was just on 'Wicked' for crying out loud."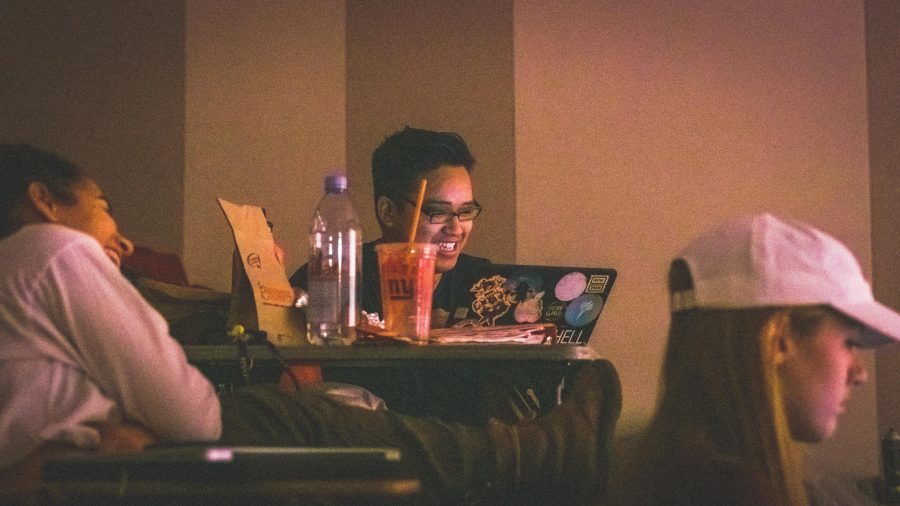 Like something out of "Waitress," Eric packed up his bags and found himself in Macon, Missouri, working at Maples Repertory Theatre and serving cobblers to local theatergoers. Each night, he hung up his apron and made his way back to the house where he stayed with locals. Rather than sitting up watching YouTube — something Eric typically does now to wind down — or hanging out with friends — he didn't have many there — he'd spend time searching for people he could ask for money from.
Before Eric left for Missouri, Kayla Greenspan, who interviewed Eric for a producing internship at TBD Theatricals, turned him down for the internship but told him that he could have a shot at being a producer for "Head Over Heels," the 2018 revival of the Go Go's jukebox Broadway musical. He just had to raise $50,000 in less than three months to become a producer for the show.
After a summer of isolation and many phone calls later, Eric returned to New York for "Head Over Heels" three weeks after opening night to find his name listed among other high-profile creatives, like Goop founder and actress Gwyneth Paltrow and talent agent Rick Ferrari.
"I said if I didn't make my Broadway debut by 26, I'd leave the theater world and reevaluate," Eric beams. "I've done it at 20."
But as a producer, Eric's sole job is to raise money so the show can go on; he's raised the money, now his name sits on the poster. Returning to NYU this Fall a Broadway producer, Eric was back to the theater — this time as the director for "Legally Blonde: The Musical" for NYU Lamplighters, a theater club dedicated to producing theater for young audiences. He sits on the Lamplighters' executive board as special events coordinator. As director, Eric dedicated about 25 to 30 hours a week to the show.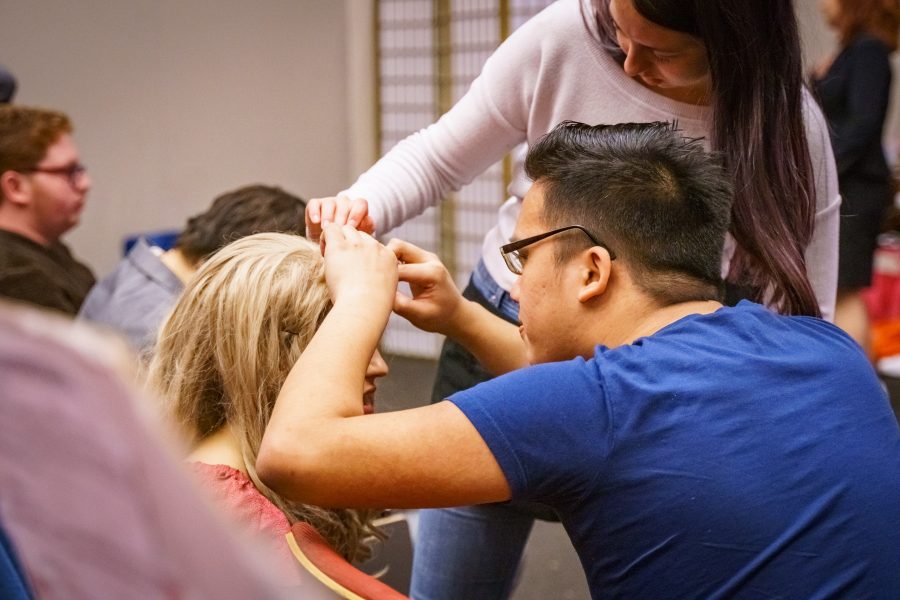 Eric says directing "Legally Blonde" is something he gets to do, not something he has to do unlike the annual winter cabaret, a requirement of the special events coordinator. This year's cabaret will be "Mamma Mia!" which went straight into rehearsals after "Legally Blonde" closed on Nov. 18. In classic Eric Gelb fashion, he turned to the NYU Class of 2020 Facebook page to let the public decide what the show would be although each of his posts hinted at him wanting it to be "Mamma Mia!"
"I came up with that idea, and I thought it'd be really fun to ask the community," Eric says. "Theater is a community."
When Eric takes off his director's hat, he becomes his friends' number-one advocate. He keeps a spreadsheet of all his friends' upcoming events and birthdays so he never misses one.
"I try to make those days important to me, and they're important to them," he said. Eric dovetails his sentences with "I think people like me," acknowledging that some people might find him and his social media presence annoying, but he always shows up for his friends despite his jester-like perception.
"He's super open and loving and will accept you for you. I vent to him all the time about relationships, theater, class, friends, you name it, he's heard it from me," Emma Burnham, a fellow Steinhardt Educational Theatre junior, told me in a Facebook message.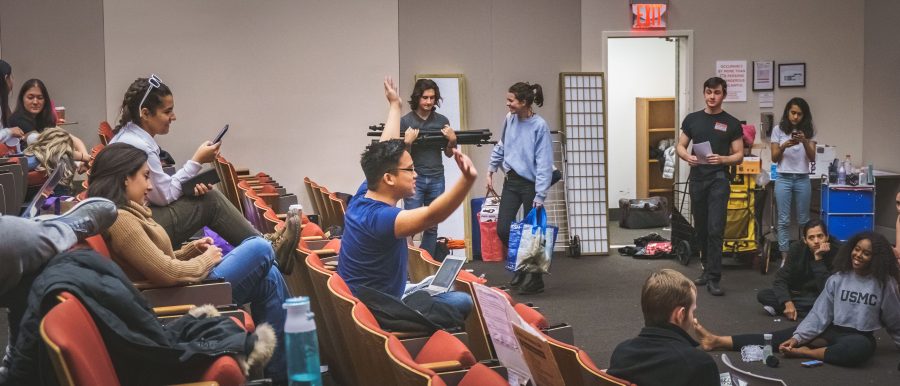 But Eric isn't always this flamboyant, outspoken individual. He often keeps to himself, walking dogs or retreating to his room on weekends because he doesn't drink or do drugs and prefers not to be around that environment.
"I'm not really into that scene," Eric said. "I amuse myself in other types of ways like buying $20-worth of Taco Bell and having people over to my house if I randomly don't have something to do on a Friday night."
To accompany his Taco Bell feast, Eric tabs through videos of YouTubers like Trisha Paytas, Colleen Ballinger (known as Miranda Sings) and JoJo Siwa.
"Watching those videos, it's like getting to know someone but in hyperdrive, and getting to know people and studying them is something I really enjoy, but I don't enjoy how long it takes," Eric explains.
Theater gives him the same feeling — he gets to cut straight to the inner psyche of his cast to learn their respective habits and ticks. Like his parents, Eric loves psychology but without all the "science stuff." He loves the psychology of theater and connecting with people and audiences on stage; it explains his love for directing.
Clutching his pillow, Eric tells me theater is all he has. "I've dedicated my life to it, and I'd be off without it." He transitions to paraphrasing a quote by Abby Lee Miller of "Dance Moms." "When you're not doing what you love, you should be doing activities about that thing so you can get better at it. If you really like something that much, you should dedicate your entire life."
It's been three years since I first saw Eric Gelb's name, but something tells me it won't be the last.
Email Pamela Jew at [email protected].