NYU Hispanic and Latine organizations came together in the Silver Center's Hemmerdinger Hall on Oct. 13 for ¡Bailar Para Honrar!, or a "dance to honor." This Hispanic Heritage Month event was one of the university's first multi-organizational events of this scale celebrating Hispanic and Latine culture, with seven organizations taking part in the dance.
The dance floor was framed with grand pillars and surrounded by tables at which attendees chatted with friends, ate and took breaks. The national flags of Latin countries hung from the pillars, adding to an atmosphere of national pride and cross-cultural unity. 
The event was sponsored by the Academic Achievement Program and organized by AAP members Tori Herrera and Elliot Weinbaum Suárez alongside AAP academic adviser David Morales-Carrera. 
Herrera, Weinbaum Suárez and Morales-Carrera organized the dance on behalf of the Latine/Indigenous Roundtable, an AAP coalition centered on increasing the participation of Latine and Indigenous students in the program. In its mission to unite the vast Latine community at NYU, the Latine/Indigenous Roundtable has created the space for Black and Indigenous Latines to be included in conversations of culture and heritage.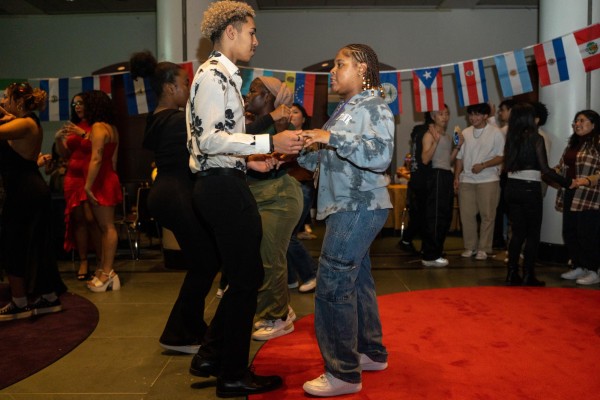 As Friday night's event commenced, the floor was first opened up for attendees to learn different dances. NYU groups celebrated Afro-Latine history through their performances, with the Puerto Rican Student Association inviting attendees to salsa, and Bella Quisqueya, NYU's Dominican student club, demonstrating how to dance the three-step Bachata and two-step Merengue. 
NYU's Peruvian Student Association, ¡Viva Perú!, performed the Marinera Norteña, a dance originating from the Zamacueca which was popular among enslaved Africans in Peru during the 16th century. The Mexican Students' Association showcased a Baile Sorpresa — the surprise dance traditionally performed for guests by a Quinceañera's court. 
PorColombia, NYU's Colombian Student Association, performed the Cumbia, a dance with roots in both Indigenous and Afro-Colombian culture. The Cumbia was performed by a single barefoot female dancer wearing a traditional long skirt decorated with red and white concentric circles called La Pollera Colora. These eye-catching patterns created a spinning top-like effect when she twirled.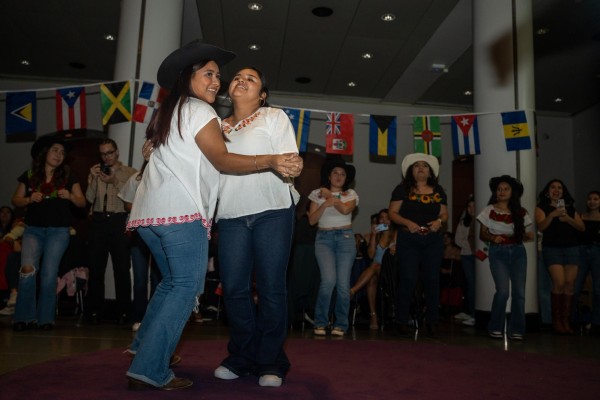 Junior Idalys Lozano, the president of Bella Quisqueya, spoke to the significance of dance specifically within the Hispanic community. 
"Dance is also love," Lozano said. "I love how you can dance with people who you don't even really know and have the best time and celebrate the different dances within different cultures. You see how they are rooted within the same steps and the same movements. I love that about Hispanic dance — [it's] really full of energy and everyone's always ready to go on 10." 
The event featured the guest appearance of visiting frat brothers Emmanuel Rodriquez and Dariel Disla of La Unidad Latina, Lambda Upsilon Lambda, the first Latino frat in New York, who performed a stroll. The stroll is a staple routine for the Divine Nine Black and brown Greek life as an expression of masculinity. Frat brothers walk in line, stepping in sync to the beat of the music or chant. Their steps consist of footwork that gets increasingly more elaborate as the stroll progresses. Anyone was welcome to join the dance floor, and most attendees did. 
Morales-Carrera said that while AAP has hosted numerous galas, they were mostly sit-down experiences. Dance, a core part of Morales-Carrera's personal history, was lost in these events, so he sought to create a space for students to express this aspect of their culture. 
"I grew up around a lot of dancing," Morales-Carerra said. "We'd have a bunch of family gatherings, and there'd be a lot of dancing opportunities, sometimes performances. It really connected me more with my culture."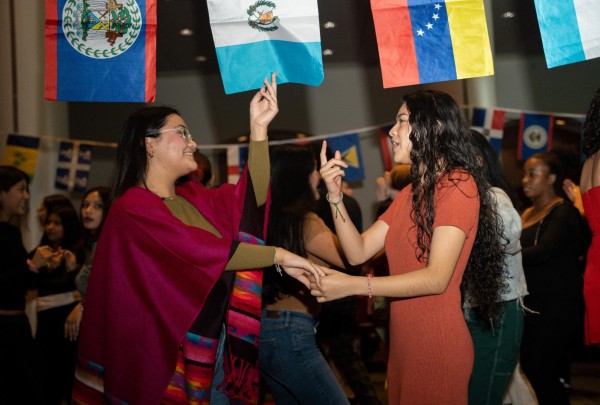 When seeing the crowd that showed up on Friday night, Lozano was moved by the energy of her community. 
"Most of our parents are immigrants. Or, you know, our grandparents were immigrants here," Lozano said. "[It made me proud] to see so many people thriving at NYU, and that we all made it this far."
Contact Alina Hollister at [email protected].