Friendsgiving In Your Dorm: Yes, It's Possible.
If you're struggling to overcome a lack of space and cooking equipment, these tips and tricks will help make a dorm room Friendsgiving feasible and festive.
We're almost halfway through November, which means the premature Christmas decorations are out. Before winter officially takes over, there is a sense of urgency to reap the benefits of fall-themed eats. Still, no seasonal menu can compare to the one that awaits us at the end of the month –– Thanksgiving. If you're celebrating with friends in your dorm this year, don't think that means you can't enjoy all of the goods. Here are some tips on how to finesse your 2019 Friendsgiving.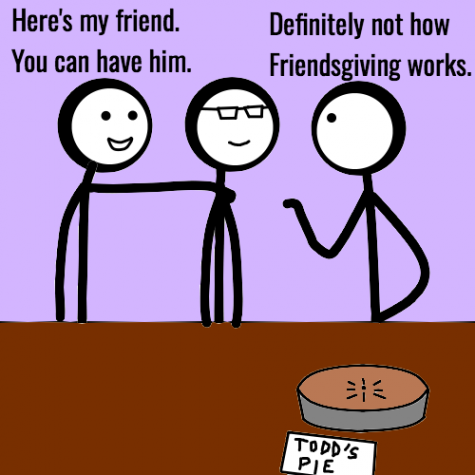 Napkins and Plates
Fall themed place settings are perhaps the easiest way to make your Friendsgiving feel especially festive. Head to Whole Foods, Crate and Barrel or even CVS to load up on themed napkins. Pinterest moms will agree, holiday napkins are aesthetically pleasing and take minimal effort to procure. Take things to the next level and mix and match. Party City also sells festive paper plates, which is an added bonus because that means one thing for sure: minimal cleanup.
Scene Setters
What is a true holiday celebration without themed decorations? Party City sells cheap and festive, albeit cheesy, decorations that will transform your dorm living room into a place fit for a feast. For $5, you could be the proud owner of a sparkly, gold and orange maple leaf centerpiece. Tiny string lights never fail to emit a nice warm glow, giving any room a magical ambiance. If you're in an apartment (shoutout to NYU housing rules), light up some fall scented candles too — we love a good pumpkin spice anything, really.
Food: Fruit and Vegetable Hors d'Oeuvres
Now the part we've all been waiting for — food. Fruits and vegetables are the perfect healthy hors d'oeuvre to serve guests, priming everyone's stomach and leaving room for the good stuff. Pick up some berries from your local grocery store (raspberries, strawberries, blueberries), and gives your guests toothpicks for a reusable utensil. When it comes to vegetables, it's easy to pick up frozen greens and toss them in olive oil. Or, you could follow this Brussels sprout recipe.  
Food: Mains and Sides
First, you should accept that cooking a whole turkey probably won't work in your dorm kitchen. If your heart is set on serving turkey at Friendsgiving, you'll most likely be stuck buying one premade. However, if you're willing to deviate from tradition, turkey meatballs are a delicious and easy substitute. At Trader Joe's, you'll find not only your turkey meatballs ($4), but also stuffing mix ($4) and frozen mashed potatoes ($3) that are both easily prepared according to instructions on their packages. And just like the majority of Trader Joe's frozen meals and boxed mixes, they're surprisingly delicious. 
Dessert
If you're not much of a baker, Trader Joe's has an amazing frozen sweet potato pie ($7) that you can just pop in the oven and serve. Let's also not neglect Milk Bar, because their Milk Bar Pie, aka Crack Pie ($46) is a Thanksgiving miracle if you can look past the steep price. If you're feeling adventurous, Milk Bar's website shares their recipe. If baking does happen to be your thing, then we've got you covered too. This Pumpkin Cheesecake Cake Pop recipe from Gimme Delicious truly smacks, and if you don't want to bake the entire thing from scratch, just sub with cake mix and follow the rest of the instructions.
To whoever assumes the burden of planning Friendsgiving this year, we wish you luck.
Email Celina Khorma at [email protected]