Jazz music spilled into the streets of the East Village on Monday afternoon as Veniero's Bakery celebrated its 125th anniversary. 
Veniero's, located on East 11th Street, was opened in 1894 by Italian immigrant Antonio Veniero. Today, it is run by the same family and continues to serve delicious Italian baked goods to the residents of New York City.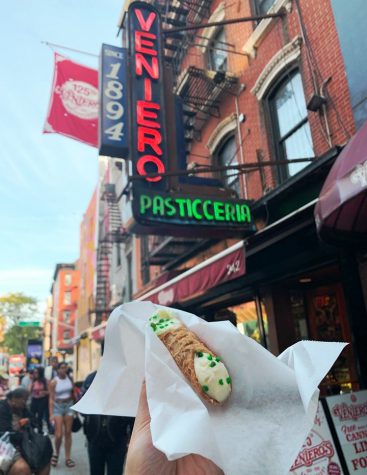 For the event, Veniero's offered free mini cannolis, and all other items were sold at an 18.94% discount in a nod to the year the bakery opened. 
NYU alumna Jenna Charko recalled going to Veniero's a couple of years ago with a group of friends. They sat near current owner Robert Zerilli, and he gave them a half-hour brief of the bakery's history, referencing the pictures on the walls as he went. Zerilli is the great-nephew of founder Antonio Veniero.
"I basically learned everything about this place, extensively," she said. "He was just really an openly kindhearted person." 
NYU alumna Lilah van Rens said that everyone who works there is kind, and they give her a little extra food with her order when it's not too busy.
"It's definitely a place that families who have lived in the city for a while know," van Rens said.
Gabrielle Rucker, a Brooklyn resident, first had the coconut cake at a party. She loved it.
"Where the f-ck is this coconut cake from?" Rucker remembered asking at the party. 
She took a picture and eventually found out that it was from Veniero's. Today, she was at the bakery to celebrate her friend's birthday. 
"I had no idea this was going on," she said. "It's just a plus because now we got free cannolis."
New York State Sen. Brad Hoylman (D-Manhattan) made an appearance at the party to honor the endurance of the business during a time in which he claims small businesses are under attack. He called it a true American immigrant success story.
"Throughout its 125 years," Hoylman said in a speech to the crowd, "Veniero's has symbolized family values and stability in the midst of the ever-changing fabric of New York City."
When Hoylman declared Sept. 23, 2019 "Veniero's Appreciation Day," the crowd erupted into cheers as Zerilli raised a plaque with the New York state proclamation into the air, beaming. The live music, courtesy of The Cresswell Club, resumed.
Veniero's seems to be, above all, a place where people go to cheer up. Charko said she stops by every couple of months to get a cannoli after a rough day.
1979 NYU alumna Lisa Kristal Burgman said she knows the family that owns Veniero's. She goes there every now and then to sit and talk. 
"It's not always about eating," Burgman said. "It's also the people here who make the place great."
Employees dodged crowds of customers to bring in large boxes of desserts, which they carried over their heads. Three hours into the celebration and the party was still going strong. One employee talked to a customer about the long history of Veniero's.
"Everything comes and goes in Manhattan but this," he said.
Email Tessa Kilcline at [email protected].