To the speed-walking and chronically late NYU student's delight, fall has become the season of the flat. But despite flats being a timeless staple, it can still be difficult to decide on the perfect fall flat that is both cute and comfortable. Patent or regular leather? Neutral or colorful? Ballet flats or Mary Janes? The questions are endless, and that's before adding in the matter of comfort and walkability. That's why we put in countless hours of research — so you don't have to.
Here are the best fall flats to get this season. 
The Ballerina on a Budget 
Whether you want to stick with a classic black ballet flat or spice things up with some silver chrome pizzazz, Gap has got you covered. At $49.95, the shoe is a comfy and relatively affordable addition to any balletcore outfit. The faux-leather body of the shoe with a charming bow on top makes for a walkable flat with a polished and cutesy look. These shoes are multifaceted — whether you're looking for the perfect ballet flat to accessorize your outfits for class or a comfortable-yet-cute shoe for a night out, they work for every situation. 

The Pinterester
If you look up "Mary Janes" on Pinterest, these sophisticated Cole Haan Bridge MaryJane Ballet flats will certainly be at the top of your feed. With their sleek design and added arch support, the flats are ideal for a full day of classes, whether you're running from Skirball Center for the Performing Arts to the Paulson Center to Cantor Film Center, or just grabbing some Sidestein snacks with some flair. At $150, they run on the pricier side, but they're a great investment for anyone looking to elevate their everyday shoe choice without giving up comfort. To top it all off, the sophisticated Mary Janes have a contemporary square toe and a functional, stylish gold buckle.

The New Yorker's Ballet Flat
The Aerosoles Leather Ballet Flats' flexible design prioritizes comfort, making it perfect for the New Yorker constantly on the move. With Aerosoles' unique shoemaking method called "Stitch 'N Turn," which connects the upper to the outsole and adds a cushioned footbed, these shoes don't require any breaking in. The ortholite insoles promote breathability, another necessity for those long treks from Lafayette Hall to the Washington Square campus. For students who are on their feet all day, these $99 genuine leather ballet flats are essential to keeping your feet pain-free and stylish all the time.

The Everyday Mary Jane
These Sam Edelman Michaela Mary Jane's are the classic "I'm running late to my 8 a.m. recitation, but I still want to look cute" shoes. Though they are currently out of stock, they are worth staying on the lookout for. With the classic Mary Jane silhouette and buckle closure, these are an effortlessly chic addition to any wardrobe. For a casual and sophisticated fall look, try pairing these shoes with straight-cut blue jeans, a white tee and a sweater over the shoulders. The flats come in various colors, like red, blue, black and silver, and fabrics including leather, suede, sherpa and patent leather. At $130, these Mary Janes deserve a spot on your shoe rack.

The Slim and Chic Square Toe
If you're looking to channel ballerina elegance and emulate their signature pointe shoes, these faux-leather flats from OAK + FORT are perfect to dance through any fall day. The structured square toe is offset with a rubber sole to ensure your feet are extra comfortable. At the relatively reasonable price of $58, you can get a versatile shoe that is both Mary Jane and ballet flat. This unique flat has an elastic band that can be worn over the foot for that Mary Jane look or under the foot to make a ballet flat. Plus, since they're like two flats in one, you'll save space in your small dorm closet. With a slim look and a stylish square toe, these flats are perfect for any indecisive person who loves both ballet flats and Mary Janes.

The "My Feet Are Not Made For Flats"
For my fellow flat-footed friends who also want to look stylish and trendy this fall, these Dr. Scholl's Cushioning Insoles for flats are a great addition to your new fall flat if you're looking for some extra support. As a person with incredibly flat feet, most shoes tend to hurt me, but insoles have been a game changer. As not only New Yorkers but also students, we are no strangers to walking. When we spend so much time in the day walking from building to building, the least we can do is make that time pain-free.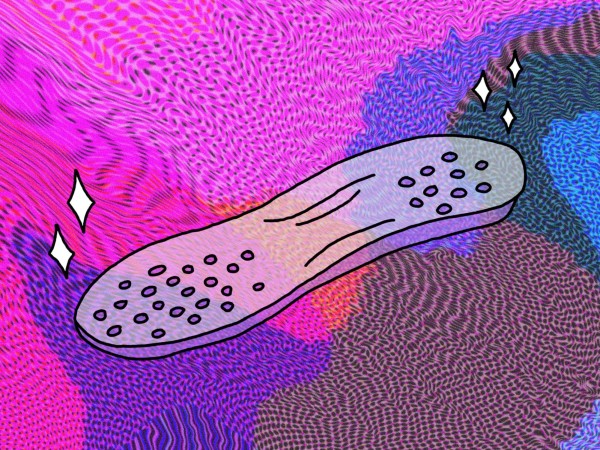 Contact Brianna Ly at [email protected].