The best outdoor flea markets to visit this spring
There's no better way to spend a weekend than rummaging through piles for that perfect vintage find.
With the sun shining on New York, the city has come alive again. If you're taking yourself on a solo outing, hanging out with your best friends or even looking for a place to take a date, visiting an outdoor flea market is the perfect way to spend a sunny day. From vintage clothing to trinkets and antiques to the most delicious food, the number of treasures you can find at these fleas are endless.
Here are four of the best outdoor flea markets to scour for goods in New York City.
Grand Bazaar NYC
100 W. 77th St.
Sundays, 10 a.m.-5 p.m.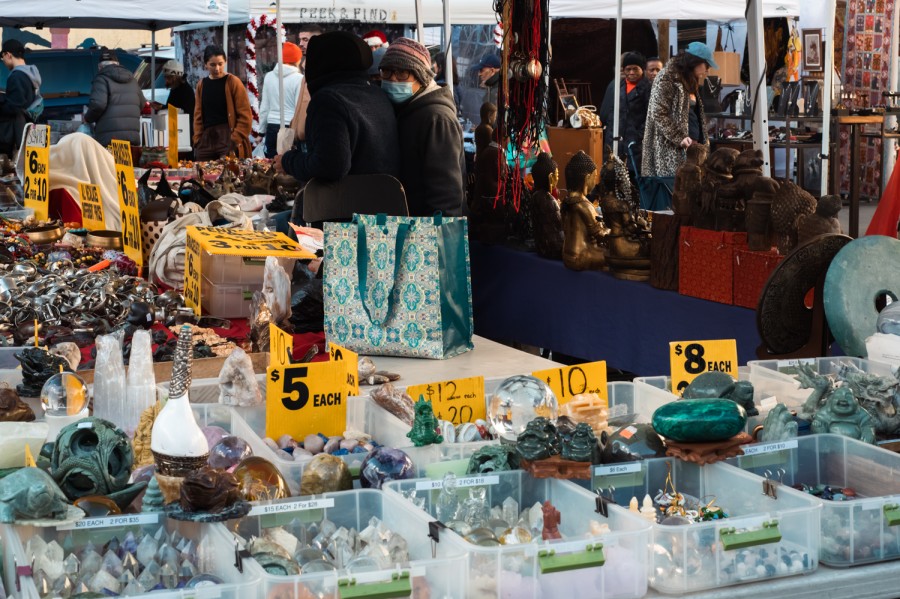 Located on the Upper West Side, the Grand Bazaar is a short walk away from Central Park. While this flea market is definitely hyped up, it is truly deserving of all the attention it gets. I was shocked by the market's size — from the cutest clothes, purses and jewelry to vintage posters, antiques and knick-knacks, you truly could spend the whole day looking through everything. Not only are all the vendors incredibly sweet, but they are usually also open to a bit of haggling. The food and drinks, though a bit overpriced, offer a delicious break from hours of tireless browsing. I recommend arriving early, before it gets too crowded, because you'll want the first pick of all the amazing items.
Brooklyn Flea
80 Pearl St., Brooklyn
Saturdays and Sundays, 10 a.m.-5 p.m.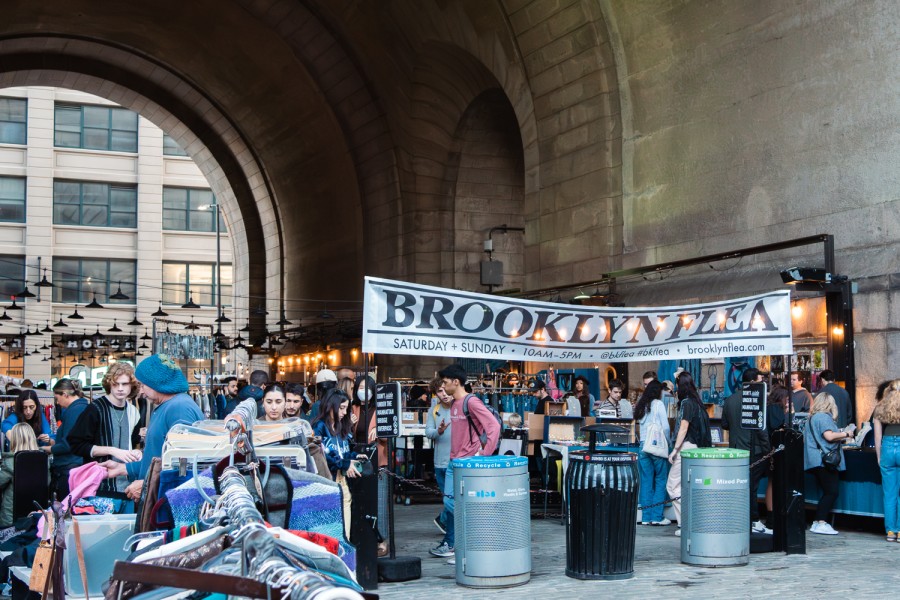 What could be more alluring than a flea market under the arches of the Manhattan Bridge? Not only is this outdoor flea in the most charming location, but it has arguably some of the best finds in the city. Vintage clothing, rugs, couches, ceramics and vinyls are only a few of the precious items you can discover at the Brooklyn Flea. When you're done browsing through the stands of more than 100 different vendors, take a short walk over to Smorgasburg, a food market run by the same creators, at 90 Kent Ave. With practically every food item you can imagine, Smorgasburg will definitely satisfy your post-shopping hunger. Be sure to finish off your perfect day by walking around the scenic Brooklyn Bridge Park.
Chelsea Flea 
29 W. 25th. St.
Saturdays and Sundays, 8 a.m.-5 p.m.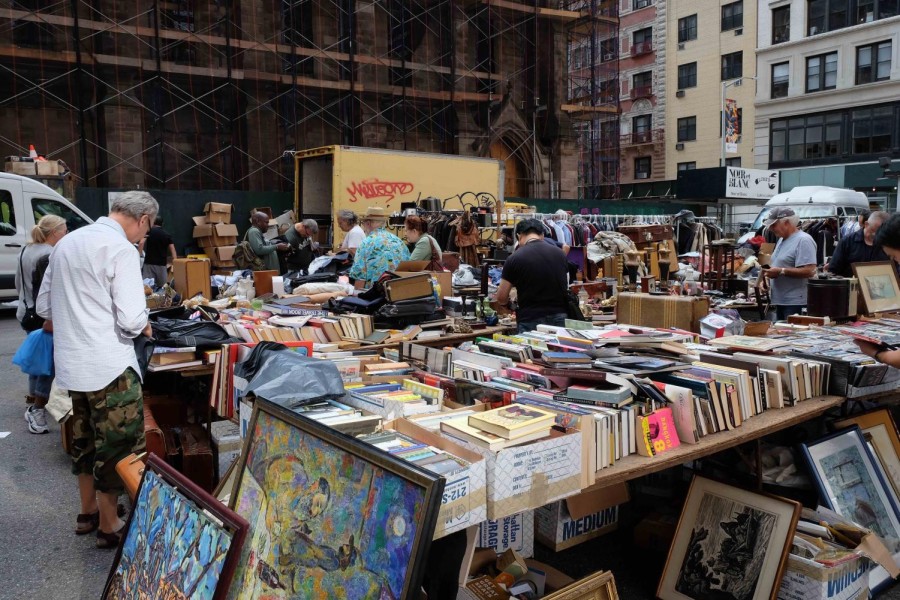 The Chelsea Flea is open all year and features over 50 vintage and antique vendors. It offers an assortment of items, varying in prices from as low as $5 to up to hundreds of dollars. You can easily spend hours at this flea market, looking through their countless trinkets, vinyls and magazines. My personal favorite booth is a magnificent collection from one seller who has 500 vintage cameras. If you're looking to decorate your home, this is undoubtedly the spot for you, because of the selection of spectacular glassware, antiques and home decor.
Ludlow Flea
159 Ludlow St., Brooklyn
Fridays, Saturdays and Sundays, 11 a.m.-7 p.m.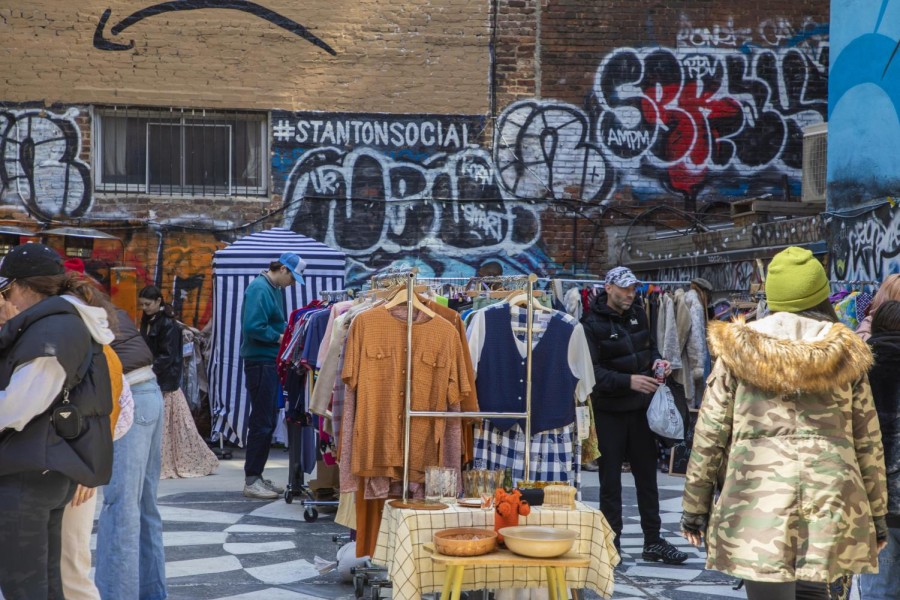 You may be surprised to see this tiny spot make the list, but don't underestimate what Ludlow Flea has to offer. As a Ludlow local, I may be biased when it comes to my love for this little flea, but I believe it offers the best vintage clothing finds. The different vendors each weekend specialize in vintage curation, and at least a quarter of my wardrobe has come from my weekly trips to the Ludlow Flea. Besides the most beautiful vintage clothing, you can often find trinkets, jewelry, glassware, accessories and more. As a smaller flea, Ludlow can be a hit or miss depending on the weekend, but check their Instagram to see what vendors are in rotation before you go.
Honorable mentions
Besides these four flea markets, there are a few other standouts, such as Artists & Fleas Williamsburg, Nolita Flea Market, Hester Street Fair and Queens Night Market in Flushing.
Spend the upcoming sunny weekend finding treasures and good eats at some of our favorite fleas. Happy shopping, flea-goers!
Contact Ishani Paul at [email protected].