Richie Rich makes a fun, nostalgic comeback to the NYFW runway 
In his new collection "Richerette," the Club Kid icon expresses his undying love for fashion.
Club Kids legend, pop culture icon and designer Richie Rich ended his multi-year hiatus from the fashion world on Feb. 11 at BKLYN Studios, with the debut of his new collection, eponymously titled "Richerette." Rich's contagious positive energy spread like wildfire backstage amongst models, makeup artists and hairstylists alike, instilling the light-hearted playfulness of his collection in everyone involved. 
"It's insane, the vibes he gives off," model Jessica Haney said. "He's such a humble, amazing human being. He is just unapologetically himself, and there needs to be more people like that." 
The entire room paused when Rich breezed through the backstage frenzy prior to the show. With a smile plastered on his face, he immediately embraced everyone he knew and began to put finishing touches on his collection.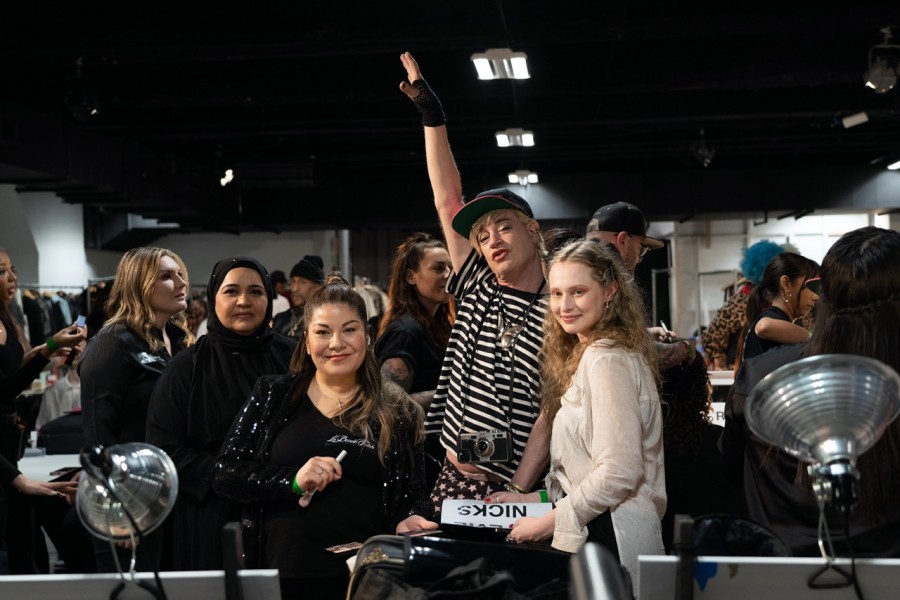 The walls of BKLYN Studios glowed with the light bouncing off of the "Richerette" sign that illuminated the runway. Fleetwood Mac's "Go Your Own Way" played throughout the venue as the first model strutted out, wearing a halter-neck black dress overlaid with a cheetah print neon scarf, fishnet tights, black platform heeled boots and a sideways cap. It looked as though she blindly reached into her closet and threw on the first garments her hands touched, yet the outfit seemed fluid and intentionally zany.
"After everything going on in the world, I called the collection fun. I want to make people happy and smile," Rich said. "Fashion to me is like a movie. It's like a record, like listening to a song that saves the world and gives you some kind of energy."
Richie's collection was just that — fun. The rest of the show featured equally eclectic looks. A black robe, bleached pink and yellow, was paired with nothing but underwear and tall leather boots. Sequined and see-through dresses flounced gracefully down the runway. A neon pom pom-adorned cardigan hung lazily over boxers. One model held a stuffed animal as he walked, and another flicked open a bright red fan as he posed for photographers. Each look uniquely exuded playful silliness, which transcended the seriousness of a typical fashion show and displayed Rich's limitless imagination. 
Despite each look's distinctly eclectic flair, the footwear was consistent, with sneakers, roller skates or leather boots complementing nearly all of the looks. Glitzy dresses and sparkling jumpsuits were juxtaposed with brilliant, neon-hued tennis shoes or black high-tops. The contrast felt like an homage to Rich's Club Kid days of the '90s, where he and dozens of other LGBTQ+ icons ruled the New York City nightlife scene with their legendary, culture-defining fashion and larger-than-life personalities. 
"It's like bringing in contemporary queerness, but then with the Club Kid queerness," model Preston Fox said. "It's still very much a part of the zeitgeist today, 30 years later, so it's exciting to be bringing it all together." 
The collection stirred up laughs, smiles and hollers of enthusiasm from the audience. Fashion show audiences typically observe each look with analytic glares, but Rich's show proved that fashion holds the power to revive that childlike glee we all still cling to.
"It just felt very organic," visual artist Kendario La'Pierre said. "It's not forced, but at the same time just really fun and cute." 
With this ultimate comeback, Richie Rich's "Richerette" show seemed to preach not to take life too seriously and instead enjoy the ride, live in the moment and, above all else, have fun.
Contact Sofi Cisneros at [email protected].