How To Disguise Your Normal Clothes as a Costume
Basic is better than nothing.
It's Halloween and you told yourself you were going to wear your costume all day. You're staring at your reflection in the dimness before your 8 a.m. class and you just can't bring yourself to wear a giant watermelon bodysuit like you said you would. But you love Halloween, and you can't just be that person who's not festive on their favorite holiday.
Don't panic. Here are some costumes that could double as normal attire but still say, "Of course I dressed up!"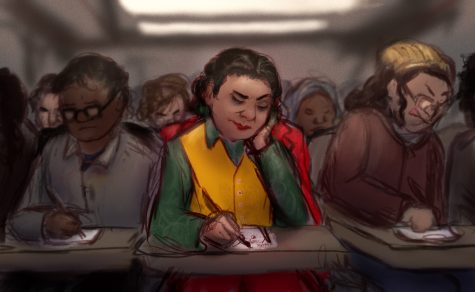 Billie Eilish
This costume provides both comfort and a modern pop-culture reference. Wearing your most baggy clothes, you'll not only be comfortable but also extremely cool. "Do they dress like this everyday?" passersby will wonder. "Are they dressed as Billie Eilish?" The world may never know.
Main Character from any 2000s movie
This day you could be Regina George or Amanda Bynes — or you could use this idea as a guise to wear the new low rise jeans you've been too afraid to wear. Pair it with some frosty eyeshadow and a silk scarf as a belt — you're making a new statement and honoring an old one.
Decades
Beret? Neon shirt? Silk scrunchie? Flannel? Flare jeans? As NYU students, we've all got at least one of these items in the back of our closet. Each of these pieces individually can constitute an homage to any decade from the '60s to the '90s. Low effort, yet still considered a costume.
Jim Halpert
Everyone loves "The Office." A Jim costume is simple and pretty much consists of a button-up and slacks. Everyone in your classes is going to be wondering if you are wearing a costume or running to your internship after class. Maybe the real answer is you're just in Stern. Either way, if someone asks you if you're wearing a costume, you'll be able to say yes.
Cowboy
Throw on a flannel and tuck it into some blue jeans. Cowboy hat optional — at least until the sun goes down.
Your Dream Job
Whether you're the next Elon Musk or Broadway's next superstar, we're all eventually going to be someone somewhere. With that in mind, dress for the career you want, not for the career you have (exhausted student in the midst of midterms).
A version of this article appears in the Monday, Oct. 28, 2019, print edition. Email Bella Gil at [email protected].