Gallatin Sophomore Debuts Timeless Fashion Line
The chic sophistication of Mods In America.
Partygoers on the Upper West Side mingled and sipped vintage cocktails as moody oldies hits blared from an appropriately mod turntable. This cool Saturday afternoon launch party saw the unveiling of Gallatin sophomore Elizabeth "Elle" Plummer's new fashion label: Mods in America.
Plummer's fashion line pays homage to the distinct styles of 1960s subcultures. It also provides a new option for consumers wary of fast fashion in favor of something more ethically made. The collection's sweaters, outerwear, skirts and more are all handmade at Carino Bridal Boutique in Southern California, where Plummer interned in high school.
Standout garments of the collection include the woolen Sharon coat, named for 1960s starlet Sharon Tate, featuring embellished, feathered sleeves and hem, an exceptionally retro plaid-printed dress and abstract windowpane pants known as "Peggy Pants."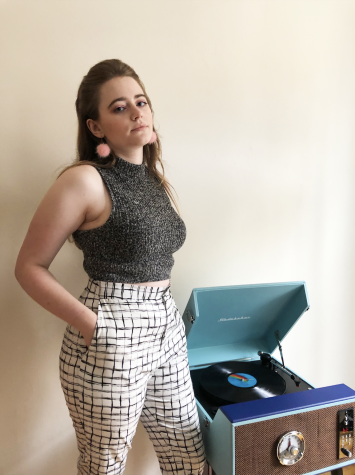 Plummer said she had always intended to launch her own brand but did not anticipate that it would happen so soon. She began developing the label a year and a half ago, drawing inspiration from the 1960s after she took a research seminar on the decade.
"The plan is to cover different subcultures in different seasons," she said. "Right now this is mod, but hopefully I can take on others, like rock and roll and hippie."
Plummer credited NYU's plentiful resources with enabling her to launch the label so early. The design process began with electronic sketches in Adobe Illustrator, which she learned to create via internships  she had in high school.
Guests were enamored with the pieces and looked forward to being able to wear them themselves. Marymount Manhattan College sophomore Rachel Baraksky commended the brand's effort to be ethically sourced.
"I'm really against fast fashion and mass production associated with it," she said. "Brands like Mods in America are great because they take this out of the equation and still produce high-quality clothing."
At the moment, the line will stay focused on the 1960s but may expand based on consumer interest.
"There's just so much change and inspiration in the decade to work with," Plummer said.
The debut collection will be available for purchase soon on ModsinAmerica.com or viewed on Instagram @modsinamerica.
A version of this article appears in the Monday, Sep. 9, 2019, print edition. Email Chad Evans at [email protected]