The (Un)Importance of a First-Day-of-School Outfit
Don't let the planning drive you crazy; nobody else will remember it anyway.
Bella Gil, Beauty & Style Editor
September 5, 2019
This time last year, the members of NYU's class of 2023 were beginning their last first days of high school. In high school, the first-day fit was everything. Does its significance carry over to college? 
On their first day of class, Tisch first-year Jessica Michelle Helgerud sported comfy cargo pants and a red crop top alongside shades and eyeliner of the same hue, opting for comfort while still exuding confidence. As well-thought-out as this outfit seemed, they revealed that they hadn't really put much thought into it.
"I feel like the first-day-of-school outfit doesn't really differ from any other day," Helgerud said. "Clothes in general, it's more for you than anyone else. If you feel confident, if you feel dope as f-ck, it's awesome, it doesn't really matter if nobody likes your outfit or not."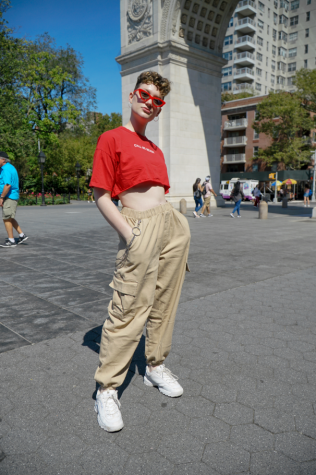 Gallatin first-year Ava Marshall, who wore a bright white tennis skirt and a red fitted graphic tee, also believes that a first-day-of-school outfit doesn't really differ from an everyday outfit. 
"I just woke up and I kinda just put this on," Marshall said. "I wish there was more thought to it […] once you develop a style and a sense, it [choosing an outfit] kinda comes easy to you,"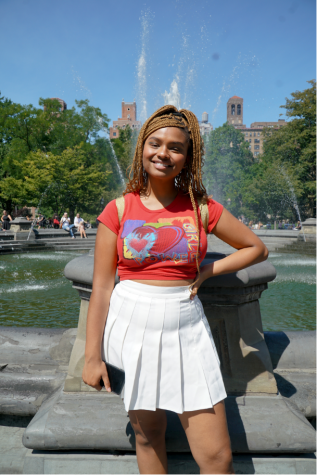 Tisch first-year McKenna Castro had the exact opposite experience. 
"I had an existential crisis this morning," Castro said. "I sat criss-cross applesauce on my dorm room floor and stared literally for 20 minutes at my drawer, just silently. My roommate was really concerned."
Castro eventually picked an outfit after looking through her Instagram profile for ideas, which helped her remember a black V-neck blouse that she owned. She paired it with some blue jeans to create a classic yet stylish look.
"I put it on and I just prayed for the best," Castro said. "I care too much about what people think of me so I really did think about it a lot. And then later I realized I had a hole in the armpit, which isn't as sexy as knee-holes, but I'm starting a new thing."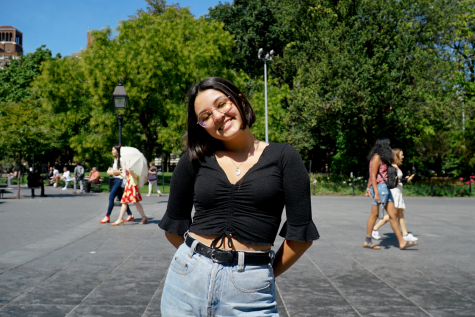 Tisch first-years Jenna Roth and Eduardo Borja agreed that no one is going to remember your first-day outfit except for you. Roth, who claimed to have changed about eight times that morning, ended up wearing a knitted spaghetti-strap top with ripped jeans and high-top red leather Converse.
Borja said he thought that first-day-of-school outfits were overrated, and opted for an outfit that was comfortable, yet represented who he was.
"I picked shorts — which I don't usually do, but it's hot so I'm wearing blue shorts — and a shirt with bananas because I'm bananas," Borja said. "I didn't put too much thought into it, […] now that we're in college and we go to school with so many people, chances are that we won't interact with most of the people that are seeing our outfits."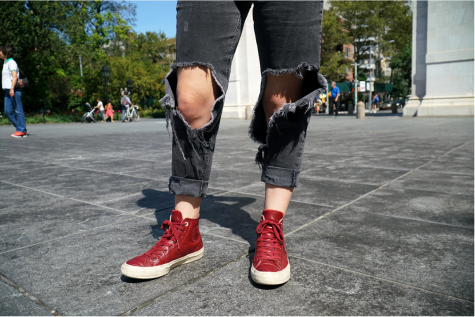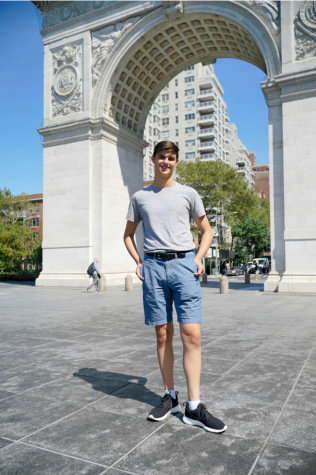 Whether it's the first-day fit, or the 50th-day fit, it's safe to say the idea of an important outfit propagated in high school is no longer relevant. Students are looking for something comfy and casual that still expresses who they are.
Email Bella Gil at [email protected]