Tired of scavenging for an open seat at Bobst Library? Disillusioned by the prospect of spending yet another afternoon at the Kimmel Center for University Life? As classes pick up steam, finding a study space that lends itself to productivity is crucial. If you can't stand the thought of doing yet another problem set or essay response in the Bobst basement, here are five off-campus spots that will make getting your work done sightly less painful.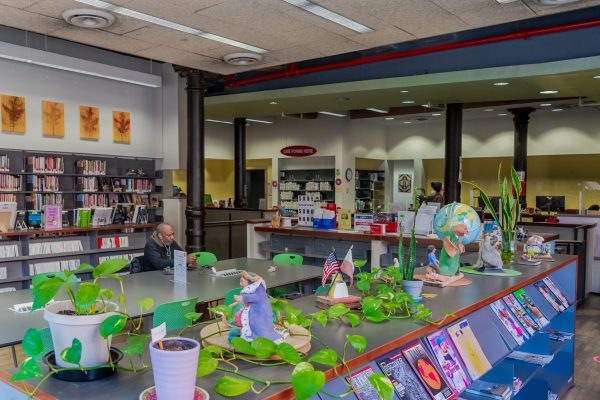 Mulberry Street Library
10 Jersey St.
Just over a 10-minute walk from Washington Square Park, Mulberry Street Library is an idyllic off-campus study site. While its rows of bookshelves make for a pretty standard layout, when you look closer, the three-story library boasts a subtle urban edge. Large windows scale the walls of the first floor, inviting in natural light, while the lower levels are enclosed by cozy brick walls adorned with modern art, giving a homey feel to a traditionally academic ambience. Furnished with plenty of comfortable seating and stocked with outlets and tables, Mulberry Street Library has you covered for both light and intensive study sessions.
The crown jewel of the library, the spacious adult reading room, resides on its lowest level. Its solid brick walls are lined with chic bookshelves that house an extensive literature collection. The openness of the space, free of the inevitable clutter and congestion of many other libraries, will keep you focused on that thesis statement you've been putting off all week.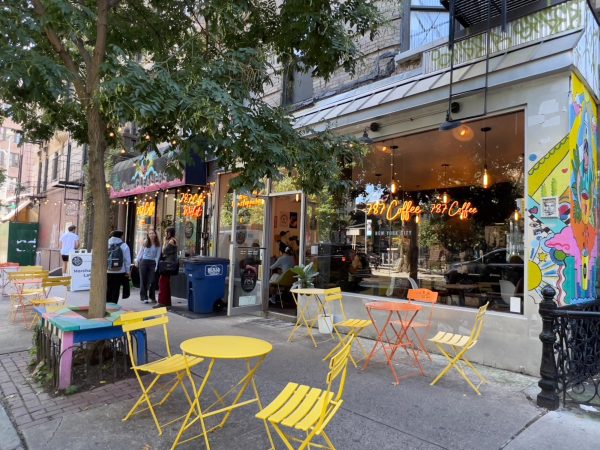 787 Coffee Co.
159 Second Ave.
If you're the type of person who needs a snack or beverage while knocking out assignments, look no further than 787 Coffee, located roughly 10 minutes from Washington Square Park. Enjoy delicious pastries — the scones are my personal favorite — while sipping on their signature Coquito Latte and pretending to work.
Although there's ample seating in the shop itself, 787 Coffee on East 10th offers an attractive alternative. Adjacent to the coffee shop is a vibrant co-working space, equipped with all the essentials: large tables, comfy office chairs, outlets, Wi-Fi, a gender neutral restroom and complementary printer access. Here you can tackle assignments in a focused environment with access to all the same resources that Bobst offers, and more. There are two other 787 Coffee locations close to campus — on 101 Second Ave. and 208 W. 10th St. — though these do not have the attached co-working spaces.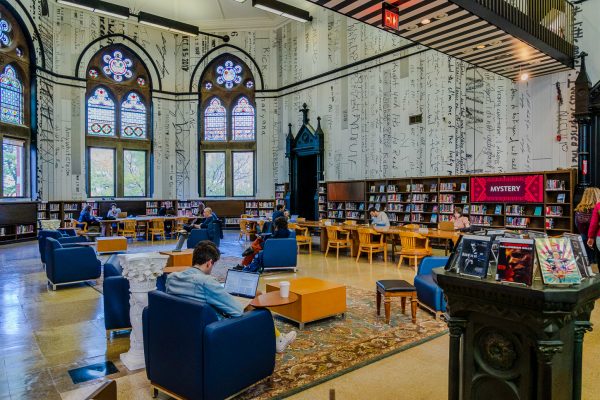 Jefferson Market Library
425 Sixth Ave.
A Greenwich Village treasure, Jefferson Market Library is one of the city's premier public spaces. Equipped with all the basics you need to get through an upcoming French project or lab write-up, this library blows Kimmel's seventh floor out of the water. Originally built as a courthouse in the 1870s, the New York Public Library branch building is an architectural marvel. Unique for its signature clock tower and Victorian Gothic style, Jefferson Market Library is a time capsule to the city's past and a dream for any history nerd or architecture purist.
The library's refined stone walls and impressive sculptures make for a grand entrance. To the right is a winding staircase that leads to the library's palatial reading room. Here, grab a seat at one of the working tables under the room's high ceilings and towering stained-glass windows. When you need a break between assignments, head down to the lower level modern art gallery. On your way out, visit the attached Jefferson Market Garden, a tranquil site to catch up on emails or review your to-do list for the coming week.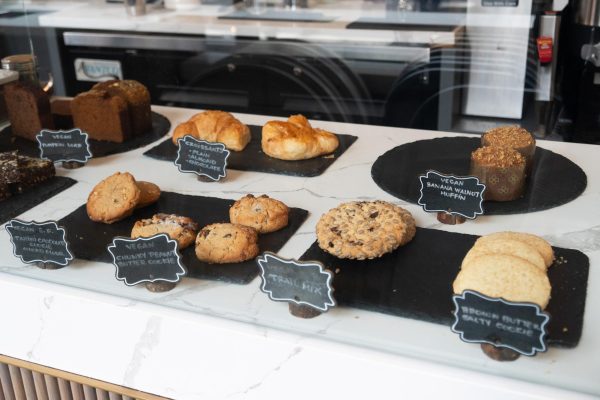 Amano Café
172 W. Fourth St.
Located in the West Village, Amano Café is a homey coffee shop ideal for any student struggling through their Text & Ideas essay or Calculus II homework. Translating to "by hand" in Spanish, Amano prioritizes freshness from cultivation to cup. The cafe offers a delectable food and drink selection — I love their cappuccino paired with a slice of their banana loaf — great fuel for any study session.
Despite its location in a bustling neighborhood, the cafe still manages to encourage focus and quiet work. It has a cozy seating area with free Wi-Fi and outlets, making it convenient to buckle down and get going on assignments. Although it doesn't have a restroom for patrons, the shop is thankfully less than a five-minute walk from university buildings.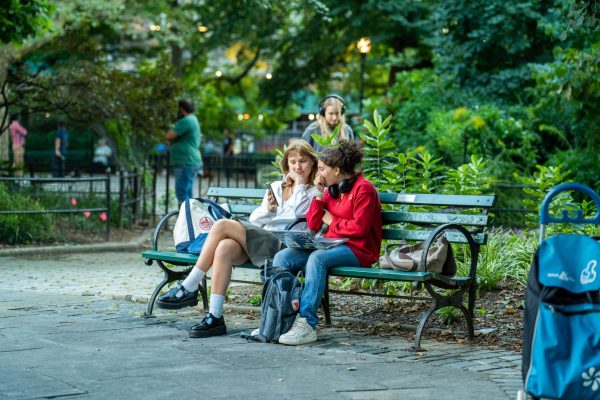 Stuyvesant Square Park
9 Rutherford Place
Are you someone who needs fresh air for a solid study session? Try Stuyvesant Square Park in Gramercy. Though it might seem unconventional for a study location, Stuyvesant Square is a peaceful venue for those hoping to escape the clamor of Washington Square Park and NYU. Composed of two parallel parks identical in layout and proportion, the large space is insulated from the surrounding neighborhood by majestic elm trees and lush foliage. Here, you can connect with nature all while completing your assignments — a win-win.
There's seating throughout the park, but its western portion with benches and tables is best suited for work. Pro tip: bring a Clorox wipe or two to clean the area before getting started. Free Wi-Fi is provided on a limited basis, so the park may be more suitable for hand-written assignments and readings. Regardless of what you work on, you'll be inspired by Stuyvesant Square's natural beauty.
So, what are you waiting for? Grab your laptop and notebooks and head off campus to upgrade your study game. Sometimes a change of scenery is all it takes to unlock your most productive self.
Contact Michael Lando at [email protected].