A real red wave: Year of the Rabbit on Canal Street
Celebrate Lunar New Year and embrace the festivities by supporting small AAPI businesses at Canal Street Market.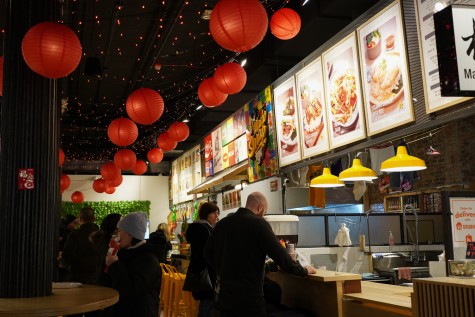 As I emerged from the No. 6 train station on Canal Street, the Lunar New Year spirit was on full display. Throughout the area, as far as the eye could see, people showed off their best red clothes, and firecrackers popped in the distance as dragons danced across businesses. Baskets and bins filled with rabbit trinkets and candies were being sold up and down the streets. Every Lunar New Year, I eat dim sum with my family, attend parades and watch the dragons dancing at every storefront.
Lunar New Year is celebrated worldwide and is most famously celebrated in China, North and South Korea, Malaysia, the Philippines, Indonesia and Vietnam. Every year, festivities honor one of the 12 zodiac animals, a tradition with an origin lost to time. Some say that the ordering is the outcome of the Great Race in which animals raced across a river to reach the finish line.
If you'd like to immerse yourself in the Lunar New Year celebrations as well as support small AAPI businesses, head down to 265 Canal St., where you'll find Canal Street Market in full swing for their biggest holiday of the year. The marketplace and food hall is open year-round with rotating vendors that sell a variety of delicious cuisines.
"I support Asian-owned businesses by buying pastries, eating at restaurants and going to lion dances," said Canal Street Marketplace vendor Tiffany Chen. "It brings me a lot of joy to be a part of the community." 
As the calls of food order pickups and the strong scent of incense filled the air, I reminded myself to slow down and smell the flowers, so to speak. Strategic placements of oranges, long stem arrangements of flowers, and bright red lanterns hanging from the ceiling excited me for the new year. Columns were ornately decorated with 红包 (hóngbāo), red envelopes filled with money of fortune. The pleasantly simple design throughout the area and small nooks with vendors were a breath of fresh air in the busy market. 
Make sure to visit Canal Street Market with a great appetite because you'll find a never ending list of delicious foods to enjoy. Right by the market entrance is Lazy Sundaes, a bubble tea store with a diverse drink catalog. While slurping your bubble tea, try out the wonton noodle soup from Joe's Rice and Noodles or a savory chicken bun from Betong. For dessert, you can splurge on Daniel Corpuz Chocolatier's Lunar New Year Bonbon Box or his two-piece Year of the Rabbit Bunnies. What's even sweeter than these chocolates are the deals you may receive. Show your NYU ID card and ask your favorite vendor if they provide a student discount.
In the retail market adjacent to the food hall, you'll find sisters Maru and Chel, co-owners of art shop dooziCrafts, which is named after their dog, Daisy. The powerhouse sisters turned their love for animated characters into beautiful fan art and merchandise for everyone to enjoy. After admiring the cute stickers, pins, and stationary goods available, I walked out with Haku and Howl stickers. Maru and Chel are always excited to meet their followers and other AAPI small business owners, as well as share their special new year experiences. Follow them on Instagram at @doozicrafts.
"Every Lunar New Year, our family gets together and makes dumplings because it symbolizes prosperity," Maru said. "It's special as it's a time to get together with our family members to welcome the new year, erasing the negativity of the past and looking towards the future." 
Chen, a North Carolina native who studied Costume Design at the University of North Carolina School of the Arts, moved to New York in 2018. Her brand, Dìfúní Art, is derived from the phonetic spelling of her English name, Tiffany. You can check out Chen's shop on Instagram at @difuni.art.
"The experiences that the Asian community were and still are facing created an uncertainty within my own identity and where I belong in that," Chen said. "I chose the name Dìfúní Art as my brand name because I was feeling a little lost as an Asian-American and this allowed me the space to find myself, both as an individual and artist." 
The Canal Street Market will be open from Feb. 3rd to Feb. 5th, so you too can immerse yourself in the celebrations. NYU shuttles B or W to Broadway & Broome Street or to 80 Lafayette Street will get you within blocks of Canal Street, and the Canal & Lafayette Street stop off the A shuttle will place you steps away from the market. Look for the red wave and follow the classic beat of the drums calling the dragon, and you will find the neighborhood easily. 
From my family to yours, I wish you a healthy and prosperous new year filled with stuffed hóngbāo. 
Contact Ashley Simons at [email protected].