Explore NYC's Newest Slime Pop-Up
All you need to know about Sloomoo Institute, Soho's interactive slime experience.
It's squishy, it's sticky, it … smells like pumpkin pie — or wait, is that Christmas Tree? No … definitely Fruit Loops. Actually, it's slime. Yes, slime, the stuff that went viral all over Instagram back in 2017. Though we thought we'd seen it all, the newly opened Sloomoo Institute, an "interactive slime and ASMR experience" located at 475 Broadway in Soho, is asserting that the slime movement is here to stay — and that it's not just for kids.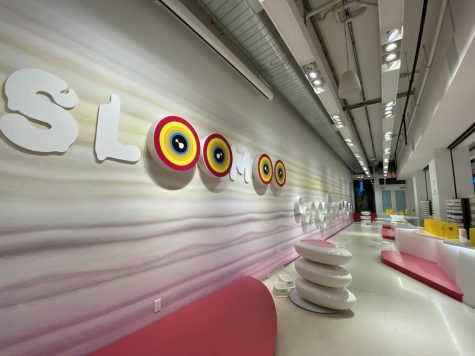 Promoting items like a "sensory playground," which was a tiny room backlit by UV-light and covered ceiling to floor in glowing slime, a DIY-slime bar where you can make your own customized eight ounce slime that comes with general admission, immersive ASMR tunnel and a state-of-the-art merch station, Sloomoo is different compared to your average Insta-worthy pop up. Starting at $38 for a general admission ticket, giant tubs of different types of slimes such as clear, jelly, icee, glossy, snow fizz, cloud creme and cloud slime are scattered throughout the small but expansive space, encouraging attendees to get messy and start playing. The slime is made from various bases of Elmer's glue, soap and Borax, and can be any color or finish desired.
I didn't really know what to expect when I walked through the doors. It was a quiet Tuesday evening, and my party along with about three other parties were the only ones there. Aside from some parents, we were also the oldest. Since it was a weekday, we got to take advantage of each and every interactive station without an abundance of children around us, which I believe is the perfect way to experience Sloomoo.  
The employees were easy to spot, clad in different brightly colored jumpsuits that were available for purchase at the merch station, and were constantly eager to answer any questions. They also seemed pretty excited to see some faces that weren't children, and were also just as excited about the slime as we were.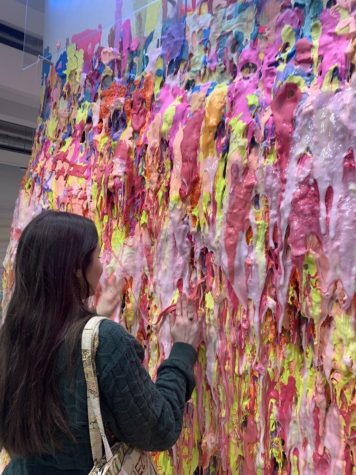 As we waited to enter, we were pressed against  a "History of Slime" wall, which told us that slime isn't just some recent phenomenon. Remember Gak and Silly Putty? Sloomoo proves that slime is just their trendier younger sibling. Despite the giant wall covered in slime greeting us when we walked in and the gallons of slime literally pouring from the walls, the best part of the experience as a whole had to be the DIY station.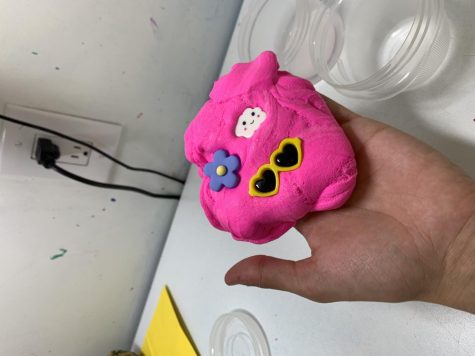 Yeah, yeah, yeah. You can probably make it on your own, but unless you're an expert, it's not going to come out the way Sloomoo's slime does. The DIY station allowed me to choose not only the slime's texture, but to customize it using dozens of colors, scents, which vary from "dirt" to "lavender", and mix-ins as well. I made "Booloo" slime, which was named by the employees upon entering by replacing the vowels in my name with double o's and was lychee-scented and neon-orangey pink. 
Different types of ASMR interactions are also scattered throughout Sloomoo, which allows attendees to put on multiple sets of headphones that have different sounds playing such as whispering, chewing and white noise. If ASMR isn't your thing, don't worry, there's more slime time than there is actual ASMR. 
Despite the shiny facade with appealing interior and slime buckets everywhere, it's kind of hard to overlook and not think about just how many hands have been in the same slime bowl the entire day.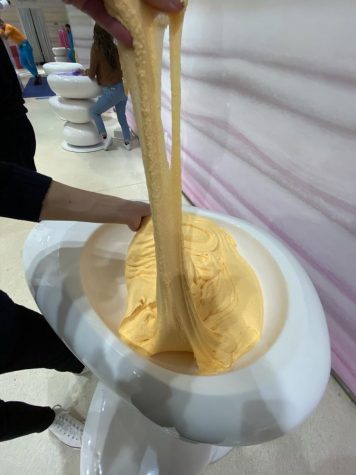 "Just think of all the human oils mixed into this slime right now," Liberal Studies sophomore Pierre-Philippe Falcone told me as we both stood, arms submerged elbow-deep in slime. 
Possibly as a means to counter this scary thought, Sloomoo does have multiple hand-wash stations and sanitary baby wipes scattered throughout the floor to help ease these lingering ideas.
At the end of the day, the slime really is relaxing. It has this quality that brings you and your companions together over one common factor you never thought you could bond over: slime. You're confused why it's such a huge trend, but at the same time, you're giving in to just doing nothing but play with slime. It offers a unity of some sort to just enjoy the moment, ignore all responsibilities and act like kids. 
"I want to share the magic of slime and ASMR," Karen Robinovitz, one of Sloomoo's co-owners, told WSN over email. "For adults, it's a creatively therapeutic stress reliever. For kids, it's an exploration of material and play. Everyone needs joy in their lives which is a huge part of the Sloomoo mission. We will be taking our concept through the country and globally in the future."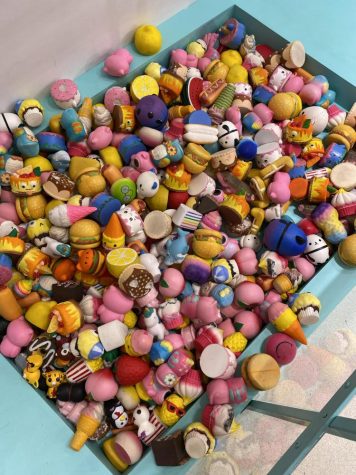 Sloomoo is open at their Soho location until April 18th and even has adult "Sip and Slime" with cocktails and "CBD Events" in the works. 
Though $38 per person is undoubtedly expensive, the experience itself is original, unique and definitely something I've never done before. If you're really interested and invested in the slime trend, then go ahead — but make sure you go on a quiet evening so you can fully appreciate all the sounds, scents and tactile experiences 
WSN was given free access to the Sloomoo Institute slime experience, but all opinions are the writer's own. 
A version of this article appeared in the Monday, Feb. 3, 2020 print edition. Email Bella Gil at [email protected].