Nestled in the depths of SoHo on 120.5 Wooster St., the brand new Atelier Beauté Chanel opened at exactly 12 p.m. on Jan. 25 to little fanfare. The opening hadn't been aggressively publicized and it didn't feel like a grand opening. But because it's Chanel, the workshop gradually filled up as a steady stream of visitors climbed up the sleek black staircase and entered the space.
Marketed as more of a communal beauty workshop than a retail location, the Atelier is described on the Chanel U.S. Beauty Community's Instagram (@welovecoco) as "a permanent beauty workshop dedicated to discovery, creation and community." The space employs Chanel beauty lovers, both casual and professional, creating a sense of approachability while maintaining the integrity of the Chanel name.
Once I entered the Atelier, I was illuminated by lights running through the entrance nook. In front of me was a flawless full-length mirror with the words "create yourself" staring back at me. This high-impact entry space was reflective of the magnificently Instagrammable aesthetic of the rest of the Atelier.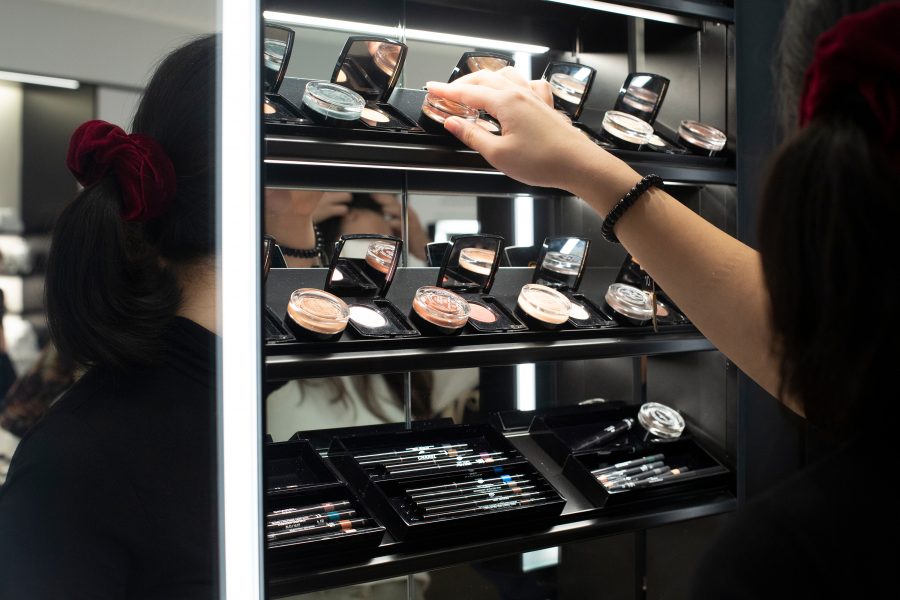 I was immediately greeted by a hostess and encouraged to check my coat and stow away my purse in an impossibly chic black and off-white lacquered locker. With everything stashed safely away and phone in hand, I signed into the digital Atelier — an online tool that makes keeping track of hit-and-miss beauty products and purchasing said products effortless.
The main area is split into six sections, from Cleanse, where visitors can wash their faces and hands with specially selected Chanel cleansing products, to Lip Colour, a station dedicated wholly to the exploration of lip products in various colors and formulations. Not only are there more than enough single-use applicators, but all of the products are also neatly sanitized after each use or are split into individual use amounts, dispelling any fears of an unsanitary experience.
While there are vanities all throughout the Atelier stocked with almost every makeup product and plenty of applicators where visitors can sit down and experiment, during certain hours visitors can walk into the Coco Lab, where they can play with the newest makeup releases and create the perfect flat lay or selfie for their social media. Another room is the Parfum Atelier, which is stocked with all of Chanel's perfumes. The scents are presented under white camellias, effectively encouraging visitors to blindly smell and choose their favorite scents instead of being swayed by packaging.
One thing that one of the Beauty Guides, Symone Mabry, made sure to emphasize was that this wasn't about selling. Instead, it's meant to make the brand more accessible and less intimidating to the average consumer and college student.
"This place is like a workshop. So like me, I know I used to go to Sephora after I got off work and just do a quick touch up, but Sephora isn't for you to do that, really. This place is for you to do that," she said. "And a lot of people are intimidated by our brand, especially the targeted market that we're looking for, so we just really want people to know that it's A, not that crazy expensive, and B, that it's practical for day-to-day life."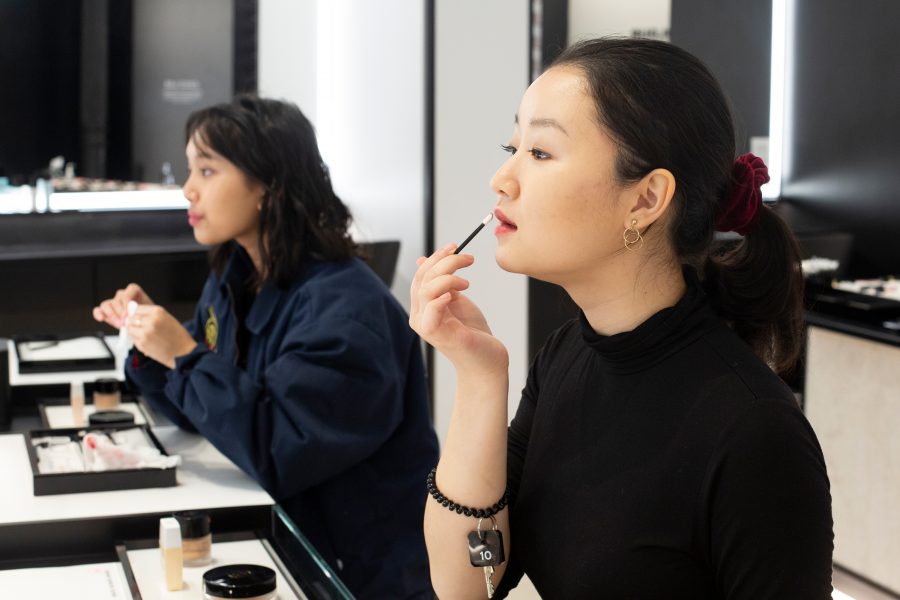 In fact, Chanel was so dedicated to the idea that the Atelier would exclusively be a space for experimentation that they almost didn't sell anything at all. Mabry said, "What if they want to buy it? That's going to be kind of wack to not be able to give it. So if you want to buy it, cool, but absolutely nobody's pushing anything on you. It's not even a commission-based space." It feels like a breath of fresh — albeit expensive — air.
The motto for the establishment is "CREATE. RECREATE. REPEAT," encouraging visitors to wash their faces and create a new look as many times as they wish. Thus, the Atelier transforms into a hangout spot to waste away hours painting your face by yourself or with friends. Mabry underscored this aspect as well.
"We're all normal people, and you can always find somebody to relate, and we're all rooting for everybody," she said. "I wanna see you come out looking great, feeling great, and come back time and time again and come hang out with me. I totally get attached to everybody coming in here."
A version of this article appears in the Monday, Jan. 28, 2019, print edition. Email Carol Lee at [email protected].