Excited supporters holding bouquets of roses anxiously awaited Tisch's Second Avenue Dance Company's March concert to begin. The concert, "Investigating the WE," provided choreographers the opportunity to create a dance that combined their art form and a problem they are passionate about. Of the 10 students in the company, six of them showcased their pieces alongside a piece choreographed by faculty choreographer Elizabeth Coker each night from March 5-7.
Senior Austin Coats choreographed "Invisible People." He was inspired by a homeless woman he saw in Bryant Park digging through trash cans. He recognized how so many people watch these human beings and do nothing to help every single day. 
"You could go out on the street and experience this piece again, and you most likely will," Coats said. 
Coats wanted to create a piece that depicted avoidance and assistance through his choreography. As for the movement, the extensions and lifts were reminiscent of ballet, but the combination maintained a funky contemporary style throughout the piece. For his community engagement element, Coats felt inspired to place receptacles in the Tisch dance building to collect clothing and dry food for the Salvation Army. 
When asked how many donations he received, Coats said, "So far, I think I might have to make ten trips to 14th street." 
"For women. By women," opened with a bright white screen. Senior Riana Pellicane-Hart wanted to discuss how domestic violence often lurks in the shadows of our everyday lives and how to start a dialogue regarding domestic abuse's effect on communication, domestic abuse stereotypes and its definition. 
"My piece was really important to me because I am sure like a lot of people who did similar works tonight, it comes from a very personal spot," Pellicane-Hart said.
Her intention showed throughout the piece, exemplified by the lighting that shadowed the dancers. Each of the two dancers' movements contrasted aggressive and relaxed steps with moments of fragility. Pellicane-Hart plans to work with Equality Now, a leading organization that promotes equality for women in the legal system.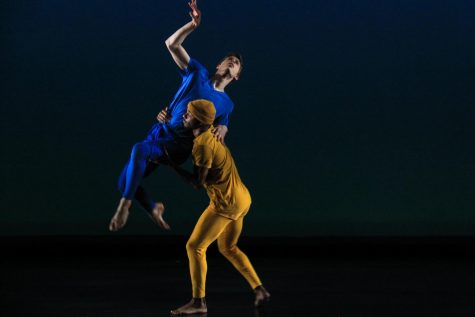 "The Persistence of Flowerhood" was choreographed by senior Morgan Amirah Burns. "My piece was really inspired by the love I have for nature and Mother Earth, and sunflowers have always been my favorite flower." Burns said. 
Through this thought process, she decided to discuss humanity's ignorance over the natural world's degradation. 
It began with a dancer sitting on a mint green toilet while a video showing his face played behind him. Eventually, seven dancers embodying seeds entered. The movement had a cyclical, playful feel, often repeating a few motifs throughout its duration. 
Burns partnered with a non-profit organization on the Lower East Side called Earth Celebrations and the organization's founder Felicia Young. She plans to lead talkback sessions in Tisch School of the Arts' Dance Department about creating sustainable art in the 21st century. 
Inspired by Jaime Black's installation, "Jaime Black and the REDress Project," which informed individuals about the large number of murdered and missing indigenous women in North America, senior Maclean Frey wanted to dedicate his dance to all of these lost lives in addition to raising awareness about this serious issue. 
"There has been over 4,000 women and children who have gone missing and this has gone totally unnoticed by the government and the people of Canada," Maclean said. 
His dance, "Red. excavation," saw five dancers dressed in various vibrant shades of red. The color choice echoed the red dresses that hung from the ceiling in Black's installation, associating red with the lifeblood that flows through every human and through the women who lost their lives. Frey's choreography demonstrated heartache through movement that resembled struggling, moments of deafening silence and powerful imagery. He urged audiences to continue to spread awareness about this atrocity.
As an adolescent, senior Sarai Daniels struggled with discovering who she wanted to be. After attending an event at NYU called "Black Girl Collective," she felt inspired by other black women and looked up to them as role models. By being involved with a campus program called Women of Excellence, Strength and Tenacity, she focused on building a sisterhood with other young black women through discussions about gender-racial identity. 
"I really think this piece gives you a small insight into how we have to kind of develop into ourselves, develop into who we are, be proud of who we are and so that was a really beautiful process," Daniels said. 
At the performance, Daniels danced in her piece "You are Seen. You are Felt." The music was a spoken word piece written by Dr. Jennifer Rae Myers, who performed at "Black Girl Collective." While the music was complex, the stage and costume designs were very simple. Daniels' dancing complimented the contrasting stimuli to create a coherent piece.
The final student piece, "I am here," portrayed the strong women in choreographer Daniel Padierna's life and how they broke archetypal female norms that the media typically features. 
"All of my work is inspired by my childhood," Padierna said.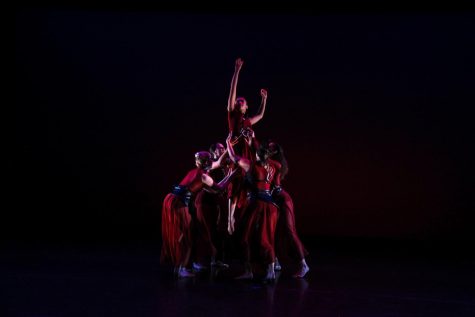 Growing up without a male figure, Padierna looked up to the women who taught him to embrace his own unique masculinity. While he viewed these women as strong, he disliked that television shows always depicted men as heroes and women as inferior. Naturally, Pierna decided to create a dance that empowered women. 
"I really wanted to emulate the physical and emotional realness of these women who have really embodied this notion of being fearless and being brave and showing me the way, this kind of forward projection in my life even when I wanted to step back," Padierna said. 
The five female performers commanded the stage with their bold, sharp and concise dancing. Their costumes were a rich burgundy color and featured harnesses that resembled warriors. 
"Investigating the WE" acted as a reminder that art can be activism. The dances were beautiful, compelling and the performers were talented, but it is undeniably meaningful that these young artists wanted to make a change in the community. So many people say they care about an issue, yet never actually do anything to make a difference. But the SADC used dance as a platform to eloquently raise awareness and inspire others to help make the world a better place through their work.
A version of this article appears in the Monday, March 9, 2020, print edition. Email Sasha Cohen at [email protected].