Smalls Jazz Club's fight to keep jazz alive
Spike Wilner, a musician and the manager of Smalls Jazz Club, spoke with WSN about what sets Smalls apart and the importance of jazz music.
Nestled in the West Village, Smalls Jazz Club is home to a New York staple that is slowly disappearing.
Spike Wilner, a professional jazz musician, has been playing piano jazz since he was a child. He made a living by performing at clubs and bars around the city, including at Smalls Jazz Club, and has now taken over as a manager and partner of the historical establishment.
"Smalls always has a diverse crowd. Lots of young people, jazz tourists," Wilner said. "There's always been a wide variety of people that show up for jazz."
Smalls is a small underground club. There's a bar on the right and rows of chairs down the center. As you descend into the club from street level, you walk down a staircase covered in newspaper clippings, photos and memorabilia that immerse you within a new atmosphere. It feels as though you're stepping back in time — back to the 1950s, a time when jazz ruled the music industry. Smalls has been open since 1994, and Wilner believes its location in a busy part of Greenwich Village has been crucial to its success. 
"Smalls is a little more low-key," Wilner said. "It's more musician-oriented in the sense that we have earlier shows, and then, after midnight, we do open jam nights for all musicians that want to come by, at no charge. We try to create an environment where musicians can come if they want later in the evening and just hang out. We definitely are a community."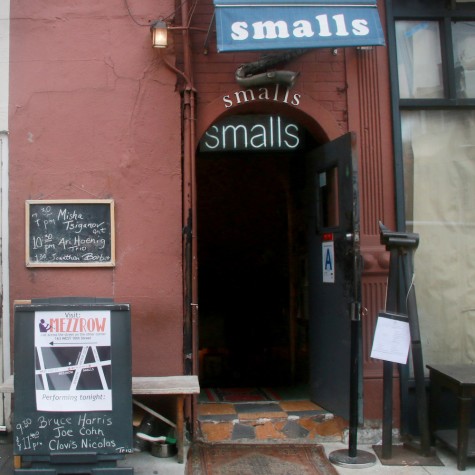 The talent that emerges at these open jam nights is what makes Smalls so special. Everyone is there to enjoy the music and appreciate the musicians for their art, something that's crucial to New York culture.
After the pandemic, Billy Joel donated $25,000 to keep Smalls open. The club's focus on giving musicians a place to freely workshop their craft has led to the club bringing countless jazz greats — like Howard Alden and J.D. Allen — to the forefront of the scene. Wilner said that, in addition to hosting new shows, the club has posted an archive of recorded shows online. Visitors that register to be Smalls members can access about 25,000 past shows that have been recorded since 2007.
"I think that it would be a place for jazz aficionados to come and hear great music, and for people who have never been to a jazz club to come to experience something that might be a bit archaic," Wilner said. "I think anyone could come and enjoy it."
You don't have to be a jazz expert to enjoy Smalls. It's a place to experience something that, though it might seem archaic at times, has been loved for decades for a reason.
Contact Julia Diorio at [email protected].