The best NYC record stores participating in Record Store Day
On April 22, celebrate your favorite record stores and artists with over 300 exclusive vinyl releases.
Mark your calendars for this Saturday, April 22 — this year's annual Record Store Day. This holiday promotes independently owned record stores around the country by giving fans a special chance to grab exclusive album releases from their favorite artists. Releases this year include vinyl records and cassettes from Taylor Swift, The 1975, Billy Joel and Elton John, among others.
Every year, music lovers anticipate the Record Store Day list summarizing the special releases. Records marked "RSD First" will first be available on RSD but can be purchased or streamed elsewhere afterward, while those marked "RSD Exclusive" are only available on Record Store Day — so act fast. With about 300 new releases and reissues, this list contains both classic household names and artists just entering the music scene, catering to every taste.
Record Store Day selected Taylor Swift as its global ambassador for 2022, and she will be continuing to show her support this year with a special vinyl release. For 2023, there will be 75,000 copies of Swift's "Folklore: The Long Pond Studio Sessions," pressed on gray vinyl and available worldwide. With a bit of luck, you may be able to snag a copy for yourself.
Even though streaming services have become the primary source of music, vinyl proves to be stronger than ever. Here's a list of WSN's favorite New York City record stores that have signed the Record Store Day Pledge, which means that they've agreed to sell the special releases to in-person customers and act in the spirit of the event. While the stores we've listed are participating, they may not carry every item from the 2023 Record Store Day release list, so be sure to reach out to them directly.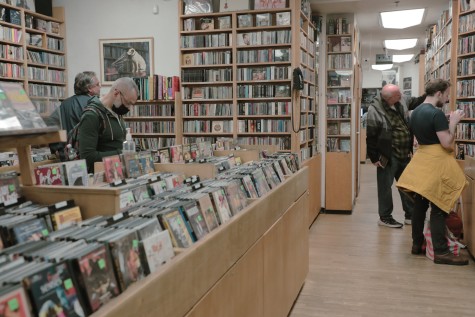 Academy Records and CDs
12 W. 18th St.
Just a few blocks north of Washington Square, immerse yourself in one of the best record stores in New York City. Originally founded in 1977 under the name Academy Book Store, the shop started carrying records in 1995 and quickly made its mark as one of the city's go-to music hubs. Armed with a great selection of vinyl records, CDs, DVDs and Blu-rays, this seemingly endless selection of records make it easy to stuff your Academy Records and CDs tote bag. There's so many options that it's almost overwhelming. With a unique glow-in-the-dark vinyl and cannot-miss deals, you'll walk out with something that everyone will envy. If you're looking to rotate items in your collection, Academy Records also buys records.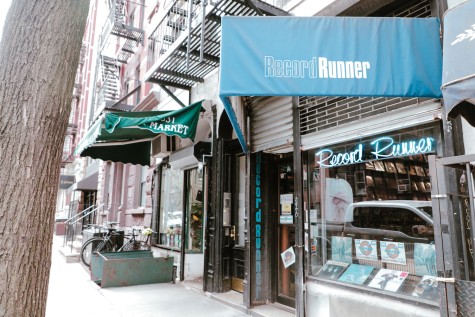 Record Runner
5 Jones St. 
Did you know that the cover for Bob Dylan's "Freewheelin'" album was actually shot right outside of Record Runner? Founded in 1979 by John Pita, this shop pushes the boundaries of small record shops by catering to a global audience with an array of vinyl records from around the world, with a special foucs on Japan. The merchandise at this shop stands out from others because the shop owners travel all over the world to collect beautiful, hard-to-find movie and music memorabilia. Located in Greenwich Village, this hidden gem also features a beautiful brick accent wall decorated with posters and records from floor to ceiling — perfect for taking Record Store Day photos with friends.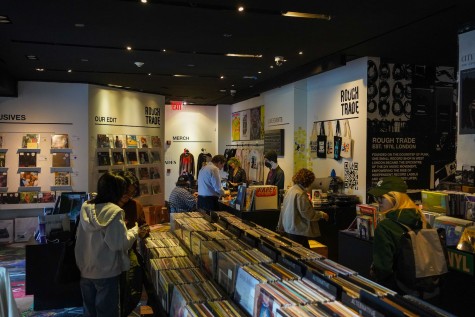 Rough Trade
30 Rockefeller Plaza
Rough Trade first opened in London in 1976 has now become one of New York City's most popular vinyl shops. From a personalized Spotify playlist on its website to books and clothing available for purchase, they have something for everyone. You can always expect a crowd here, looking for their next read or admiring the decorative floor. It's located on the first floor of 30 Rockefeller, but don't be fooled by the hot location. Despite being centered in the hub of all New York City tourism, they carry a wide and eclectic selection. You can find an array of high-ticketed items and budget-friendly used vinyl records. They also have Rough Trade exclusive records, including a Lemon Eggshell vinyl of Yumi Zouma's "Present Tense" and the Neon Magenta Vinyl of Young Guv's "GUV III $ IV."
For The Record
1107 Manhattan Ave., Brooklyn
Stop by this cozy cafe and browse its vinyl selection while waiting for your favorite drink. For The Record features new and used records for just a buck in its "Holla! Just A Dolla!" section. Turn around and you can jot down your favorite album on the store's "Record Your Thoughts" community chalkboard. Think this place can't get any better? It can. For the Record has an event space where it hosts comedy shows, drawing classes and performances.
Earwax Records
167 N. Ninth St., Brooklyn
Priding itself as an essential player in Williamsburg's 1990 cultural renaissance, Earwax Records is well known throughout New York City's music scene. Featuring a wide array of vinyl, it also has a strong selection of vintage turntables, speakers and other essential gear. While you're there, pick up one of the store's "Earwax Crud Remover" sprays to keep your records in tip-top shape.
Vinyl Fantasy
194 Knickerbocker Ave., Brooklyn
A chic shop that offers records, jewelry, comics, pins and everything in between, Vinyl Fantasy is any collector's dream. You'll find your favorite DC or Marvel comics along with metal, punk and jazz records. If you're looking for a one-of-a-kind gift, the store pays tribute to its roots with a "New York-Made" section that highlights local artists and musicians.
Contact Ashley Simons at [email protected].