Rolling Loud Festival Pulls up to NYC for the First Time
The hip-hop mega-event hosted two days' worth of unforgettable, high-energy chaos.
"OPEN THAT SH-T UP! OPEN UP THAT MOSH PIT!"
These words rang throughout the entire weekend as Rolling Loud, billed as "the largest Hip-Hop festival in the world," made its New York debut in Citi Field this past weekend.
As the Rolling Loud began, it was hard not to think of the potential issues surrounding the festival. The NYPD requested several artists, the most prominent of them being Pop Smoke, be removed from the lineup due to fears that their sets would inspire violence. In addition, Trippie Redd, famous for his hits "Dark Knight Dummo" with Travis Scott and "F-ck Love" with XXXTentacion, called out due to illness, and Lil GotIt's performance was cancelled for unexplained reasons.
Still, there were plenty of artists worth seeing, and even though it was a gloomy first morning, the sky thankfully cleared up as the day went on. It was a pleasantly warm Saturday as the first day of Rolling Loud got started. In place of Pop Smoke, Fetty Wap was invited, and in place of Trippie Redd came South Florida's favorite Lil Pump. Although the festival largely catered to modern fans of the more punk-styled hip-hop scene, one only needs a basic appreciation for the genre to get something out of Rolling Loud. For those who long for the old days of gritty, bars-driven boom-bap era hip hop, there were artists such as Fat Joe, Fabolous, Jim Jones, Pusha T and, most notably, the Wu-Tang Clan.
However, one didn't need to wait for the big acts of the night in order to get their money's worth. Rico Nasty, famous for tracks such as "Tia Tamera" and "Smack a B-tch," and who played at NYU's Violet 100 concert last year, delivered an energetic performance, laying down bars and keeping the crowd jumping. Many performers also brought along surprise guests, such as Rico Nasty's presentation of 3oh Black, and Sheck Wes bringing out 9-year-old Bouda Savage. They said it was an all-age festival, after all.
However, that is not to say that the first day of Rolling Loud went by flawlessly. Those in the front rows of pretty much any act got to witness dozens of people getting pulled out of the crowd to be rushed off by paramedics after being suffocated by the crowds. During the performance of a Rolling Loud staple, Ski Mask the Slump God, a barricade fell. The set was stopped, much time was spent reforming the barricade and fans tried their hardest not to lose spots they had kept for hours.
The night ended with performances from superstars Meek Mill and Travis Scott. However, first came Playboi Carti. After a somewhat disappointing Avant Gardner performance, which he claimed was due to faulty microphones leaving him unable to perform, Carti did his best to make up for the crowd. What resulted was absolute chaos. Kids were getting thrown all around as pockets of mosh pits, encouraged by Carti himself, opened up. Many left, completely exhausted from trying to keep themselves standing up, and retreated to the back in preparation for the hour-long wait until Meek and Travis.
Travis was definitely the draw for the majority of Rolling Loud attendees, and it came as a shock when he fell and hurt himself, shouting into the microphone "I think I broke my knee." Despite the mishap, he still managed to deliver a stellar performance, performing a range from early hits such as "Mamacita" to his recent release "Highest in the Room."
By the second day, it seemed that a lot of the issues with day one were ironed out, as compromises were made and the staff seemed more experienced. One large issue that remained was the lack of space in the venue. While it was still maneuverable, Citi Field's size was certainly felt during big shifts in performances, such as when the crowds rushed from Juice WRLD's stage to see Rolling Loud favorite Lil Uzi Vert at another stage. Attendees were sometimes forced to leave a set early just to have a shot at making another in time.
Unfortunately, there were still more notable changes to the guest list on Sunday. DMX had checked himself into rehab and consequently had to cancel his performance. Megan Thee Stallion faced travel issues, having been slated to perform in Austin the same weekend, and ended up with a headlining stage at a conflicting time with A$AP Rocky and Lil Uzi Vert.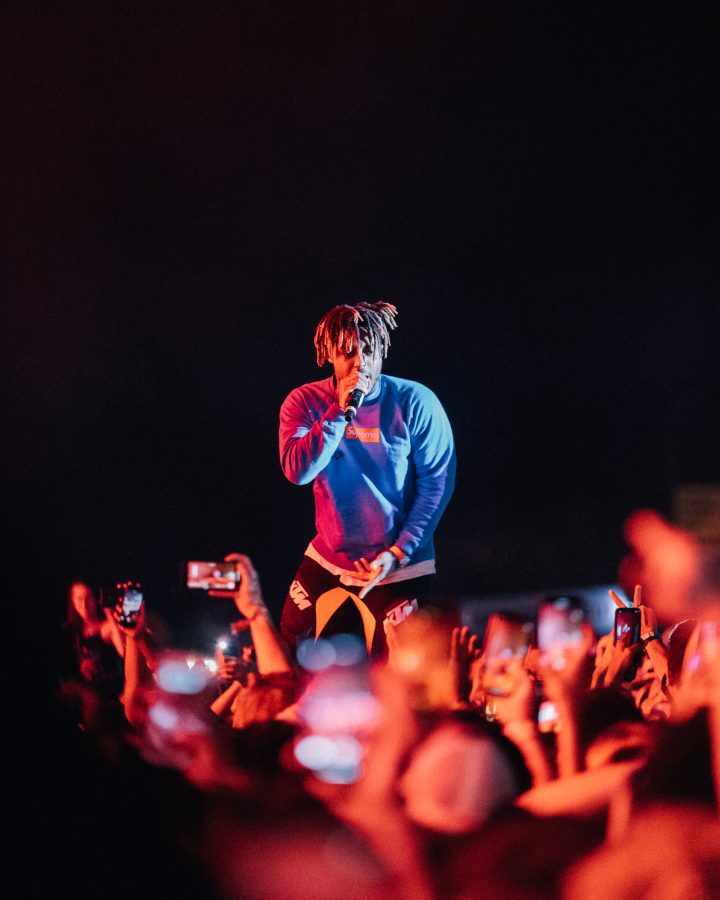 Still, the second day offered plenty of great moments. Lil Tecca, the 17-year old New York native who's gained popularity with his hit single "Ransom," was brought out to perform not only his own set, but alongside Juice WRLD and Tyga too. DaBaby brought out someone wearing a giant costume with a bib that said "Boo Boo Baby" and delivered a stellar performance, constantly diving into the crowd only to have security fish him out. Young Thug brought out Gunna as a special guest, who gave a performance of their recent hit "Hot."
Rolling Loud closed out with A$AP Rocky, Lil Uzi Vert and Megan Thee Stallion. Those who waited to see Megan Thee Stallion at the "Sauce" stage were treated to a phenomenal performance by Pusha T. Choosing who to see for the night was an extremely tough decision, but A$AP Rocky eventually won out. A curtain was brought down so that the staff could set up the stage for his "Injured Generation" theme, and as soon as they opened, the audience was greeted with a mob that crowd surfed while wearing masks from his recent tour. He performed many of his hits, such as "Gunz and Butter," "A$AP Forever" and "Telephone Calls."
As the major set continued, it transitioned into a love letter to hip-hop. In addition to bringing along Swae Lee to perform "No Type," A$AP Rocky brought out Queens native 50 Cent to perform crowd favorites such as "I Get Money" and A$AP Ferg to perform "Work," as well as tracks off his new album "Floor Seats." Attendees threw bras on stage, and A$AP Rocky gleefully walked around, holding out the bras and yelling "titties!" over and over.
The million dollar question many might have is whether Rolling Loud is worth going to, provided there is another New York show next year. Certainly, for those who call themselves hip-hop fans, Rolling Loud is a sort of holy grail. So many of the genre's finest gathered together in one area over several days was a sight to behold, even if there were a few hiccups. Perhaps it's something that most should experience at least once.
However, going for a second time is definitely more questionable. The festival certainly isn't cheap, with tickets upward of $200, and, as this weekend revealed, none of the booked acts are guarantees. Ultimately, it's fair to always remember that Rolling Loud is a festival. One does definitely need to have a taste for festival culture to be able to enjoy it. But for any faults that Rolling Loud may have had, in the end, attendees always have their memories of seeing so many of the artists they've come to know and love gathered together in one place to celebrate one of the most revolutionary, experimental genres of music out there.
A version of this article appears in the Monday, Oct. 15, 2019, print edition. Email Iffat Nur at [email protected]