Val Olson may be 20, but Deadbeat Girl has just celebrated their first birthday. In the whirlwind year since releasing their kickoff single, "Another Day," the indie-rock artist has produced an EP, directed music videos, and garnered a dedicated audience through their authenticity and captivating sound. Whether accompanied by gentle acoustics, a strapping bassline or heavy synths, Deadbeat Girl's art resonates with anyone who has grappled with love and heartbreak.
Olson sat down with WSN following their set at Brooklyn venue Baby's All Right on Sept. 19, speaking on their recent EP release and role in Ari Abdul's ongoing HELLGIRL tour.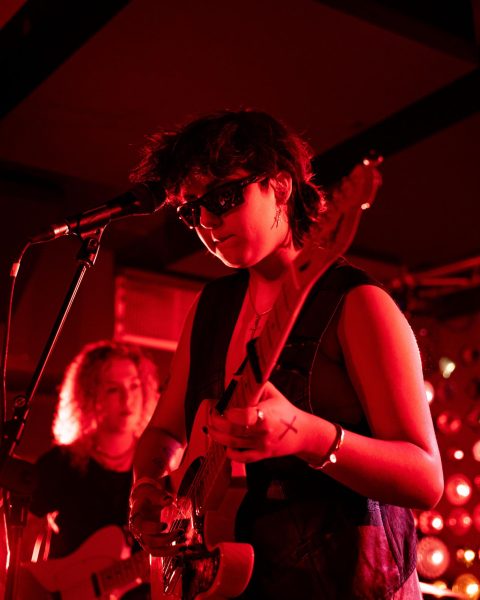 This interview has been edited for length and clarity.
WSN: You've attended NYU since 2021, beginning in music technology at Steinhardt before transferring to Gallatin. If at all, how do you feel your artistry has been influenced by your time in each of the programs?
DBG: I used to make bedroom rock-pop-type stuff. Coming to NYU, I was able to meet so many more musicians that I didn't have access to at home, and have been able to broaden my sound. Even my music director, who put this entire show together, is an NYU alum — Isaac Burns. I also met Collin Taylor, who produces a lot of my stuff here. I'm really inspired by a lot of the people that I met at NYU. 
WSN: Having lived in New York City since the age of 17, you've noted that the urban setting has influenced your image as an artist and provided a community. How has taking part in New York City's musical scene shaped your perspective as a performer?
DBG: My style when I first came to NYU — I thought it was peak. But then I came out here, and I met this eclectic mix of sick-ass people. I was inspired by the fashion and the overall sound here — I'd wanted to make more dark wave-type music in the city. In my little town that I'd lived in — in South Florida — there was not a lot of art happening.  But coming here has influenced everything, down to my merch and the way that I carry myself. 
WSN: You started writing the songs on your recent EP "What Will It Take?" at the age of 16. Was there any song on the EP that surprised you in how it developed from its initial conception?
DBG: I think "Another Day," because that song was the first that I released. I did feel very strongly about it as a musician, but I wasn't sure how it would transfer onto the general public. It's not super heavy punk, but I thought only the alt-rockheads would enjoy it. I was shocked to see people who love all genres gravitating towards the song. It means the world to me. 
WSN: As well as writing and producing your own music, I understand that you've also served as director of the music videos for your songs "Another Day" and "She Loves Me." You've spoken about being influenced musically by artists such as Pearl Jam and Billie Eilish, but where do you find influence for these visual projects?
DBG: From surfing YouTube, really. I was such a YouTube kid; I watched every single music video under the sun. We used to have MTV music videos playing on our family TV at all times. When I'm creating a song, I usually have a visual in my head. By the time it comes around to do a music video, it just kind of comes out of me. It feels like I've been subconsciously thinking of the visuals the whole time, even while I was writing it.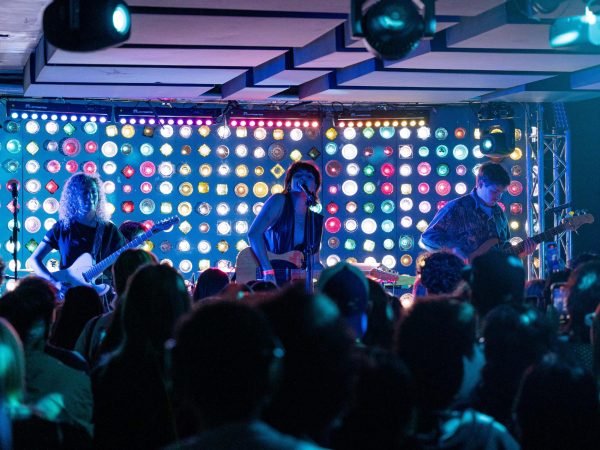 WSN: Your most recent endeavor is accompanying artist Ari Abdul as a special guest on her global tour. Would you be able to speak on how your friendship and professional relationship with Abdul began?
DBG: I met her through a mutual friend in the city almost a year ago, around Halloween. We went quickly from party friends to really close. We just immediately clicked. It really restores my faith in humanity, seeing someone that gets everything that she absolutely deserves. Eventually, she invited me into a studio that she goes to and we started messing around with music, and that's when "Make Me Cry" happened. 
WSN: Your most recent release is your single "Make Me Cry," which you collaborated on with Abdul. How did working with another artist on a song impact your typical creative process?
DBG: It was so interesting because it didn't feel like it was impacted. With Ari, it was just so cool that I didn't even think about the fact that it was a duet until it came out. It's definitely a different sound, but it still felt like me — it still felt like Ari. She had a session with this artist, Isaac Dunbar, and she had me come in to help write and hang out. I started putting in some reference vocal takes in the interest of time. By the end of the session, we were like, "Oh shit. Our voices sound pretty nice together." It's brought me to this tour, so I'm really grateful for it.
WSN: Following the tour's conclusion in October, what are your goals as an artist in the months to come upon returning to the city?
DBG: I want to play so many shows. Seeing people's faces for the first time has been so nice because I've been very much an internet musician. I just want to see more faces, play more shows and I definitely want to do more visuals.
Deadbeat Girl's upcoming single, "Talk Tonight," will release on Sept. 29.
Contact Eleanor Jacobs at [email protected].