Chelsea's art aficionados gathered for an evening brimming with artistic enchantment on Sept. 7 at the opening of artist Sanford Biggers' new solo installation "Meet Me on the Equinox." Biggers has collaborated closely with the Marianne Boesky Gallery since 2017 — this show marks his third exhibition there. The show displays 10 of Biggers' new artworks, each characterized by a wholly distinctive composition of antique quiltwork, marbles and unique mixed-media concepts.
"Meet Me on the Equinox" juxtaposes history and cultural memory within the origins of Black art. It guides its audience through a captivating exploration of social and political voices of truth in American history, which have often been silenced in the past.
The 53-year-old artist got his start in Los Angeles street art, but later expanded to a wide range of creative disciplines including Afro-European sculpture, paintings, multimedia and performance work. Biggers' art has been shown at institutions like the Tate Modern in London and The Metropolitan Museum of Art.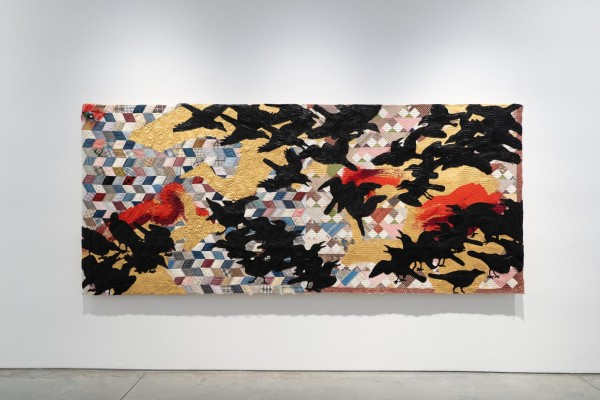 The gallery's striking centerpiece, titled "Slow Murder (2023)," is located in the main room of the exhibition. The over 12-foot-long masterpiece features an assortment of woven antique quilts, other fabrics and striking red-and-gold pigments spattered sporadically onto a canvas. Biggers created an avian realm by populating the quilted backdrop with flocks of black crows, perhaps representing the cryptic echo and slow murder of the voices silenced by history.  
This quiltwork serves as a tool for exploring greater themes of the past, present and future, simultaneously. The diverse patchwork evokes memories of quilts that were used on the Underground Railroad to signal messages without raising suspicion; safehouses for enslaved people were commonly coded by quilts draped from clotheslines or windows. They represented guidance, connection and ancestral perseverance, themes also present in Biggers' other works.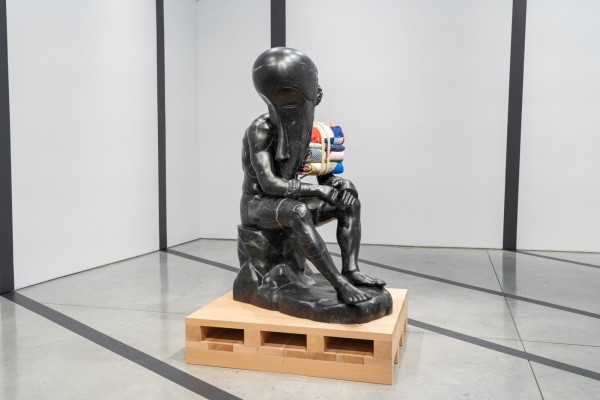 Another standout piece was a black polychromatic marble sculpture of a man, titled "Knuck, 2023." It was one of several marble sculptures in the gallery, blending elements of traditional African masks with European sculptural representations of the human form. "Knuck" was seated on a stoop, wearing an elongated tilted mask and carrying quilts tied on his arm — an image reminiscent of large African Fang masks. Masks were a recurring motif in most of Biggers' sculptural pieces.
Fang masks have been historically misappropriated, infamously by Picasso and other Cubists. However, they are more than the so-called primitive realms that European modern art subjects them to. They're ceremonial and believed to be vessels of ancestral spirit. 
Another must-see, "The Repatriate (2023)," featured an upside-down mask sculpted from green marble. In a recent interview with Whitehot Magazine, Biggers explained that the inverted mask is a commentary on the repatriation of stolen art back to its original country. The work is an homage to the millions of artworks around the world finally making their way back to their home countries after years of colonialism.
"The Repatriate" reclaims the destiny of art and in doing so demonstrates the imperativeness of preservation in the context of cultural legacy and heritage. The piece affirms that community can be rediscovered irrespective of its obscurity in the history books. 
On display until Oct. 14, Biggers' "Meet Me at the Equinox" is an absolute must-visit. It invites the audience into a visually compelling celebration of Black art. The gallery seamlessly engages with the viewer, offering historical narrative commentary, while simultaneously allowing them to digest patterns, composition and artistry through their own lens. His art takes a step toward redefining the tapestry of history.
Contact Giuliana Brida at [email protected].