Ace-ing It in New York
These three NYU students identify across the spectrum of asexuality and share their stories, experiences and struggles with being their authentic selves in modern Western society.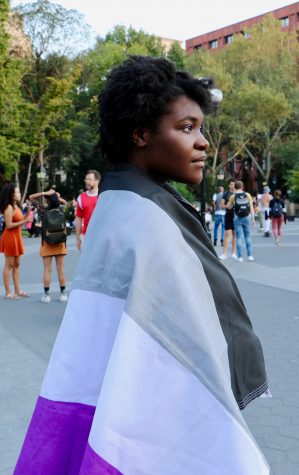 Swipe right on Tinder, Badoo or Bumble. What's next? Maybe meet them at a bar or ask them out through a text. You'll make small talk once you arrive and awkwardly nibble on your dinner, eating way too little of your order to feel remotely satisfied. One of you will want to pay and the other one will totally let them, right? Or maybe you'll choose to split it in the end. The night will move on and, while you're each waiting for a train to take you to opposite sides of town, your hands will brush over and over again until one of you ⁠— whoever feels bold or had just the right amount to drink at the bar ⁠— takes the other's hand. The next morning, after nothing happens, you'll still wake up to a good morning message with a kissy-face emoji at the end.
For days, you'll be telling your friends how hot your date looks. On your second date there's going to be a lot of kissing and you might want to ask them over except you'll realize your roommate's at home and you didn't warn them. You'll warn them before your third date, though, and when it comes around, there's going to be sex. Done. You've hit all of the dating checkpoints. You're in a real relationship now, well done! 
Works for all sexual and romantic identities. Totally inclusive. Unless?
Sitting across the table from me, Tisch drama sophomore Journey Brown-Saintel laughs out loud as we joke about what dating in modern Western society has to be. 
"I thought people can't just look at other people and think 'I want to have sex with you.' It must be media! But my friends would be like 'Oh, yeah, I'd totally have sex with them'," Brown-Saintel said. "And I thought 'What's wrong with me?', 'Why don't I feel that way?'." 
Generally, asexuality (ace, for short) is defined as the lack or complete absence of physical attraction. Regardless of this narrow definition, asexuality spans a range on a wide spectrum, just like all other sexual and romantic identities.
After realizing her feelings differed from those of her peers in high school, Brown-Saintel struggled deeply with finding her place in the overly sexual mold into which romantic relationships seemed to fit. She wanted answers to why she felt the way she did and if there were others out there who could relate. 
Brown-Saintel's search for answers wasn't simple. She remembers her frustration once she realized she couldn't turn to media like news outlets, fiction novels or TV shows. Trying her luck, Brown-Saintel succeeded at finding her answers online, through Tumblr and forums for and by asexual and aromantic individuals. 
"Through doing my own research I found that asexuality was a thing," Brown-Saintel said,  smiling with a look of relief, "The article said that if you're ace you might not see people and think 'I want to have sex with them' and I thought that sounded like me!"
This discovery helped her feel like she wasn't somehow incomplete due to her lack of physical attraction to those she liked. Rather, it revealed to her the brokenness of the culture she lived in as it didn't provide any amount of space for asexual people to feel whole and comfortable when it came to dating.
In high school, Brown-Saintel decided to join her school's LGBTQ club, openly as a bisexual woman of color. As she figured out her identity as an asexual, she decided to share it with other members.
"I told people in the club [about being asexual] and I thought they didn't believe my identity. They wouldn't touch me or hug me," Brown-Saintel said. "I announced to them 'I don't understand what's going on' and they were, like, 'Oh, no, we're just being kind, we thought you didn't like to be touched.'" 
"What do they mean!" Brown-Sainter laughed. "I crave physical touch!" 
Assuming that asexual individuals are touch-averse or repulsed by platonic physical contact is only one of the many stereotypes surrounding them. Asexuality tends to be reduced to the absence of sexual desire, yet this isn't completely true and does damage to those whose identities lay across the spectrum.
Brown-Saintel herself doesn't like labels and prefers to avoid flattening people's identities based on their components. Regardless, if needed, she feels most comfortable with calling herself gray asexual and bi-romantic, which means she's able to experience sexual attraction to certain people, very rarely, and she's romantically attracted to more than one gender. 
"Some asexual people can have sex. Some might enjoy it. Some do it for their partners. Some even want it! And some are repulsed it," CAS sophomore Ryan explained.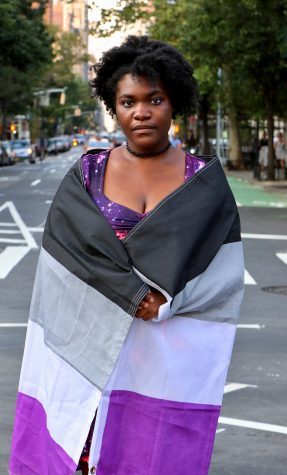 Ryan, who studies linguistics, asked to remain anonymous and to be referred to by an alias in this piece. He identifies as fully asexual and says the idea of anything sexual happening between him and anyone else "disgusts" him. 
"There's a big difference between libido and sexual attraction," Ryan said. "People confuse the two. For example, I have a high libido if I'm stressed."
Taking testosterone, for example, might increase a person's libido drastically but it wouldn't make an individual experience physical attraction. Generally defined, libido is synonymous with an individual's sex drive, whereas physical attraction is, usually, linked to a specific person or people and causes sexual desire toward them.
Asexual people, just like anyone else, experience varying levels of libido without sexual attraction or finding someone "hot."
On the spectrum of asexuality, you'll encounter such sexual identities as demisexual, meaning a person experiences sexual attraction only if they share a bond or a friendship with the other individual. Reciprosexual people, on the other hand, don't feel physical attraction unless they know the person's already attracted to them. 
The list goes on and includes such rarely discussed identities as akoisexual — those whose attraction to the other person fades if it's in any way reciprocated — and aceflux — someone whose ability to experience sexual attraction fluctuates from asexual to sexual and anywhere in-between.
Besides narrowing asexuality to a single definition, many other stereotypes prevail. For example, it's common on the dating scene to take a person's general lack of sexual desire personally and find it offensive.
GLS junior Rachel Moorman-Minton, like Brown-Saintel, identifies as gray asexual and, in her case, hetero-romantic as well. She finds it stressful to date. It feels like a challenge due to her sexuality and has for a long time. Currently on a semester abroad in Buenos Aires, Argentina,  Moorman-Minton talked to me on the phone.
"I never know when to bring [being asexual] up," Moorman-Minton said. "I'm not averse to having sex but it is something I would need for people to know. When people hear that and don't understand, they would take it as a hit. As in 'You're not sexually attracted to me.'" 
Moorman-Minton, though, considers herself "luckier" than many as she's able to experience sexual attraction on rare occasions or with specific people and can avoid explaining herself in a romantic situation. 
"I don't need that label or feel like it is super tangible or a big part of my identity," Moorman-Minton explained. "I don't feel the need to really explain specifically what my sexual interests are to the general population." 
"I never understood what people meant when they would call people sexy or hot," Moorman-Minton she laughed. "It just never made sense to me."
Similarly to her, Ryan felt confused when everyone told him he'd become hormonal during puberty and would want to "sleep with every girl" he saw. 
When the talks about hormones and teenage sex-drive weren't happening at school, they happened at home. Coming from a religious family of Muslims, discussions surrounding purity and sex were common in Ryan's house. 
"My mother would always tell me, 'Stay away from women, don't date until you're ready to get married' and stuff like that," he said, "One night I snapped and told her: 'don't worry, I'm asexual'."
In response, Ryan's mother called a doctor from "her home country" to talk to him about his sexuality.
"They kept telling me that's just to make sure I'm okay and there's nothing wrong me with," Ryan scoffed. "Then, they wanted for our primary doctor to check with me. We had the whole confidential talk, like 'are you sexually active', 'do you have a partner', all those questions. […] I said I'm asexual. She knew what that was somehow and said, 'Oh, don't worry, you're just really heavily involved in your academic life.'"
Despite laughing as he told the story, Ryan explained the worrisome side to it. 
"She said, 'Once your life settles down, you'll become sexual,'" he said. "Within or outside of the LGBTQ+ community, everyone tells asexuals they just need to try it. As if being asexual's weird. It's seen as weird in an over-sexualized world. But generally speaking, long-term relationships aren't built on sex!"
It's quite common for people who don't identify on the asexual spectrum to assume asexual individuals need help or fixing in one way or another, as if they're inherently unhappy since their relationships lack the sexual component.
"Why do we need to be fixed if we're functioning members of society who don't do harm to anyone?" Ryan asked, frustrated. "People would assume we don't have emotions and feelings, which couldn't be further from the truth. That's sociopathy, not asexuality."
With shallow perception of complex asexual identities comes the inability to see the person behind the label. Understandably, this takes a toll on asexual individuals, who need to explain themselves in every space they enter, which is true for most minorities. 
"I'm tired! I'm always tired!" Brown-Saintel said in exasperation. "Yes, I need to make a change and talk about it. But that's on my radar every day. I live it and I don't want to always have a Q&A."
The stereotypes surrounding asexual individuals take away from the complexity of their identities. Being asexual gets reduced to the mere absence of sexual desire, erasing the importance of other components of relationships asexual people share with others such as emotional intimacy and shared interests, as well as the ability to enagage with the person on physical level other than sexual.
"If I could portray an asexual character, she'd pick up the slack for and represent the entire minority even though she shouldn't have to." Brown-Saintel said after I I asked her who the perfect asexual character would be in her mind. "She's going to be loud and into everyone's faces, always getting dates, living her best life, party girl and she's ace!"
Email Anna-Dmitry Muratova at [email protected]