Chicken Comb
First-year Alexandra Chan speaks about how something as simple as hair can externally define who she is, but it really shouldn't.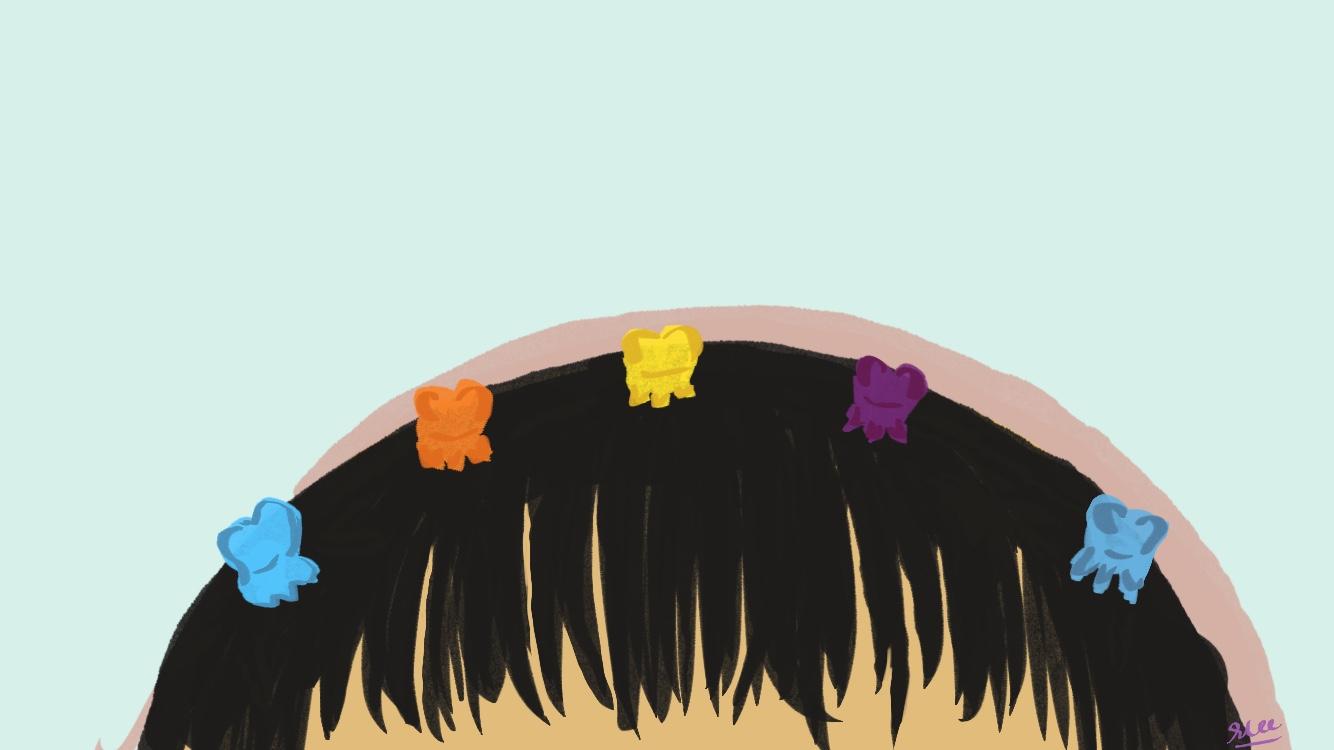 Bald
I was plopped in a round pool floaty, corking the hole. Bzzt. Bzzt. My mother's friend's brother's wife collected the tufts of hair and set them aside, definitely not for later use. The shaving of one-year-old me's hair was a brief, but momentous occasion that took place in a local swimming pool somewhere in Los Angeles County. Apparently my uneven hair, growing like a chicken comb, was not desirable. Afterwards, there's a VHS tape of me standing up in my cot wearing a pink headband and matching onesie, my head shaved clean, and my parents cooing and laughing. My hair was sure to grow better this time.
Chin-length bob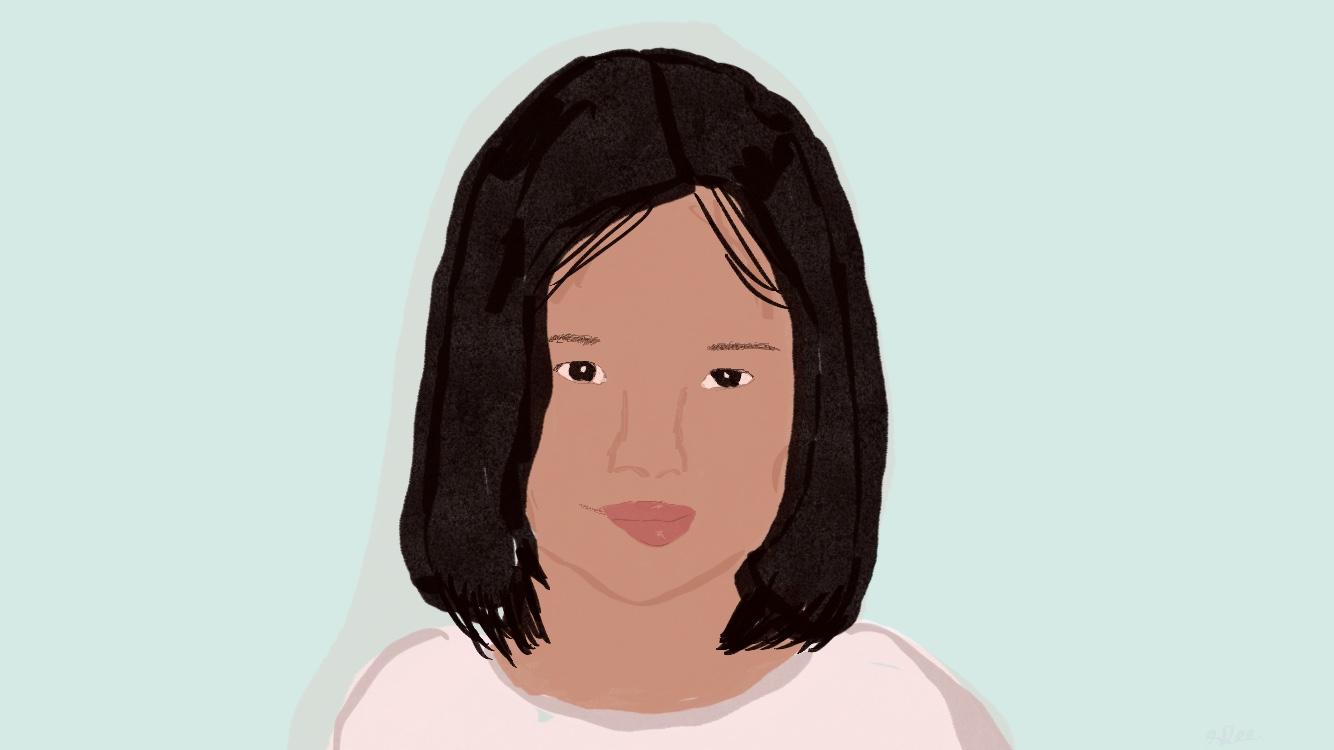 By the time I was 7, I had an enormous collection of pastel headbands, rainbow elastic hair ties and dozens of tiny hair clips to use on my hair that was not allowed to extend past my shoulders. While in primary school in Hong Kong, I sometimes wore my hair like a crown, one braid on each side arranged in a flat semicircle on the top of my head with colorful hair clips. 
I showed up to school, so proud of my work. 
The library aide said, "哇!好似青馬大橋 (It looks like the Tsing Ma bridge.)" I couldn't tell if that was an insult. 
In fourth grade, the Chinese cultural dance team danced with 長綢 (long, red strips of silk shaped like a blade, edged in sequins with a short handle for grip). The uniform accessories called for a high ponytail gathered in a red scrunchie flecked with gold sequins. 
"I'm sorry my hair is so short. I don't think it can happen." 
The library aide was tying everyone's hair before we set off for the competition. "信一信我 (Trust me)," she said with a knowing glance. My previous futile efforts had been to gather my hair from the bottom up and desperately try to flatten the top. She brushed from the top down. It was astounding. 
There was an end-of-year party where you didn't need to wear the uniform and the teacher projected Youtube videos for karaoke. I wore a frilled white turtleneck under a pink gingham dress and a thin, pink cloth headband. My best friend wore a dark blue Brooks Brothers shirt with shoulder cutouts and black ripped jeans. 
"Look at you two! 一個好幼稚,一個好成人。(One so childish, one so mature.)"
My mother scraped a line down the middle of my scalp and tied my hair into bouncy pigtails for my tap dance, gymnastics, mathlympic and taekwondo competitions. I finally complained. 
"Pigtails look so childish."
She seemed taken aback, "When I was young, one tail was baby-ish, and pigtails meant you were mature." I scrunched my nose and kept the pigtails again.   
Shoulder-length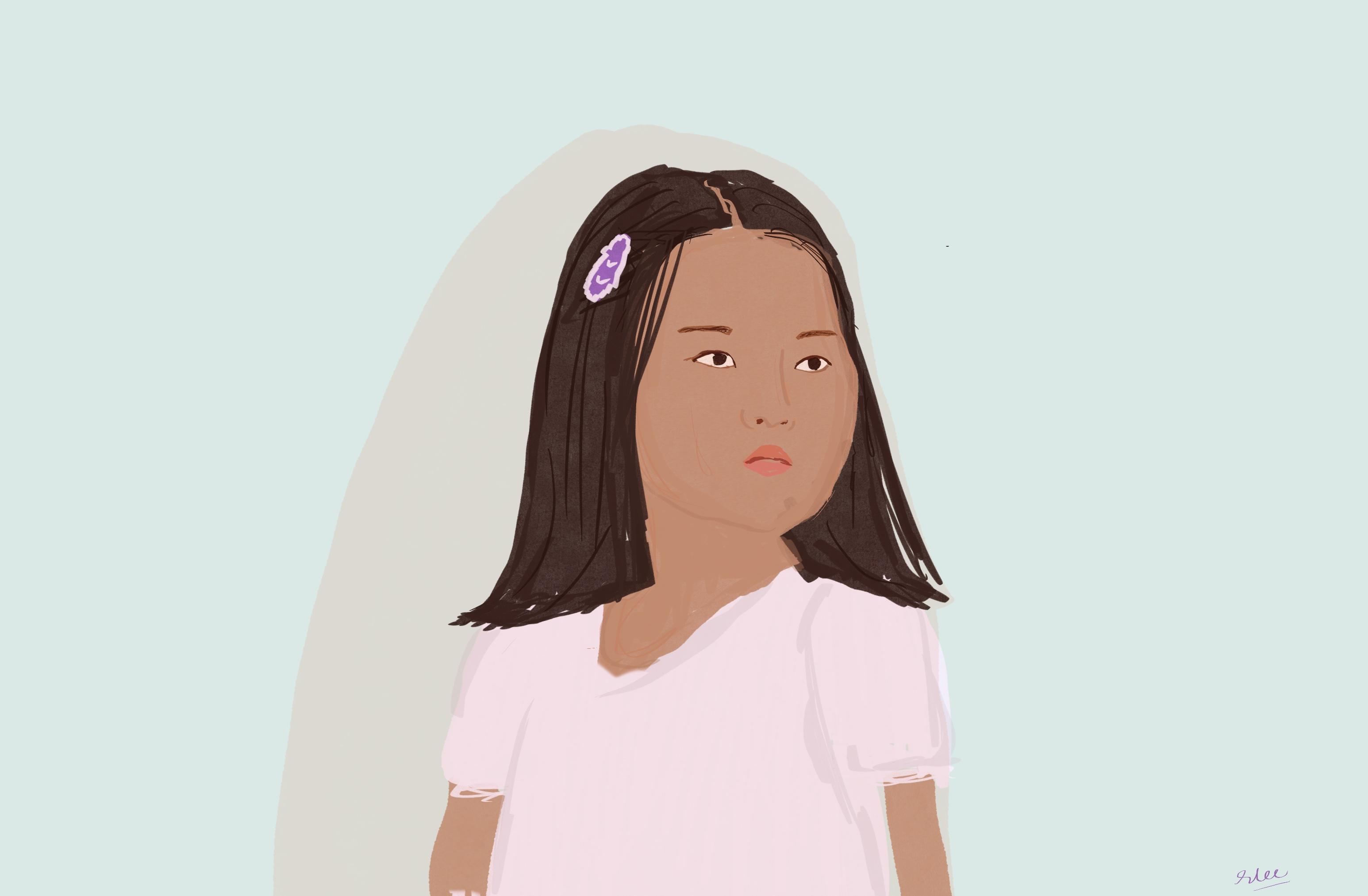 In 6th grade, I moved schools in the same Hong Kong neighborhood. A bright orange headband forced back to show all of my forehead and a low ponytail was my brand new go-to. The worn out teeth of the headband wouldn't prevent it from sliding forward and bunching up at my hairline. Then I thought of the ponytail. 
"Yeah, it's much better," my best friend said. 
In the morning, before school, I would tie my hair in front of the apartment's only full-length mirror in my parents' bathroom. 
I tilted my head, put a hand on my hip, and thought, "Now I'm pretty." 
Chest-length
Convinced by my 6th grade revelation and never advised otherwise, I pulled my hair back into a tight ponytail every day of 7th and 8th grade in my — yet again — new school in Shanghai. Near the end of 8th grade I let my hair down, parted on the left. I can't recall why. Maybe I was dared. 
"You put your hair down today … it looks nice!" My religion teacher nodded in recognition and approval.
"Thanks." I looked down at the paper I held in my hands, trying to zone out on purpose. It looks nice, down? How? 
A boy I barely spoke to and disagreed on everything with tried to talk to me as if he thought I was pretty. I told him no, thank you. I wondered if I should have appreciated the attention. 
"Why haven't you let your hair down before?" 
"I don't know." I did know.
Mid-back-length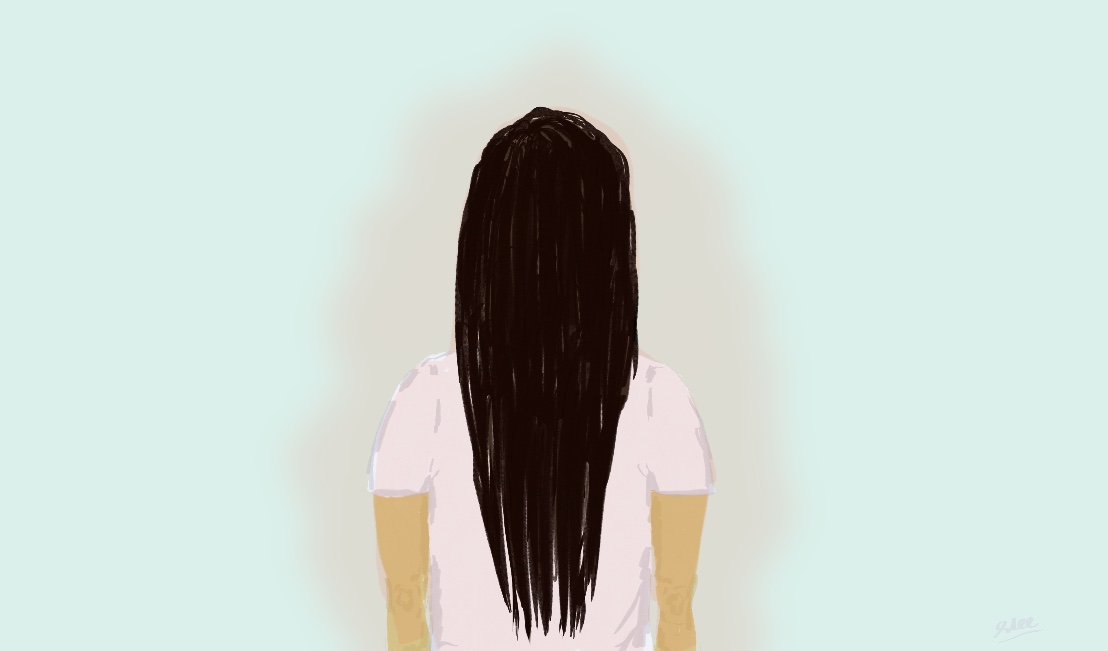 I eased open the door to my summer school classroom in a new school in Los Angeles and picked a seat in the back. My hair was down. Dammit, I should have kept it up for a while so I could have that dramatic transformation again.  
Strands of hair stuck to the shower tiles. I absentmindedly pushed them all together into a big clump. That didn't seem right. I washed out the conditioner from my hair and loose hair stuck to my fingers as I stared with wide eyes. I thought hair loss started in middle age. 
"Can I get a trim? Just two inches please." My mom made a noise of disapproval as I refused to chop my hair for Lunar New Year again. I pretended I didn't hear.
"Did you know you have a lot of white hair? Let me cut them for you." My barber picked through my scalp and snipped off strands of long silvery hair, laying them in my open hand. Many times my mom had asked me to cut her white hair and she would joke that my brother and I gave them to her. I was 17. How could I have white hair?
"Squishy!" a freshman in my speech and debate class said as she pinched my cheeks, and laughter bubbled up from my friend. I still had baby fat as a senior and I grew my hair out and wore it down on purpose now, to cover it up. 
Collarbone-length
It was the summer before college arrived. After a humid trip to Hong Kong in June, I went to the salon. 
"To my collarbone, please."
I left the salon giggling. A weight had been literally lifted off my shoulders as I swished my hair around in the parking lot. It was a great change. I thought it was cute as hell. 
It's not a chicken's comb, it's not a crown; it's just hair. I don't give a shit if it's childish or mature. I don't need a teen movie moment where my hair falls down in long tresses to look suddenly beautiful. My hair may be genetically weak, and stress may create white hair. My cheeks are there to frame my smile. I have so much of myself to be proud of that has nothing to do with the strands coming out of my scalp. I am not my hair, I am here.
Email Alexandra Chan at [email protected]