To: Washington Mews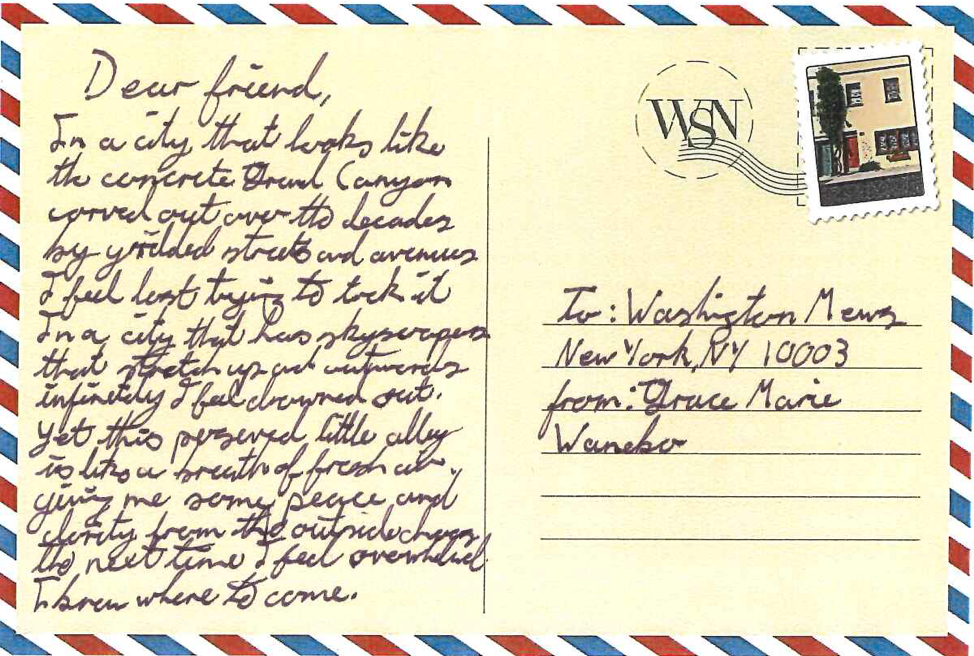 To: Washington Mews
New York, NY 10003
From: Grace Marie Wanebo
Dear friend, 
Writing to you from Washington Mews, it's like I've walked out of Greenwich Village and straight into a scene from "Call Me By Your Name." This cobblestoned street can be perceived as a liminal space alien to Manhattan. No discourteous taxi cabs whizz by, no pedestrians pack the sidewalk. Through its steel gates, I've crossed the threshold into a charming European haven. The only things missing are perhaps laundry draped outside each building and the scent of freshly baked bread.
In a city that looks like the concrete Grand Canyon, carved out over the decades by gridded streets and avenues, I feel lost trying to trek it. In a city that has skyscrapers that stretch up and outwards infinitely, I feel drowned out. Yet, this preserved little alley is like a breath of fresh air, giving me some peace and clarity from the outside chaos. 
The next time I feel overwhelmed trying to navigate this brilliant labyrinth, I know where to come.
Yours, 
Grace 
Email Grace at [email protected]