New Yorkers Protest After Transgender Woman Dies While in Jail
Layleen Polanco died in the city's custody last Friday — on Monday, protestors gathered at Foley Square to call on the city to launch an investigation into her death.
Hundreds of New Yorkers protested at Foley Square on Monday after a transgender woman died while imprisoned at Rikers Island.
Organized by Anti-Violence Project, members of the rally demanded answers in the case of Layleen Polanco, a 27-year-old transgender Afro-Latinx woman who was arrested for a misdemeanor and later died in solitary confinement on June 7. After not being able to make the $500 bail, Polanco was imprisoned for more than two months. Prior to her death, Polanco spent a little less than two weeks in a hospital being treated for an unspecified illness, Polanco's lawyer, David Shanies, said at the rally.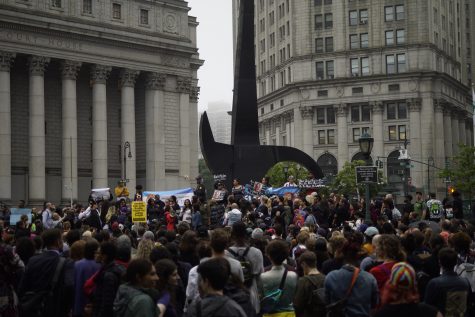 Shanies explained that Polanco had a history of various medical conditions, including a serious seizure disorder. Putting her into solitary confinement without supervision meant endangering her, as she wasn't in good health, he said. Activists at the rally called on the city to investigate Polanco's death. On Tuesday, several members of the city's Board of Corrections committed to doing so, according to The New York Times.
Polanco's sister, Melania, spoke on behalf of her family. While giving her speech, she began crying whenever she tried to talk about her sister. She also called for justice for her sister and other transgender women of color.
"I don't understand transgeder, I don't understand gay, I don't understand bisexual," Melania said. "I understand human, and we're all human."
Polanco became the tenth transgender woman of color to die of violence or neglect in 2019.
A member of New York's section of the activist organization focused on helping low-income people, Voices Of Community Activists and Leaders, spoke at the rally. Activist Rachel Willis and transgender actor and model Indya Moore also gave speeches.
"We will not back down and rest in peace no more," Moore shouted. "If you don't want to fight, then get the f-ck out of the way."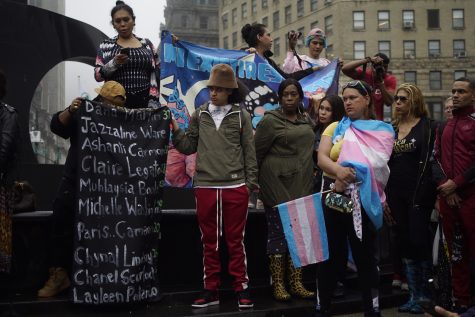 Gallatin sophomore Milenka Bermanova — who identifies as non-binary and uses they/them pronouns — actively promoted the rally on various social media platforms, hoping to draw attention to Polanco's death.
"It feels very apocalyptic," Bermanova said. "It feels like the people who need to be listening aren't listening. This is a crisis and it needs to be treated like one. Everyone should be crying about this."
NYU's former Senator at-Large for LGBTQ students and Gallatin senior Victor Markhoff attended the rally, holding up a trans flag which has blue and pink stripes with a white stripe in the middle. Markhoff's flag had the word "human" written in large letters in the middle.
"Layleen reminds us of just how intertwined LGBTQ+ issues, mass incarceration, poverty rights and racism are," Markhoff said.
Markhoff said a police presence at the rally posed an issue because, although meant as a sign of safety, some see it as a threat.
"Many have told me we need police for safety," Markhoff said. "But for black and brown queer folks, the police are not safety. The don't protect us from violence. In many cases, they perpetrate it. As in the case of Layleen, entering the criminal system isn't just dangerous; it's deadly."
Email Anna-Dmitry Muratova at [email protected].