Victims of Sri Lanka Bombings Honored at Vigil
A little more than a month after a vigil to honor victims of the New Zealand shootings, students once again gathered on Kimmel's steps to memorialize victims of the recent bombings in Sri Lanka.
A vigil to memorialize the victims of a series of bombings that occurred in Sri Lanka on Easter Sunday was held in the Kimmel Center for University Life on Tuesday.
On Sunday, over 300 people were killed in a series of coordinated suicide bombings of churches and hotels in Sri Lanka. Sri Lanka has long suffered from ethnic tensions and recently ended a civil war with an extremist Hindu group. The Islamic State terrorist group claimed responsibility for the bombings, while Sri Lankan officials are attributing the attacks to a local terrorist organization, the National Thowheed Jamaath.
The vigil was organized by the Center for Global and Spiritual Life and featured student speakers from Sri Lanka, along with brief speeches from several of the center's chaplains. Sri Lankan CAS senior Isa Ananya Spoerry, who attended the vigil, said she believes the civil war created communication gaps in the government which allowed the bombings to go unanticipated.
Spoerry, while devastated by the attacks, did not feel blindsided by them.
"I had a sense of disbelief, but I follow what happens in the country really closely," Spoerry said. "I think that if you look at the events of even just this past calendar year and past several months, not to diminish how horrible it is, but it's not as surprising as the international community is presuming it to be."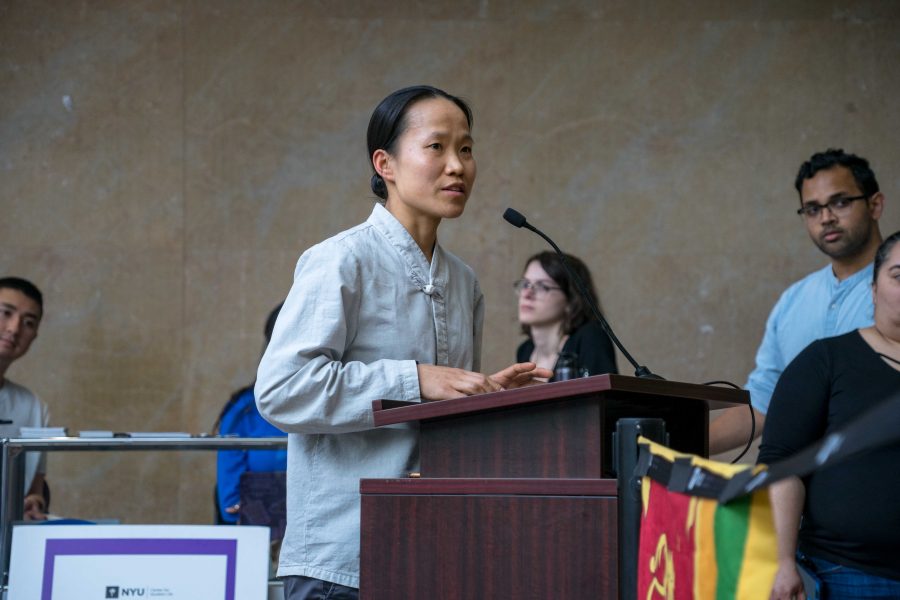 Senior Director for the Center for Global and Spiritual Life Yael Shy opened the vigil with a reading of a passage from The New York Times describing mass burials for the victims of the attacks. Speakers such as Christian Chaplain Jason Casper emphasized the importance of avoiding hateful reactions in the wake of tragedy.
"Persecution is real — it's all over the world," Casper said. "All you need to do is turn on the news and you'll see it. But as my friends here have already shared, we don't retaliate. We don't carry out violence for violence."
CAS first-year Dina Baron attended the vigil and commented on the importance of keeping places of worship secure.
"No one should feel unsafe in a house of worship," Baron said. "What happened is devastating and horrific and we need to do more to act against hate in our world."
Spoerry was grateful to have the tragedy memorialized by the NYU community and hopes the event opens the door for further conversations about Sri Lanka.
"This is a wonderful start," Spoerry said. "I'm so used to not having Sri Lanka acknowledged or even recognized or known by my peers, my classmates — really anybody. So this is a wonderful show of support."
Correction, April 24: A previous version of this article stated that CAS senior Isa Ananya Spoerry spoke at the vigil. She attended the vigil and spoke to WSN afterward. The article has been updated to reflect this. 
Email Emily Mason at [email protected]