NYU can only control so much of its image — the rest is up to student YouTubers who fill in the gaps and spill the tea.
Story by Joel Lee, Under the Arch Deputy Editor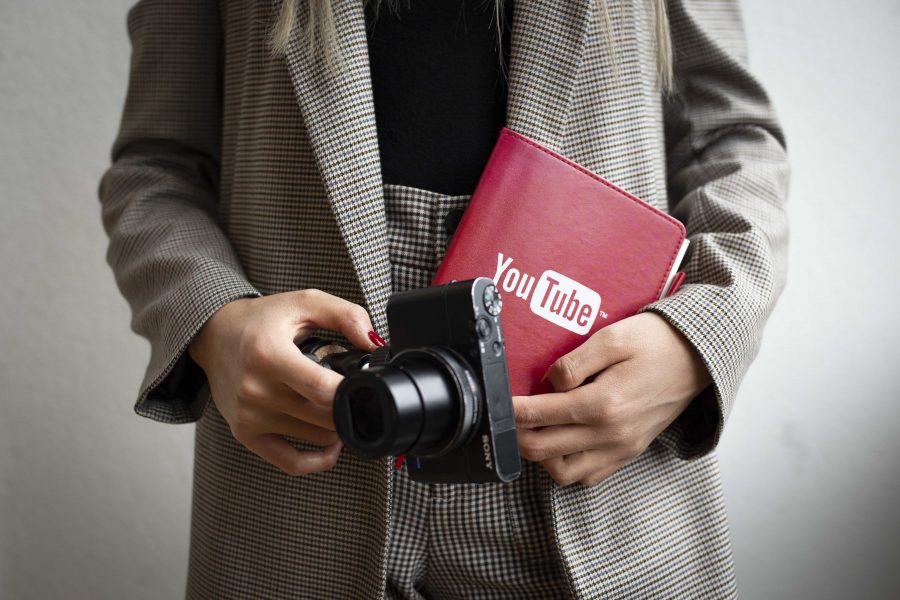 It's Dec. 15 of your senior year in high school and you've just been accepted early decision to NYU, your dream school. You're exploding with joy, imagining how in a few months you'll soon strut down the city streets singing "Empire State of Mind." Until Welcome Week, you settle for living vicariously through YouTubers at NYU.
Take your pick from millions of videos — including admission tips, dorm tours and day-in-the-life vlogs. Aside from being a notable mention in Nicki Minaj's "Feeling Myself," NYU has capitalized on its image as the big-city dream school for aspiring creatives. According to Executive Director of Marketing and Communications Joey Schmit, a recent survey conducted by his department reported that 30 percent of NYU's applicant pool always knew they wanted to attend NYU.
"The reputation for our [NYU's] programs continues to grow, as evidenced by our application volume and the fact that we remain a dream school for so many," Schmit wrote in an email to WSN.
But some NYU students think that this image is too good to be true.
Michelle Zhang mulled over and over whether or not to post her video, "6 REASONS WHY I DROPPED OUT OF NYU." Initially worried that her video would be controversial, she decided to post it, explaining that her intention was to stir conversation, not drama.
Many NYU-related videos found on YouTube portray the school in a positive — if not superficial — light. So when Michelle Zhang posted her honest criticisms about the school, current students lauded her candidness and for providing a realistic perspective on a platform so saturated by half-truths.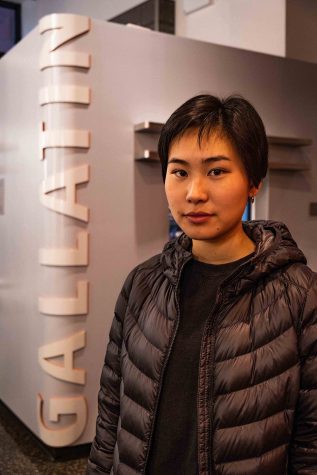 In the video, her grievances addressed the value of the education against its high price tag. Additionally, Michelle Zhang criticized the school for preaching diversity when Aramark, NYU's food provider, profits from prison labor. She also felt frustrated by the fact that conservative-leaning opinions are harshly judged, creating unproductive discussions in and out of the classroom.
"The video just vocalized what a lot of people already thought but were keeping to themselves," Michelle Zhang said. "I think I validated those people's opinions, and that's what's important."
Michelle Zhang isn't the only YouTuber that dropped out this year. Jennifer Zhang (no relation), a former Steinhardt student known online as JENerationDIY, posted her own dropout video this past December, announcing that she would pursue YouTube full-time. The bulk of Jennifer Zhang's videos are DIY tutorials and NYU vlogs — but unlike Michelle Zhang, she rarely spoke about her grievances.
"In my NYU videos, I kind of hinted being unhappy, but it wasn't to the extent to which I actually felt," Jennifer Zhang said. "People don't come to YouTube to be sad, and people kept telling me that they couldn't believe I was at NYU. I don't want to tell people that their dream school actually sucks."
So, she lied. For four whole months last fall, she led her audience to believe that she was still enrolled at NYU — even filming two fake vlogs during a visit to New York in September. Though the vlogs were filmed in the same week, they were posted four months apart. She announced that she dropped out of NYU in the second vlog, which was followed by a more detailed explanation video.
"I wanted to record that experience for like one last hurrah," Jennifer Zhang said. "I felt like it was a big event in my life as I have a lot of NYU content. I was very nervous to tell people, and I felt so bad. It was partly for me to reminisce."
While Jennifer Zhang struggled to tell her truth, Michelle Zhang didn't hesitate to spell it out. She made it a point to be as careful and honest as possible in her video.
"I noticed how it was almost always like people that were low-key famous that dropped out because it was more productive to pursue their YouTube career," Michelle Zhang said. "None of it was explicitly about NYU and what's wrong with the school."
Michelle Zhang shared her video on NYU-specific Facebook pages. The response on Facebook and in the YouTube comments was overwhelmingly positive. GLS first-year Alex Gomez found Michelle Zhang's video through Facebook and resonated with her opinion on politics at NYU.
"I thought the most relevant point in the video was this idea of NYU and other U.S. universities being very much close-minded liberally," Gomez said. "Many students refuse to have debates about topics instead believing that their opinion is the only one that's true."
Michelle Zhang knew that this wasn't just an NYU problem, but an institutional one. She didn't want to trap herself in the bubble any longer.
Michelle Zhang believes that people should consider education options beyond four-year undergraduate institutions. "I think a lot of people are coming to school just because it's the next step in the conveyor belt, right?"
Next fall, she will attend Minerva College, a radically structured online undergraduate program. Feeling passionate about her circumstance, Michelle Zhang turned to YouTube to document her transition out of NYU.
"If you told me that I would start making YouTube videos, I would think you were crazy," Michelle Zhang said. "There's nothing unconventional about feeling like I don't have a purpose. I think that's something that everyone can relate to, especially our generation."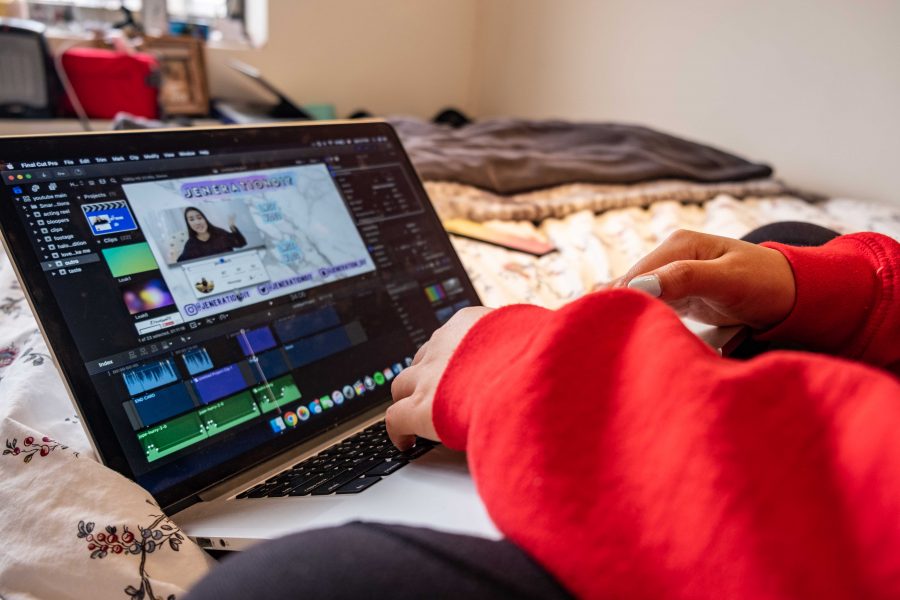 Jennifer Zhang also believes that college isn't for everyone, but she felt like her YouTube career was at stake when deciding when to post her dropout video. Despite her delayed dropout confession, her 1.8 million subscribers rallied behind her, expressing both their indifference to her lies and excitement for her new chapter as a full-time YouTuber.
Since 2013, Jennifer Zhang has produced hundreds of tutorials, vlogs and music covers. She makes most of her money through DIY and craft tutorials, raking in an estimated $7,000 per month from video monetization. With additional dollars coming from brand deals and sponsorships, she's financially independent.
Although the YouTuber life appears glamorous, when she was at NYU, Jennifer Zhang spent most of her free time outside of class editing and creating content to pay for her tuition. She does not come from wealth, so any penny she contributed to her tuition payments was a penny well spent. On one occasion, she wouldn't have been able to make a payment had it not been for a brand deal check that arrived the morning of the tuition deadline.
With all the stress of maintaining her channel and keeping her YouTube world secret from her close peers, Jennifer Zhang didn't feel like NYU was for her — although her videos didn't necessarily reflect her feelings.
Despite her successful YouTube career, Jennifer Zhang thinks she has had little impact on NYU's brand. She underplays her influence on prospective students, but her NYU videos alone have garnered over three million views, showing how influential her platform is.
Those interested or admitted to NYU rely on student creators like Jennifer Zhang for a candid, inside look into the school, and by association, the university scores free advertising and promotion.
For instance, photography YouTuber Josh Katz worked with Scott Palmer, coordinator of Instructional Technology and Digital Initiatives, to film a tour of the NYU Florence campus. Palmer, who reached out to Katz with knowledge of his online following, provided equipment to produce the video for Katz's channel rather than NYU Florence's. It remains one of the most highly viewed and comprehensive videos about an NYU abroad site from a student channel.
Katz initially started his channel to document skateboarding tricks. After graduating from Stern last year, he became a freelance photographer and content creator. His first NYU-related video hit Youtube in 2014 when NYU vlogs and candid content were not as popular.
"There wasn't really an outlet to get a candid answer," Katz said. "It was a huge shot in the dark. Like what does it mean to live in New York? I got a lot of admitted students and 13-year-olds who say that NYU is their dream school."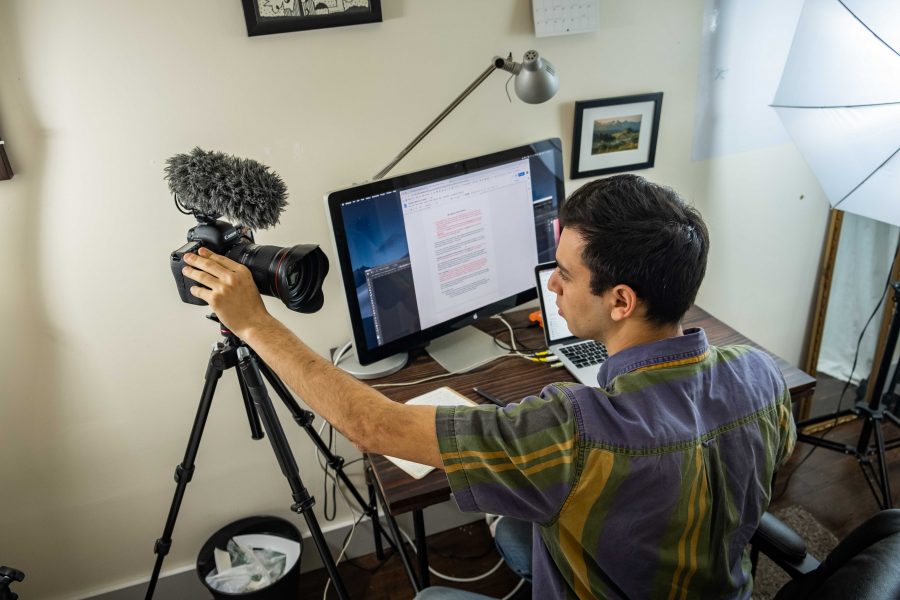 Schmit explained that to keep up with the rising demand for authentic NYU perspectives, the university's marketing team has diversified the school's online promotion.
"In this age of Amazon and Yelp, students are looking for reviews, word-of-mouth and other people's experiences to help them decide where to focus their attention," Schmit wrote in an email to WSN. "Content that is too general, heady [sic] or full of NYU jargon can be a bit isolating and doesn't speak to our audience as much, so we have to balance that with content that is simple, honest and maybe even a little mundane."
For every video criticizing NYU, there are a hundred videos that praise it. Students who have their own channel, like Ainura Kudaibergen, actively create content in support of the school and want to show their love for NYU.
The daughter of a Kazakhstani diplomat, Kudaibergen has documented her life since she was in middle school, amassing an international audience for her vlogs both on her main channel and her Russian-dubbed second channel. Her motto, "Work Hard. Dream Big," propels her to motivate her viewership to follow their passions.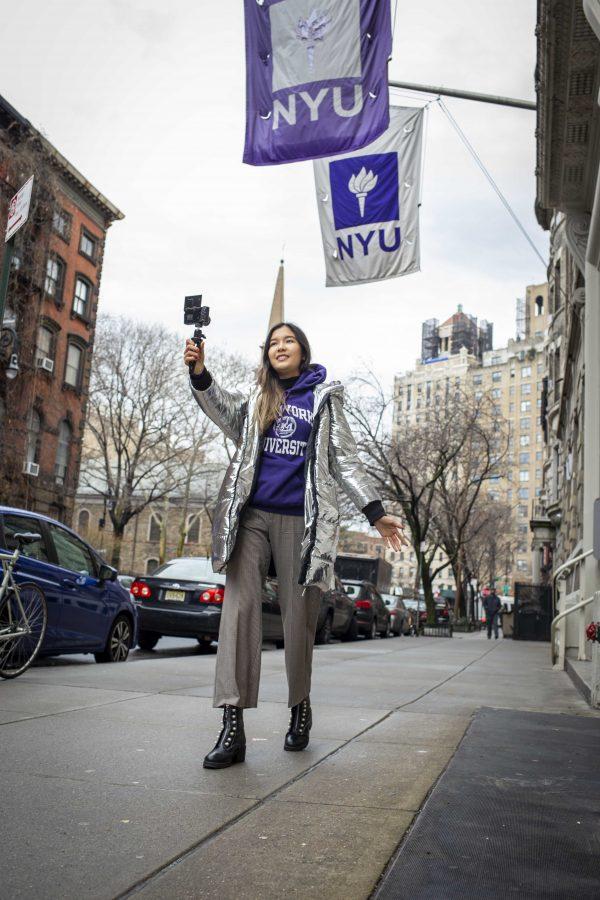 Although she is a Steinhardt sophomore, Kudaibergen receives countless emails about other NYU programs from eager international students seeking any tips. It can be overwhelming and a huge responsibility for Kudaibergen, but she is humbled by her viewers' engagement with her content.
"I want to encourage my viewers to take risks and see where it takes you," Kudaibergen said. "What I want potential students to know is that NYU is a place that can support their interests."
Kudaibergen has taken the opportunity to produce even more content for NYU's Residential Life & Housing Services' YouTube channel, and the job has given her a chance to get more involved with the school. Despite it being a constant job of managing her brand and content, her goal for her channel isn't to make money.
"I just want to have a positive impact and to invest all that I have learnt from NYU to my homeland and global community as a whole," Kudaibergen said.
It is impossible to fully calculate the impact YouTubers at NYU have had on the school's global brand. However, student YouTubers serve as unofficial faces of the university. NYU's brand screams dreams-come-true in the concrete jungle, and as romantic as that sounds, NYU student YouTubers provide the criticism, nuance and authenticity that viewers seek.
A version of this article appeared in the Monday, March 4, 2019, print edition. Email Joel Lee at [email protected].