NYU students are notorious for their refusal to ascribe to the stereotypical college uniform of sweats and a Jansport. Here are some of the trends students are loving or leaving behind in the new season.
IN
Carhartt
The new Champion.
Streetwear is as trendy as ever and has a reputation for raising brands from the depths of obscurity. Fila, New Balance and Champion are some of the lucky few, and judging by the newfound ubiquity of that yellow logo around Washington Square Park, workwear brand Carhartt is soon to join their ranks. Canada Goose may still dominate the NYU outerwear market, but Carhartt beanies are what grace students' heads.
Utility Pants
For the handy fashionista.
We should've seen this comeback coming. They're the natural follow-up to the popularity of cropped wide-leg pants. These practical trousers come in a variety of neutral tones, from Kim Possible green to New York winter gray, and single-handedly solve the little-to-no-pocket problem that women's pants have posed for so long. Enjoy it while you can, ladies.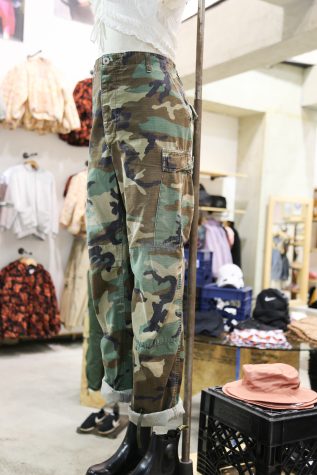 Nike Air Max 97s
Geology, but make it chic.
Clunky but sleek, the 97s are a refreshing departure from the ugly white sneaker. The groovy waves come in a motley of colors, resembling resplendent sedimentary rock layers. These miniature geological formations are taking over Greenwich Village, and they're ready to replace your Nike Air Force 1s.
OUT
Teddy Coats
Leave it behind like your childhood teddy bear.
Early 2018 saw the alarming upsurge in these fluffy, textured and beige coats. A year later, they're beginning to qualify as an endangered trend. Impractical, non-waterproof and constant lint-collectors, teddy coats are nothing more than kitschy shearling. In a few years, we'll be looking back on these fondly as a permanent member of the Cringe Hall of Fame among low-waisted jeans, neon leg warmers and clout goggles. Shag rugs belong on your dorm room floor, not your body.
A version of this article appears in the Monday, March 3, 2019, print edition. Email Carol Lee at [email protected].