Brian Cheng's decision to attend NYU was not based exclusively on his academic successes or the school's reputation. When the time came to apply for college, Cheng's main priority was finding a wheelchair-friendly campus. Born with cerebral palsy, a movement disorder which manifested in his early childhood, Cheng has been confined to a wheelchair his entire life — only using walkers for short distances. Finding an environment with the proper infrastructure was crucial.
A Virginia native, Cheng visited the University of Maryland, College Park to see if the campus could cater to him. Its proximity to home appealed to him, but the campus and its environment couldn't accommodate his needs.
"They dropped the ball," Cheng said of his UMD visit. "It felt like they almost didn't know what we were talking about."
Cheng ultimately chose NYU for Tisch's Film & TV program, but he had been told that the university was known to accommodate disabled students. New York has been marked by inaccessibility, whether that is the lack of ramps or the absence of hearing-aid audible speakers on subways. Contrary to the city's reputation, NYU advertises its conscious approach to students with disabilities and the broad range of services they provide for those dealing with learning disability disorders, physical disabilities and mental health illnesses.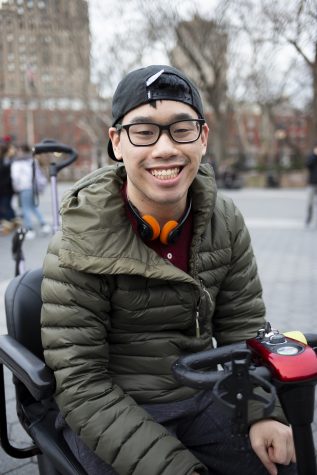 NYU provides a variety of resources for those with disabilities, including the Moses Center for Students with Disabilities, accessible on-campus housing and academic accommodations such as arranging for students with disabilities to take exams at the Moses Center. Mobility aids, such as wheelchairs or crutches, are provided to students by the Moses Center regardless of their condition's term length.
Steinhardt first-year Jessie Tsang tore her ACL while playing for the NYU women's volleyball team as a defense specialist. After her surgery, she was on crutches for a month. Throughout her recovery process, Tsang found NYU Athletics to be a supportive resource. Not only did the department cover her medical bills for the surgery, but they also funded the subsequent physical therapy.
The Moses Center, on the other hand wasn't as helpful, according to Tsang. After her surgery, NYU Athletics referred Tsang to the center for further support. From the center's limited funds, Tsang was provided $75 for taxis to class. She took taxis to class to avoid the muscle pain on her good leg that came with using crutches. As an athlete, she couldn't risk the extra stress.
The $75 wasn't nearly enough to cover the cost of her taxi rides to and from class. According to Taxi Calculator, the average daytime fare for a cab from Rubin Residence Hall, where Tsang lives, to Elmer Holmes Bobst Library or the Silver Center for Arts and Science is around $6. Without the aid from the Moses Center, Tsang would've had to pay up to $200 out of pocket to help her get to class — more than double the amount provided to her by the center. When the $75 ran out, Tsang's friends helped her pay the rest of the rides. 
Unlike Tsang, who only went to the Moses Center for a temporary injury, Cheng works with the center on a regular basis. Cheng's cerebral palsy caused him to develop a mild processing issue which impedes his information comprehension. He thus requires note-taking assistance in his classes. The Moses Center reaches out to fellow classmates at the semester's beginning to see if they'd be willing to share notes for those in need, offering notetakers $50 to the NYU Bookstore after the semester ends.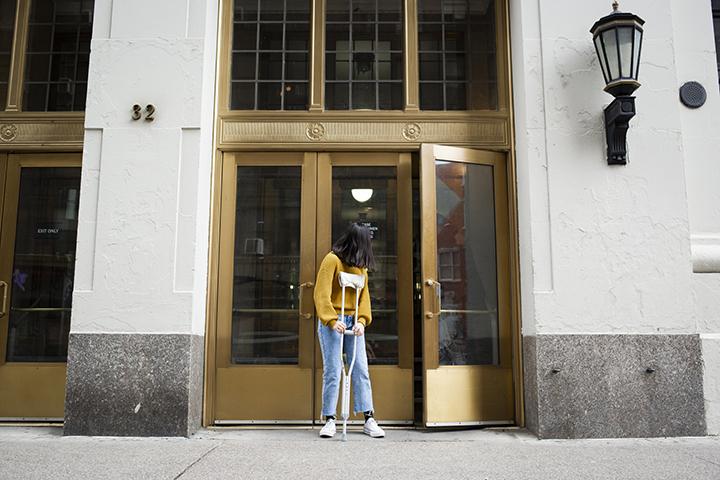 Cheng, however, found this approach flawed as it is easy for students to ignore the requests from the center. According to Cheng, assisting with note-taking isn't difficult or time-consuming at all, and it can be of great support to someone.
"You just do what you normally do, except for sharing it with someone, who needs it later," he said.
Cheng points out that sometimes his peers help more than the Moses Center. Cheng can steer through the sidewalks on his lonesome, but subway cars and stations pose more of an issue, sometimes requiring the help of his friends. Tsang holds a similar sentiment, even relying on the kindness of others around campus.
"Maybe, hold a door for a little longer than you normally would," she said.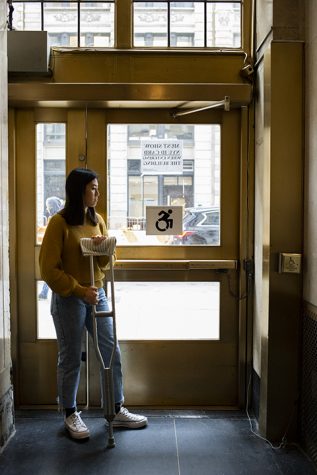 Last semester, CAS first-year Lynn, who withheld her last name, broke her tibia and fibula, forcing her to undergo surgery and leaving her in a wheelchair for over a month. She said that with the help from her friends, she could better navigate inaccessible infrastructure around Washington Square Park.
Unlike Cheng and Tsang, she found the Moses Center helpful in arranging accessible locations for her to take her midterms. The center also provided her with a wheelchair for free. Lynn described herself as "lucky," since the majority of her classes took place in wheelchair-accessible buildings. Moving around campus, however, still posed plenty of challenges.
"It was rather difficult to get from building to building, especially during the first few days after the surgery," Lynn said.
For her, a lack of ramps made it hard to cross streets between buildings around Washington Square Park. Moving between Bobst and the Kimmel Center for Student Life, for example, could be troublesome due to construction and the absence of wheelchair-accessible bypasses.
Lynn found it difficult to access certain buildings too, and needed assistance. She pointed out that the Skirball Center for Performing Arts, built in 2003, which is newer than the Leonard N. Stern School of Business, built in 1900, or Bobst, built in 1973, doesn't have an automatic door. Although The Center for Genomics and Systems Biology does, it isn't wide enough for a standard wheelchair.
Navigating campus seems to be the main challenge for mobility-aid users. LS first-year Sarah Hedayatnia had to use both crutches and a scooter when she broke her ankle two weeks into her first semester. She found a lot of places around campus extremely difficult to access — Third Avenue North Residence Hall in particular. The stairs in the courtyard, the lack of wheelchair-accessible doors and the turnstiles at both entrances led her to further injury.
"I have repeatedly hit my knee and my foot when trying to get into Third North, opening the doors and the gates," Hedayatnia said.
The gates at both entrances can be used as an alternative to the turnstiles. However, they aren't equipped with an automatic door opener, making neither of the entrances wheelchair-accessible.
"I fell several times while trying to get past the security gates because I was forced to get off the kneerover and hop on one foot to open the gate and get myself and my scooter through," Hedayatnia said.
Aside from doors and entryways, many buildings around the Washington Square campus have stairs leading up to them. Oftentimes, there are no ramps or bypasses in sight. Cheng finds accessing older buildings, such as the Silver Center or the Barney Building, notably difficult.
"One time, when I had to take photos for an article, it was [at Barney] and the handicap entrance was broken," Cheng said. "So, I went through the back maintenance entrance. It had been broken for years."
In terms of newer buildings, Cheng struggled with the elevators when he lived in Weinstein Residence Hall as a first-year.
"In a wheelchair, there's a way to go up by hitting a buzzer," he said. "But every time I tried, the security guards wouldn't notice me right away, so I'd spent around five minutes just waiting for them."
Gallatin first-year Simone, who chose not to disclose her last name, took the course "Disability and the Arts" in Gallatin. Although Simone has never been wheelchair-bound around campus, she brought forth the idea of "universal design," a concept explored in her class that speaks to design that helps beyond the intended use.
"Having spaces that are accessible is better for everyone," Simone said. "For example, if Third North had automatic gates, it'd help not only people with disabilities but people with suitcases."
According to Simone, ramps on the sidewalks benefit parents with strollers, not only wheelchair users.
"It's the right of the individual to be, to exist comfortably, whether you have a disability or not," she concluded.
Talking about the possible improvements that can be made, Cheng pointed out the fact that most of the building, even though old, should be up to code when it comes to accommodating for the needs of disabled students.
"As we've seen with NYU before, there's always money but there's never enough money," Cheng said. "But with the options for handicapped students — these things shouldn't be broken. It's an inconvenience for many students."
The Moses Center refused to comment; Student Health Center has yet to respond at the time of publication.
A version of this article appeared in the Monday, Jan. 28, 2019, print edition. Email Anna-Dmitry Muratova at [email protected].