Living Coral Splashes Into 2019
Coral is making a comeback.
The ultimate authority on color, paint brand Pantone, recently named Living Coral the 2019 Color of the Year. The bright orange-pink hue is a stark contrast with last year's chosen shade, Ultra Violet. According to the company, the 2019 Color of the Year represents and emits a "desired, familiar, and energizing aspects of color found in nature." Pantone strongly believes in the deeper power a color can hold, and Living Coral represents "how coral reefs provide shelter to a diverse kaleidoscope of color."
Living Coral, an intimidatingly bold color, seems somewhat difficult to integrate into everyday life, especially in the middle of New York City's dreary winter landscape. However, just weeks after the color was announced, it has already found itself setting trends.
Pantone offers a plethora of items in the featured color such as mugs, swatches, keychains and journals. Searching Living Coral on Google or Instagram reveals numerous brands promoting clothing and accessories that feature the color. Pantone offers companies an easy way to get a head start on 2019's predicted trends.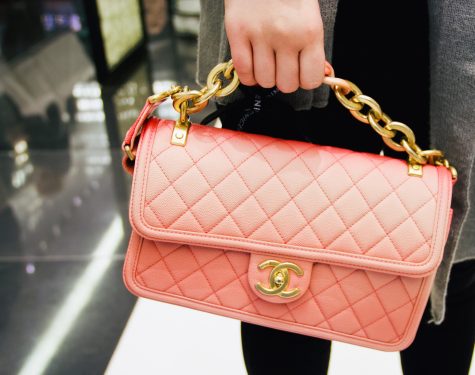 Living Coral is also already showing up on the runway. The color made an appearance at the Valentino Couture Spring 2019 fashion show on Jan. 23. Consider look 1 of 65 on its website, this satin floor-length gown not only displays the vibrant color but also depicts elegant ruching completely around the head, leaving only the face visible.
If ball gowns aren't your thing, Living Coral is easy to find in casual wear as well. To combat the cold, Patagonia has a classic fleece zip-up sweater in the color Tomato. 
In terms of activewear, Set Active's Leggings and Sports Bras in the color Mars prove versatile for indoors or outdoors and for practically any season. 
Another easy way to approach Living Coral is through beauty. Not an uncommon color for lipsticks, blushes or eyeshadows, Pantone has specific collaborations with brands such as Butter London, where they've released lipgloss and nail polishes under the "Pantone Collection."
Another beauty brand that has already dipped into this shade is New York City-based Glossier, whose cult-favorite product, Cloud Paint, comes in the coral shade Dawn.
Living Coral's vibrancy not only represents but also indicates how culture and design will play out for the rest of 2019. After the darkness of the past year, Coral serves as a small reminder of brightness.
A version of this article appears in the Monday, Jan. 28, 2019, print edition. Email Bella Gil at [email protected]