NYU received over 84,000 applications for first-year admission into the Class of 2023, according to a university press release.
The number of applications has climbed every year for the past 12 years, although the increase of over 9,000 applications this year outnumbers that of the previous two years combined. This year, over 14,000 of the applications were either Early Decision I or II. EDI applicants received their decision on Dec. 15, while EDII applicants will receive theirs in February.
Incoming first-year Nina Qiu from Great Falls, VA applied EDI but said she felt nervous about applying because of the decreasing acceptance rate.
"When I saw the 'decision update' tab, my heart almost jumped out," Qiu wrote in a Facebook message to WSN. "I couldn't believe what I saw at that moment. I read my decision letter [three] times just to confirm that I was truly admitted."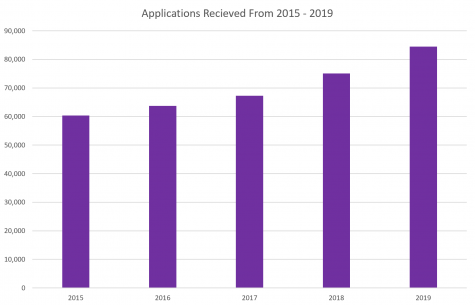 EDI applications, in particular, increased this year by 41 percent — compared to the 26 percent increase from 2017 to 2018.
Despite the increase in applications, the university plans to enroll 6,500 students across the Shanghai, Abu Dhabi and New York campuses, according to the press release — the same number as the past four years.
NYU President Andrew Hamilton remarked on the university's increasing popularity with prospective students.
"Young people are eager for a rigorous liberal arts education that builds on the vibrancy and diversity of urban settings," Hamilton said in the press release. "I look forward to next fall when I will welcome the outstanding [first-year] class that will emerge from this group of applicants."
Incoming first-year Vidur Bahl is from India and is one of over 23,000 international applicants. NYU received a majority of its international applications from China, India and South Korea. Bahl told WSN that he was attracted to NYU because of the independence New York City will offer him.
"I live in New Delhi, and here everything you do is monitored or sheltered in some form or another," Bahl wrote in a Facebook message to WSN. "[NYU offers the] freedom to study what you want, freedom to go wherever you want, whenever you want and a freedom to be myself."
Email Meghna Maharishi and Victor Porcelli at [email protected].