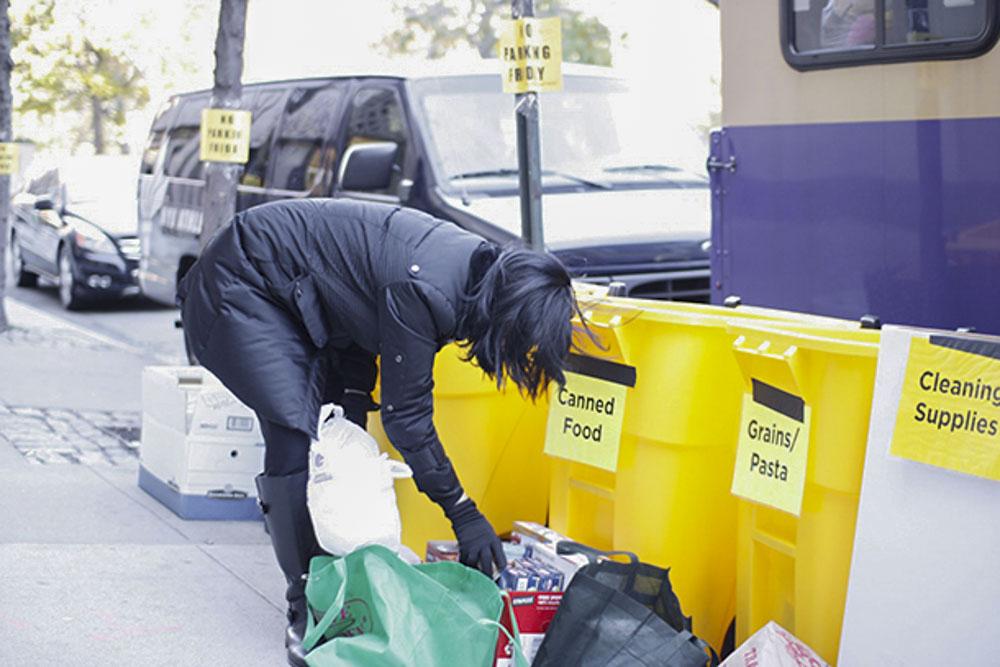 It's the season of giving in New York City, and more and more students have been seeking opportunities to give back to their community. It can be a daunting task, especially in a city as large and fast-paced as New York, to find opportunities to volunteer and help those in need. However, it's never been easier to involve oneself in the community, and there are tons of amazing ways to give back this holiday season, even if you've never volunteered before. 
The SAGE organization focuses on advocacy and support for New York's LGBTQ seniors. Volunteers can spend time with seniors and offer support and companionship in cases where they don't have a large support system to rely on. After a quick volunteer orientation, students can jump right in with friendly visits, participating in the organization's Lend-A-Hand volunteer efforts, and event volunteering. 
Though not for the SAGE organization, CAS first-year Ava Rooney frequently volunteers. 
"I like to spend my time volunteering to aid people with intellectual and developmental disabilities," Rooney said. "Here at school I have volunteered for some inclusion programs and I have also tried to volunteer at food pantries when I can."
Rooney urges students to make the time to get more involved.
"I think that during the holiday season volunteering becomes a whole other experience. So many people come out to do their part and you feel a very strong sense of community, which is honestly quite comforting."
If you're looking for a more long-term commitment to giving back, several organizations around the city offer opportunities to tutor and mentor young people. CAS first-year Renee Reed spends a lot of her time helping lower-income students. 
"I've been a part of this organization called Let's Get Ready, which helps low-income high school students with SAT prep and college applications." 
Tisch sophomore Catherine Ryan devotes her time to educating second-graders about environmental sustainability, which is another option for students looking to give back this winter.
"In the three semesters I've been with Sprout Up I've learned so much. Obviously, I've been reminded of all the things we teach to students, but I've also been able to learn about my leadership style, my peers at NYU, the New York City school system and different neighborhoods in the city," Ryan said. "It's expanded my world beyond campus and has helped me truly integrate into the city."
If you're a student who may have overestimated their appetite when purchasing a meal plan, there are several ways to donate your meal swipes to those in need. If you buy pre-packaged food — sushi, sandwiches, etc. — you can bring them to the Bowery Mission, where food is redistributed to those in need.
Reed plans to become a volunteer with Rescuing Leftover Cuisine, a non-profit food rescue organization that allows people to volunteer and bring food to homeless shelters. While programs such as the meal exchange also allow you to offer swipes to students in need, Reed reminds us that there are many other ways to give to those who struggle with food insecurity
"Next semester, I've applied to be a food rescuer with Rescuing Leftover Cuisine. But community service doesn't have to be a big orchestrated event. It can be something as simple as giving a meal to someone on the street."
Conveniently, there are many ways to give back right here at NYU. You can become an NYU Violet Volunteer, through which you can help out at events and take part in service projects throughout the year. Similarly, you can get involved with NYU's Project Sunshine which aims to  provide free educational, recreational, and social programs to children and families facing medical challenges.
Rooney urges students not only to get involved this holiday season, but to keep the giving spirit going after the new year. 
"Once the holiday season ends, so does the influx of volunteers, and I find that to be really disappointing," Rooney said. "So many organizations could use the amount of help that they get during the holiday season year round. I think that the concept of giving back needs to be prevalent at all times, not just the month of December."